Description
Welcome to the Bold Experience Tour, a mobile cross-country experience showcasing the best of Kohler and Sterling products and technologies. Learn more about the vehicles in our fleet.
Kohler lives on the leading edge of design and technology. We provide products that are innovative yet stylish. We set a platform for your imagination and want to bring your bathroom dreams to life. Explore our tour and check out everything Kohler has to offer.
Interior designers, contractors, plumbers, builders, and homeowners are invited to explore the trailer to see first-hand examples of the latest appliances Kohler has to offer. Product Demonstrations and Installations will be going on, along with product giveaways and refreshments.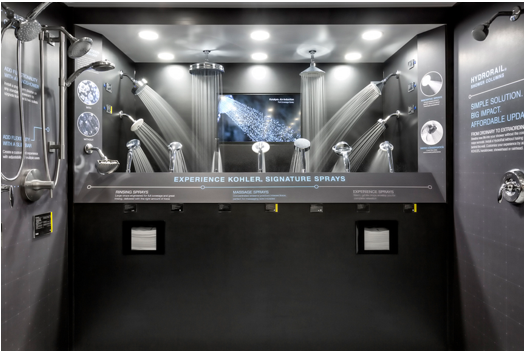 EASY INSTALLATION. SUPERIOR PERFORMANCE. EXTRAORDINARY EXPERIENCE.
At Kohler we believe in quality. We believe in creating products that are more innovative, easier to install and proven to perform. We believe in making your job simpler and helping you avoid callbacks. So stop by our tour and experience what sets Kohler apart and how to install the newest product.
---
DESIGN. INNOVATION. PERFORMANCE
---
Simple Solutions. Big Impact. EVERYDAY.
World-class always requires hard work. World-class requires persistence, diligence and die-hard tenacity. World-class PRODUCTS are available at the KOHLER Signature Store by Facets of Cherry Creek
Rethink CLEAN with KOHLER Toilets
Luxurious Showering Experiences with KOHLER
The Perfect Finishing Touches with Countertops by CAMBRIA
Sleek Lines and Expansive Glass Provide the Ultimate View by PELLA
3 Distinctive Lines of Cabinetry to fit anypricepoint by MASTERBRAND
---
KOHLER SIGNATURE STORE OFFERS MORE THEN JUST PLUMBING
Cambria Performs Beautifully. Every Day.
When it comes to beauty, nothing can compare to Cambria's 140+ designs that have are strength and durability and one of a kind designs. Come see the latest designs available and enter to WIN a custom designed executive desk
Expand your point of view with PELLA Architect Series-Contemporary
Our sleek sight-lines provide more space for expansive glass – producing bigger views without sacrificing exceptional energy efficiency. Form follows function. Architect Series feature smart styling and clean sightlines, proving that less is more.Learn about this new series that offers the ultimate view.
The event is free to the public.
WE WILL HAVE THE STEUBEN'S FOOD TRUCK ONSITE AS WELL AS REFRESHMENTS & GIVEAWAYS THROUGHOUT THE DAY