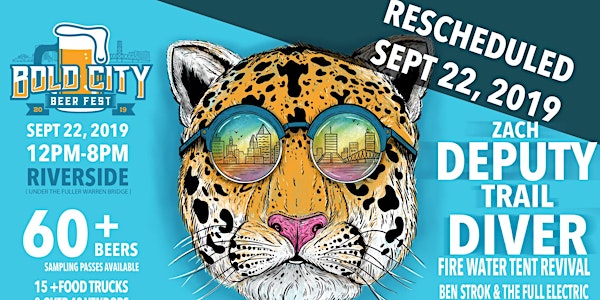 Bold City Beer & Music Festival
When and where
Location
715 Riverside Ave Jacksonville, FL 32204
Description
The Bold City's Premier Beer, Food & Music Festival presented by 904 Happy Hour. Organizers are planning to reschedule the festival to later this month in Riverside at the Northbank Riverwalk Artist Square. The Artist Square, home to the Riverside Arts Market, is located under the Fuller Warren Bridge right on the St. Johns River.
Headliners include Zach Deputy plus performances by The Firewater Tent Revival, Ben Strok & The Full Electric, Trail Diver + more on two stages. Unlike traditional beer festivals, sampling will be open to the public and available all day! The festival will offer over 60 different kinds of local and regional craft beers as well as 15+ food trucks, vendors, and makers.
General admission is free, but for the full experience, a VIP pass is required. A limited amount of VIP passes will be released to the public which include unlimited sampling from noon-6pm, no-wait sampling lines, reserved concert seating, private restrooms, a commemorative mug, and more. In addition, there will be activities for all ages and dogs are welcome.
For sponsorships and group ticket sales, email events@904happyhour.com