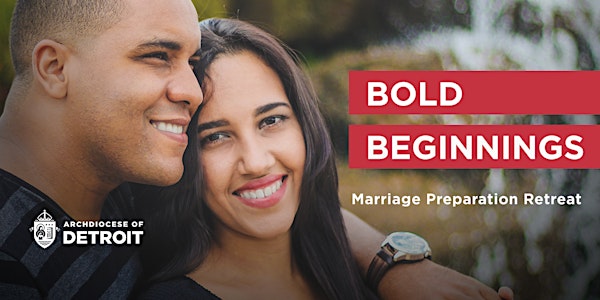 Bold Beginnings Marriage Preparation Retreat – October 2022
Location
St. Paul of the Cross Retreat and Conference Center
23333 Schoolcraft
Detroit, MI 48223
"Love one another with mutual affection; anticipate one another in showing honor." – Romans 12:10
About this event
Couple presentations will share the practical wisdom of how to grow together in a deepening, Christ-centered love for an exceptional, passionate and enduring Catholic marriage.
Topics include: Entering marriage equipped and strong, growing the marriage relationship, the amazing journey of marriage, welcoming children, couple spirituality, successfully navigating challenges, realizing God's desire for your marriage.
Time for couples to reflect and connect in a relaxed, comfortable setting with fellow engaged couples.
Tickets: $75/couple – Includes meals, resources, Mass, opportunity for confession
Location:
St. Paul of the Cross Retreat and Conference Center
23333 Schoolcraft Road
Detroit, MI 48223-2405
Conveniently located at Telegraph and I-96
Questions?
Please email familyministry@aod.org