Description
BUILDING BOLD BELONGING
What is the mystery behind building a real team of collaborators?
You can't buy trust. But you can optimize for it.
Building a collaborative community takes time and a one-day ropes course isn't going to be enough to make your team stick together.
What if you could learn the secret to building longlasting and loyal tribes?
From how often you communicate to what your emails and images should include, we are going to give you a framework for success – with templates, case studies, and a plan – so you can create a community that thrives.
BOLD communities are about brave communication and communicators. Do you want to be BOLD?
[Check out our amazing speakers!]
Understanding the necessity of healthy communities, what they are made of, and learning how to cultivate trustworthiness can transform your teams for the better.
Building stronger tribes can even rev up your bottom line if you work with an organization that needs loyal members who want to feel like they truly belong as a part of something bigger.
Join us for a day-long workshop to get all the resources you need to build bold, strong, and sustainable communities within your organization that last.
Register today!
Agenda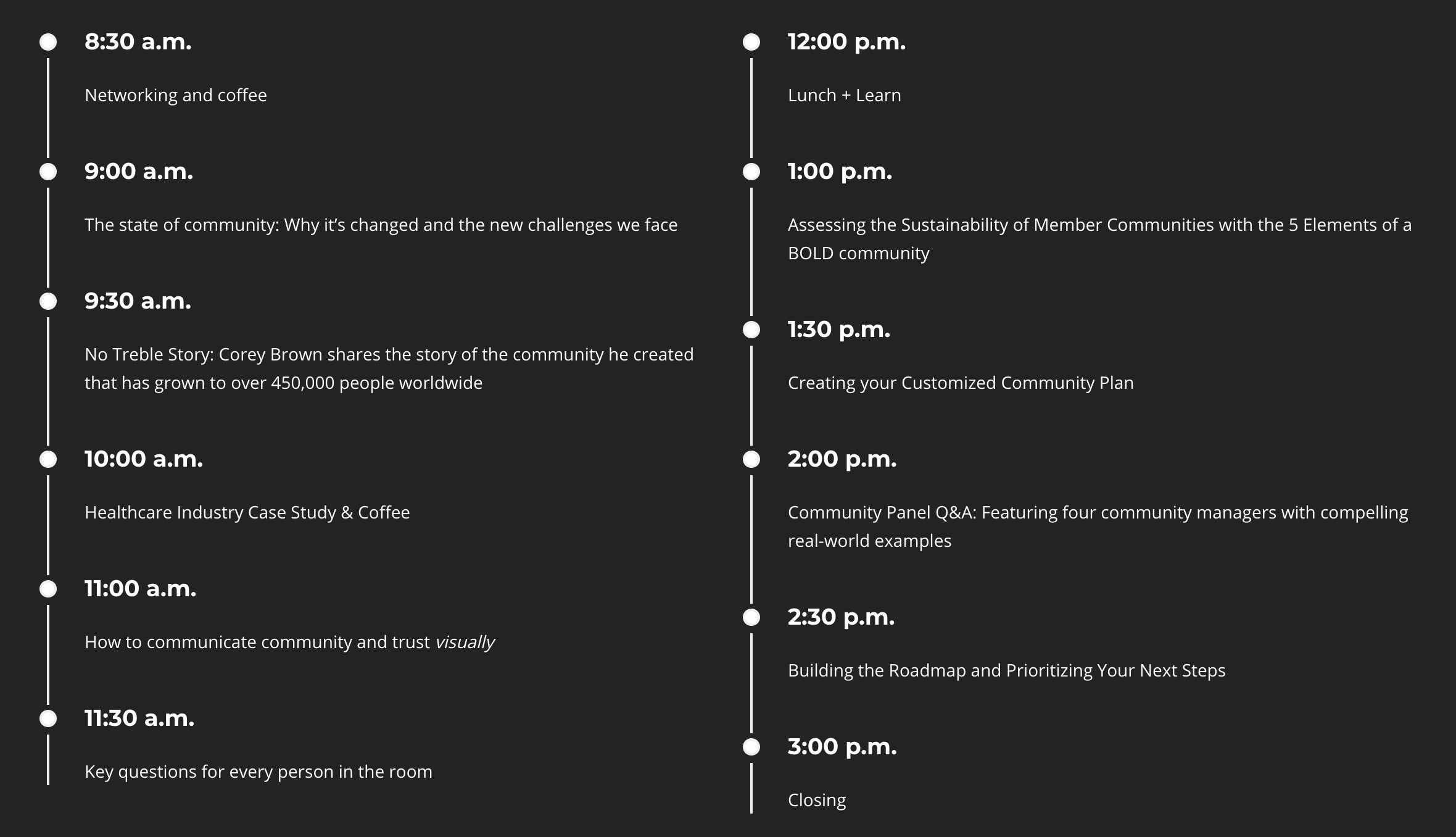 OPTIONAL: 7:30-8:30 am PRE-WORKSHOP "FOCUS AND CONNECT" ACTIVITY
8:30 am – Networking and coffee
9:00 am – [Lesson] Welcome + The State of Community Today: How It's Changed and Why It Matters with hosts KiKi L'Italien and Becky Tiffany
9:30 am – [Case Study] The "No Treble" Community Story with guest speaker Corey Brown
10:00 am – [Case Study] Healthcare Industry Community Story & COFFEE! with host and speaker Becky Tiffany
11:00 am – [Panel] How to Communicate Trust and Build Community Visually with special guests videographer, photographer, and graphic artist (names to be added)
11:50 am – [Group Work] Processing the Lessons So Far – Questions and an Assessment

12:00-1:00 pm – Lunch + Learn
1:00 pm – [Lesson + Activity] Assessing the Sustainability and Strength of Your Community
1:30 pm - [Lesson + Group Work] The 5 Elements of a Strong Community: Creating Your Customized Community Plan
2:00 pm – [Panel] Community Panel Q&A: Featuring Four Community Managers with Compelling Real-World Examples with special guests
2:30 pm – [Lesson + Activity] Building the Roadmap and Prioritizing Your Next Step
3:00 pm – Closing