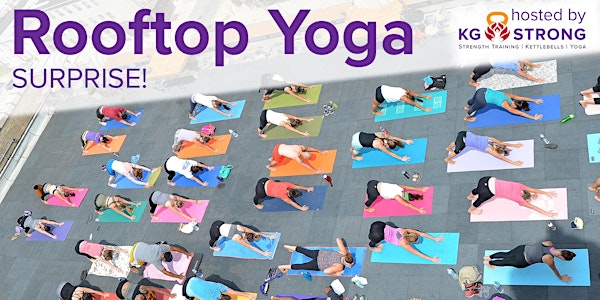 Bok Rooftop Yoga
When and where
Location
Bok Bar 800 Mifflin Street Philadelphia, PA 19148
Description
SURPRISE! We're hosting another Rooftop Yoga classes this fall!
Join us on Thursday, October 17th for a 60-minute class on the glorious rooftop at Bok. Classes will start at 6pm and the event is rain or shine. (We'll just be inside in the Girls Gym if it rains!)
As usual, the rooftop bar at Bok will be open after class! You'll have exclusive access to the Bok Bar, which is typically closed to the public on Tuesdays.
As a bonus, all Bok Rooftop Yogis a special promo code to get 10% off KG Strong's signature 21-Day Program. The code will be in your confirmation email from Eventbrite.
Each class costs $15, and we're sending 30% of our proceeds to our good friends, VIII Limbs Academy. Two weeks ago, VIII Limbs lost their gym and all of their training equipment to a fire started in the auto body shop below. VIII Limbs Academy is more than just a Muay Thai gym. Much like KG Strong, it is an open and inclusive strength community, empowering hundreds of people in West Philly. Like the fighters they are, they continue to run classes in the park and other donated spaces, but we want to help them rebuild a permanent home. Thank you for your support! If you're considering making an additional donation, you can do so here.
See you on the roof!
DIRECTIONS TO THE ROOF:
Enter the building on Mifflin Street between 8th and 9th Streets. This is the same entrance as you would use for Irwins Restaurant. Turn right down the hallway until you reach the middle elevator, and take the elevator to the 8th floor (the roof).
We do not offer refunds for this class. You may contact us to swap your ticket date up until the Thursday before Rooftop Yoga. Once we are within 5 days of the event, we are unable to swap your ticket date. Please bring your own mat, a water bottle, and a towel if you'll need one. No need to print your ticket, just bring the Eventbrite QR code on your phone. The event tends to sell out, so we recommend getting your ticket in advance.