Description
Join us for our most anticipated gathering of the year in beautiful wine country that will transform your future and elevate your Boisset Ambassador journey.
This extraordinary weekend will include inspirational presentations from industry experts, hands-on wine education, plus valuable networking with other Ambassadors from across the country. Hear from visionary proprietor Jean-Charles Boisset on the evolution of Boisset Collection and how you can take action to build a successful business. Taste along with our amazing Boisset winemakers, and learn from our talented home office team and top leaders. A place to learn everything you need from the best of the best!
Click on the image below to see our 2019 Retreat Sizzle Reel and get inspired!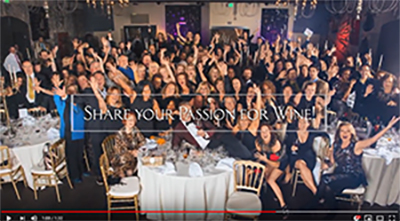 ---
Your registration ticket includes meals, wine tastings, training and events on Saturday and Sunday including the awards dinner. Only enrolled Ambassadors may attend the retreat.
Senior Leadership Day: You will be invited to our special Sr. Leadership Day on Friday 2/15 if you qualify at least (1) month as a paid-as Sr. Director or higher between August 2018 and January 2019. An exclusive invitation to dinner on Friday 2/15 with Jean-Charles Boisset at Wappo Hill will be awarded to leaders who qualify as paid-as Sr. Director or higher at least (3) months between August 2018 and January 2019.
Hotel Accommodations: A limited amount of hotel rooms are available at a special group rate of $185/nt. if booked before January 15th. Call (707) 284-1234 or click here to register today.
Registration closes 12/31/18.
PLEASE PURCHASE OPTIONAL TOURS TICKETS ON FRIDAY OR MONDAY SEPARATELY.
---
FRIDAY FEBRUARY 15TH:
Optional Sonoma Winery Tour 9:15am-5:30pm
Sonoma Tour of Buena Vista Winery, DeLoach Vineyards and JCB Healdsburg.
Lunch will be provided and transportation included back to the Hyatt Vineyard Creek Hotel in Sonoma.
9:15am-9:30am Meet in parking lot and load bus
9:30-9:45am Drive to Healdsburg
9:45-10:30am Shop and Stroll-Oakville Grocery and town of Healdsburg
10:30-11:00 Tour JCB Healdsburg
11:00am-12:30pm Drive to BV
12:30-2:30 Lunch and Tour at BV
2:30-3:30pm Drive to DeLoach
3:30-5:00pm Tour DeLoach
5:15-5:30pm Drive back to hotel
---
Senior Leadership Day 9:00am - 4:00pm
7:30am-9:00am Leader Registration & Breakfast
9:00am-12:00pm Jean-Charles welcome & Leader training
12:30pm-2:00pm Lunch with Marnie and executives
2:00pm-4:00pm Team building & workshops
4:00pm Depart for Wappo Hill – invitation only
---
SATURDAY FEBRUARY 16TH:
Ambassador Retreat - Day 1:
7:30-8:45am Breakfast and Registration
8:45am Welcome
9:00-10:00am Jean-Charles Boisset Keynote
10:00-11:45am General Session – 2019 Strategic Initiative
11:45-1:00pm Lunch
1:00-4:00pm General Sessions – Wine Education & New Product Rollouts
4:00-6:00pm Winemaker Experience Opening Reception
---
SUNDAY FEBRUARY 17TH:
Ambassador Retreat Day 2:
7:30-8:45 Breakfast
8:45 - 9:15am Morning Welcome
9:00 - 10:00am Brian Mayoral Keynote Speaker (Click here to learn more)
10:15-12pm General Sessions – Growing Your Business
12:15-1:30pm Lunch
1:30-4:30pm Breakout Sessions
2:15-2:30 Break
2:30-3:15pm Breakout Session 2
3:15-3:30 Break
3:30-4:15pm Breakout Session 3
4:30-7:00 Break
7:00-midnight Awards Dinner & Dance Party
Guests invited to attend from 7:00-11:00pm for awards dinner - one guest per Ambassador only*
---
MONDAY FEBRUARY 18TH:
Optional Napa Winery Tour 9:00am - 5:00pm
Napa Tour of Raymond Vineyards and JCB Yountville.
Lunch will be provided and transportation included back to the Hyatt Vineyard Creek Hotel in Sonoma.
9:15am-5:30pm Napa Optional Tour-Yountville, Raymond and Oakville
9:15am-9:30am Meet in parking lot and load bus
9:30-10:30am Drive to Yountville
10:30-11:45am Tour JCB Yountville, Atelier and Salon Prive
11:45-12:00pm Drive To Raymond
12:00-2:00pm Lunch and Tour at Raymond
2:00-2:15pm Break and load bus
2:15-2:30pm Drive to Oakville
2:30-4:00pm Tour and presentation of Oakville Grocery
4:00-5:30pm Drive back to hotel
---
CANCELLATION POLICY:
Convention registration fees are refundable, less a $30 processing fee, if registration is cancelled on or before December 31st, 2018. If you need to cancel and the deadline of December 31st, 2018 has passed, you may transfer your registration to another attendee up to January 31, 2019. You are responsible to collect the registration fee from the person you are transferring your registration to and once you are in receipt of the funds you need to advise Boisset Collection of the name change on your original registration. After January 31, 2019 in the case of a cancellation, the registration fee is non-refundable and non-transferrable. To cancel or transfer your registration you must submit in writing your intention via email to Bruce Curtis at bruce.curtis@boisset.com by the appropriate deadline noted above.