Description
Boise Startup Week is Idaho's largest community-driven, entrepreneur-focused event. Each year, thousands of people and many organizations come together to learn, support and celebrate Idaho's entrepreneurial ecosystem. Join us!
BSW 2018 will feature thought-provoking, informative, and entertaining events. Our featured events include:
Startup Pitch Competition | Trailmix | Block Party | Keynote Speakers & 40+ more
A couple things to note:
- You can view the full schedule of events here: FULL BSW EVENT SCHEDULE HERE. For any events that you plan to attend, please RSVP.
- We have multiple ticket levels this year! Please make sure you select the ticket that's appropriate for you, and note the different benefits of each level. The levels are:
All Boise Startup Week registration:
General Admission [FREE]: Gives you access to all Boise Startup Week events (as capacity allows)
Student Pass [FREE]: Same as General Admission, (Open to all students)
General Admission + Grow Track [$25]: Includes lunch Thursday Oct 18th + Grow Track

Supporter [$75]: Same as General Admission, + Grow Track + $20 in meal/drink tickets, + BSW T-Shirt
VIP Pass [$99.99]: Access to VIP Areas at Block Party + VIP/Sponsorship Appriciation Party. Includes BSW Tshirt, $40 meal/drink tickets, (Good at all applicable events)
For more information, check out boisestartupweek.org.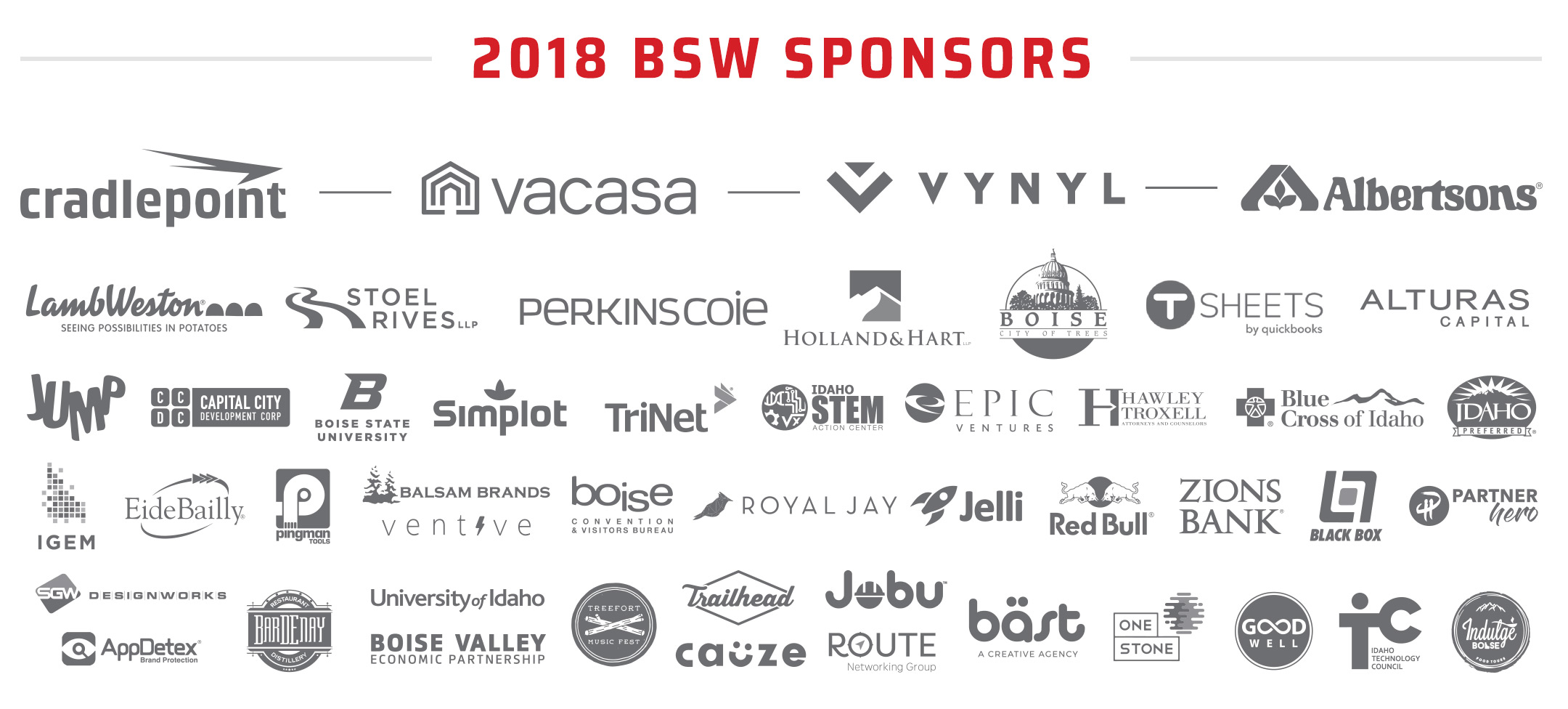 Bill Aderman

STEMfinity

CEO

Calvin Allan

Medtronic

Sr Program Manager, Customer Focused Innovation

Dan Sell & Kasey Allen

The Stil

Co-Founders

Jerek Anderson

Clearwater Analytics

Software Developer

Scott Baird

Clearwater Analytics

UX Designer

Roger Baird

Clearwater Analytics

Software Engineer

Eileen Barber

Keynetics / Kount

Founder

Elizabeth Beem

Healthwise

CFO

John Berryhill

BACON Restaurant

Owner & Executive Chef

Josh Bevan

University of Idaho Food Technology Center

Director

Dave Bieter

City of Boise

Mayor

Quincy Bowers

Clearwater Analytics

Senior Software Engineer

Jim Bradbury

Black Box VR

General Manager

Marianna Budnikova

Dropbox

Software Engineer

Jessica Cafferty

Route Networking

Founder & President

Gaspar Calamia

Albertsons




Bob Chimbel







Dr. Patricia Colberg

University of Idaho




Lisa Cooper

Figure 8 Investment Strategies

President & Founder

Nick Crabbs

VYNYL

Partner

John Cuevas

Madre

Owner & Executive Chef

Michael Cutforth

Google

Software Engineer

Troy Darmody

Albertsons

Senior Manager Food Safety & Quality Assurance

Gineal Davidson

Albertsons

VP Strategic Initiatives at Intermountain Division

Caleb Donegan

Vacasa

Vice Principal of Digital

Jarod Ferguson

Royal Jay




Will Fowler

Idaho Small Business Development Center

Regional Entrepreneurial Initiatives Manager

Kent Frazee

Albertsons

Produce Sales Manager

Wayne Fuhrman

Google

Software Engineer

Meredith Ganz

VYNYL

Software Producer

Hector Garcia

Waffle Me Up

Owner

Beth Geagan

Shift Strategies

CEO

Thomas George

Clearwater Analytics




Amy Gile

Silverdraft Supercomputers

CEO and Co-Founder

Ryan Gray

SGW Designworks

Managing Partner

Michael Hachigian

Clearwater Analytics

Data Analyst

Ian Harris

Vynyl LLC

President

Phillip Hayward

Clearwater Analytics

Software Development Engineer in Test

Erick Herring

Vynyl

CTO

Tracy Hitchcock

Create Common Good

Chief Executive Officer

Sheridan Hodson

Epic Realty

Co-Founder

Alecia Hoobing

VisitPay




Steve Howarth

Cradlepoint

Director of Hardware Engineering

Chris Hoyd

Vynyl

Director, Product Management

Sharky Jacaway

Clearwater Analytics

Data Automation Specialist

Alison Johnson

Holland and Hart




Erica T. Johnson

Modern Health

Co-Founder