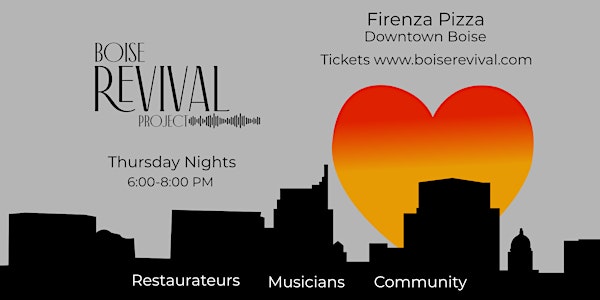 Boise Revival Project | Bloom & Brother of Bread & Circus
The Boise Revival Project is a passion project to express our shared love for downtown Boise, our music community, and our restaurateurs.
When and where
Location
Firenza Pizza 999 West Main Street #Suite 103 Boise, ID 83702
Refund Policy
Contact the organizer to request a refund.
Eventbrite's fee is nonrefundable.
About this event
Band Info: https://www.facebook.com/BreadAndCircusMusic
About the Boise Revival Project:
We are all connected.
In working together to restore life to downtown, we have the opportunity to be part of a revitalization, parallel to the Roaring 20's. It's clear we all long to gather again in the heart of our city with friends and neighbors, to hear live music and revel in our favorite venues and businesses. The intent of The Boise Revival Project is to turn that longing into action, and help refocus resources and energy toward the goal of a more vibrant city center.
Join us for live music and community… together again in downtown Boise. Our hope is that businesses in downtown Boise will find a way to join us in the Revival Project over the coming months and beyond.
Here's how we are collaborating:
Restaurateurs
Have been hit hard in downtown Boise. The day to day work force hasn't been working from downtown for more than a year which means restaurants are faced with a drastic reduction in business. Most have been holding on by a very thin thread— restaurants need support and hope again.
Musicians
Have lost most and likely all gigging opportunities during the past year. Their livelihood has nearly been wiped out. Musicians need support and opportunities to perform their craft.
Community
The past year has changed us all. We believe music will help heal, inspire and repair the broken pieces and build a bridge back to each other again.
Event tickets purchased will support the musicians and collaborating venues in downtown Boise.
Musicians Line-Up
~ May 6 Naomi Psalm ~
~ May 13 the trees the trees ~
~ May 27 High Pine Whiskey Yell ~
~ June 3 Dan Costello ~
~ June 10 Matt Phipps Band ~
~ June 17 Bloom & Brother from Bread & Circus ~
~ June 24 Brent Jensen "More Sounds of a Dry Martini" CD Release ~
~ July 1 Lee Penn Sky ~
~ July 8 Justin Nielsen w Featured Guitarist ~
~ July 15 David Gluck's Canyon County Connection ~
~ FRIDAY July 16 June Babies ~
~ July 22 Blaze and Kelly ~
~ July 29 Farayi Malek ~
~ August 5 Moody Jews ~
~ August 12 Gretch N Rodgers & Dustin Morris ~
~ FRIDAY August 13 Quirky Quarantine Quorum ~
~ August 19 Emma Young Quartet ~
~ August 26 Brook Faulk ~
~ September 2 Steve Eaton ~
~ September 9 The Seekers ~
~ September 16 Steve Fulton ~
~ September 23 Justin Nielsen w Featured Guitarist ~
~ September 30 Phil Roy ~
Event rescheduling may happen as the project unfolds...