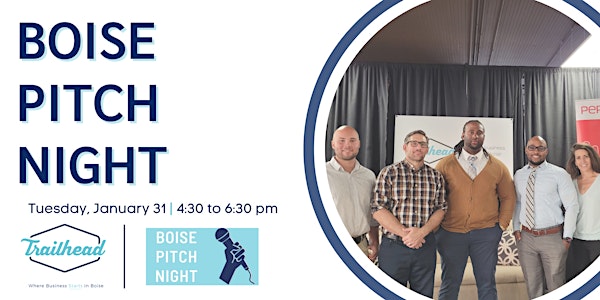 Boise Pitch Night
SAVE THE DATE and join us January 31 at 4:30 pm for Boise Pitch Night! Listen to a keynote, 4 pitches and enjoy networking and happy hour.
When and where
Location
Trailhead Boise 500 South 8th Street Boise, ID 83702
Refund Policy
Contact the organizer to request a refund.
Eventbrite's fee is nonrefundable.
About this event
Listen to a keynote, and four back-to-back pitches followed by a Q&A session then enjoy networking & happy hour.
Investors, funders, local startups, and trailhead members will hear pitches from three local/regional startups actively fundraising. Each individual will present a 7-minute pitch with 2-3 minutes of Q&A followed by a networking/social hour.
Keynote Speaker: Ashely Crafton, CEO of Galena Innovations
Since 2007, Ashley Crafton has been an active labor and delivery nurse, showcasing her enthusiasm for family, expertise in medicine, and empathy for all women and children. During her fourteen years as a nurse, Ashley has served thousands of families with her compassion, quick thinking, and ingenuity. Over the course of her time as an RN, she has identified her passion not only for the individuals and families she has cared so deeply for, but for ideating products and innovations in the maternal-child healthcare space so she can ultimately reach even more people in need.
Galena Innovations, a medical device startup with a powerful impact initiative, was founded in 2019 with the goal of developing the Hannah Cervical Cup which prevents preterm birth. Pregnancy and birth are the foundation for a healthy life for every human being, and the best pregnancy outcomes allow for families to thrive. Galena Innovations' mission is to change the trajectory of obstetrics from stagnation to innovation by creating solutions that meet the needs of mothers everywhere, from Mississippi to Malawi, ending the health and social inequities that are pervasive in our world, beginning with birth. Galena Innovations is bringing the Hannah Cervical Cup to market in the coming years.
Pitching Companies:
Blue Planet Optics: Blue Planet Optics is the world's first contact lens brand centered around sustainability. With cruelty-free products that use less plastic per unit, consumers can help the planet with the way they see the world.
Anywhere Saddlebags: Anywhere Saddlebags is a customizable portable modular storage organizer designed to accommodate various functions in our daily lives e.g., in vehicles to provide access to those small items a driver wants at their fingertips, in our home e.g., couch or recliner for remote controls, on bicycles to put our cell phones, readers, ID at our fingertips, walkers, strollers, healthcare environments, etc.
Anywhere Saddlebags is a single woman-owned business founded in 2018 with the objective to create a storage organizer to put small items at the founders' fingertips in preparation for 3-month road trip.
Pay4Me App: Pay4Me App simplifies tuition and fee payments for international students by converting their local currencies in real-time for instant payouts to colleges and universities. With Pay4Me App, millions of international students will be able to seamlessly access financial services like bank accounts, debit cards, and secured credit cards.
Amigoes: Amigoes is a disruptive innovation in digital marketing. A new type of marketing platform that provides consumable advertising for customers looking for fun things to do while saving money and spending time with friends and family. Don't miss an opportunity to get in on the ground floor with the latest tech giant being born in Idaho!
Agenda:
4:35 pm: Opening remarks & Welcome by Trailhead
4:40 pm: Keynote - Ashely Crafton, CEO of Galena Innovations
4:50 pm: Blue Planet Optics
5:00 pm: Anywhere Saddlebags
5:10 pm: Pay4Me App
5:20 pm: Amigoes
5:30 pm: Next Steps
5:40 pm: Networking & Happy Hour
6:30 pm: End
Entrepreneurs interested in pitching can fill out our BPN application. Investors interested in learning more can email Trailhead's Program Manager, Alina Gilmore at alina@trailheadboise.org.
Boise Pitch Night is proudly sponsored by Perkins Coie.