Boise Natural Health Symposium

Saturday, July 21, 2018 from 10:00 AM to 5:00 PM (MDT)
Event Details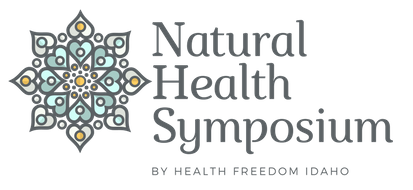 Enjoy a day of natural-focused presentations, exhibits and demonstrations at Boise's first Natural Health Symposium!  Join us and other health-seeking locals on Saturday, July 21st from 10am to 5pm at Vineyard Boise.

Bring your family, friends and your enthusiasm for meeting other passionate health-minded people and practitioners in a collaborative, functional setting. We hope that you'll be inspired, encouraged and nurtured in optimizing your well-being! See the speaker line-up below the ticketing widget. 
Meet The Speakers
Integrative Cutting-Edge Cancer Therapies 
Dr. Michael Karlfeldt of The Karlfeldt Center
Dr. Karlfeldt will discuss what some of the leading holistic doctors in the world are doing to support their patients in winning the fight against cancer. Topics that will be covered include oxygen therapy, intravenous light therapy, intravenous vitamin C, LDN therapy, metformin and cancer, transforming a cancer cell to behave like a normal cell through metabolic interventions, and should I do integrative cancer care while doing traditional cancer therapy.
The Karlfeldt Center, located in Meridian, Idaho, is a comprehensive health treatment center that provides proven natural healthcare solutions for all ages and conditions. Dr. Michael Karlfeldt, ND, Ph.D, is a Board Certified Naturopath (CTN® ) with expertise in IV Therapy, Applied Psycho Neurobiology, Oxidative Medicine, Naturopathic Oncology, Neural Therapy, Sports Performance, Energy Medicine, Natural Medicine, Nutritional Therapies, Aromatherapy, Auriculotherapy, Reflexology, Autonomic Response Testing (ART) and Anti-Aging Medicine. Dr. Michael Karlfeldt is the host of the popular TV show True. Health: Body, Mind, Spirit now airing on Amazon prime. 
Brain Mapping and NeuroIntegration: 21st Century treatment For Brain-based Disorders
Dr. Jon Harmon of Clear Mind Idaho
Attendees will come away with an understanding of what a brain map is and what the brain map looks like in a person who has anxiety, PTSD, depression, ADD/ADHD, OCD and more.
Dr Harmon has been a Doctor of Chiropractic in the Boise area for 28 years and is the founder of Clear Mind Center of Idaho. He has a BS degree in Human Biology and achieved the title of Doctor of Chiropractic from the Los Angeles College of Chiropractic in Dec of 1989. After his own family experienced severe emotional trauma he became very frustrated with the traditional medical treatments of brain-based disorders and worked to find a more natural way of correction of a brain out of balance. This lead him to this highly effective way of retraining the brain.


Using Food To Heal Your Gut and Optimize Your Mental Health
Jenifer Whitney of Restoring Nutrition
Around ninety percent of the immune system is located in the digestive system (the gut), if the gut isn't functioning properly, the rest of the body can't function properly. A weak immunity is the true cause behind illness's. Working on strengthening the gut, strengthens the immune system, which benefits all the functions in the body. We'll explore how eating a healthy diet is one of the best ways to life vitally, prevent disease and maintain a healthy body, mind and spirit.
Jennifer is a Certified Wholistic Nutritionist, Certified Health Coach, and Certified Gaps Practitioner. She graduated from the Wellspring School for Healing Arts, and has been trained in Western and Eastern nutrition, the Gaps program, weight loss, applied kinesiology, desensitization techniques, and different types of cooking methods to heal the body. As a nutritionist, she offers personalized step by step nutritional programs designed to assist the body in healing from many types of chronic conditions.


Become A Healer In Your Home!
Lisa Hevern, an Independent DoTerra Wellness Advocate
After a failed spine surgery at 26, my liver and kidneys were damaged from prescription arthritis medication for managing chronic pain. I was able to stop taking my prescription medications and detox my body with safe, pure, beyond organic essential oils. In this presentation, I'll share the basics of essential oils; where they come from, safety and purity, and the three ways to use them. My intention is to empower each individual to become a holistic healer in their home through the use of natural, plant based medicines.
Lisa has studied Health Sciences and Healthy Aging (Gerontology) at Boise State University.  Through my education and personal experiences, I learned how the cards are stacked against us in modern medicine. My goal is to empower as many people as possible to become knowledgeable, confident, holistic healers in their homes through the use of doTERRA essential oils.
The Art and Science of Healing Through Cleansing and Detoxification
David DeHaas of Living Waters Wellness Center
Let's take the confusion out of cleansing. Colon Cleanse? Liver Cleanse? Parasite Cleanse? Lymphatic Cleanse? Juice Cleanse? Sauna? EFT?  Water Fast? Where does one begin? We'll discuss the concept and process of detoxification and make it more approachable, practical and sustainable. 
Few things are more rewarding than helping our clients heal from a lifetime of discomfort and illness. By empowering and educating you about preventative and holistic health, we hope to positively affect your life and the lives of your loved ones. Living Waters is best known for its 10-day recipe for Deep Tissue Cleansing and Detoxification using Colon Hydrotherapy and other natural modalities to heal the body.
Treating MTHFR: Optimizing Genes, Improving Lives
Dr. Andrew Rostenberg of Red Mountain Natural Clinic
Methylation is the most powerful system controlling our genes, our genetic potential. By looking at methylation, the root of the problem often comes into focus. The truth is that body has the ability to heal and grow strong regardless of age or condition. The only question is will the body have the resources it needs to overcome the challenges it suffers from? Treating methylation problems allows the body a chance to experience as much health as possible. By balancing the body with methylation, anything is possible! By looking beyond MTHFR, we are able to optimize our genes, and optimize our lives!
Dr. Andrew L. Rostenberg is a board-certified chiropractic physician who serves the Treasure Valley region. Dr. Rostenberg is also the founder of the educational website BeyondMTHFR and a leading researcher in the field of methylation and epigenetics.  He is a graduate of Northwestern Health Science University in Bloomington Minnesota and he is licensed by the State of Idaho as a Chiropractic Physician. He founded Red Mountain Natural Medicine in 2011 to bring the latest in natural health care to the greater Boise community. What sets Red Mountain Natural Medicine apart is Dr. Rostenberg's holistic approach to health that uncovers the cause of ill health.


Recap: 2018's Legislative Sessions' Affects On Parental Rights and Health Freedom
Miste Karlfeldt, Executive Director of Health Freedom Idaho
With the 2018 Legislative Session is now complete, learn what laws and trends will affect yours and your family's health. 
Miste Karlfeldt is an entrepreneur, mother of four and founder of Health Freedom Idaho.  Seeking relief from neuropathy-type pain that left her bedridden, Karlfeldt traveled to the Mayo clinic to be told she would need 3 years of chemotherapy. She sought out a second opinion from a practitioner of naturopathic medicine. Just as she was seeing an amazing recovery (without toxic chemotherapy), Idaho lawmakers considered legislation to limit access to natural medicine. Still in pain She shuffled through the halls of the Idaho Legislature meeting with lawmakers to tell her story. It was then she woke up to her true purpose and passion.  Her calling is to empower the citizens of Idaho by advocating for their health freedoms. She does this work leading Health Freedom Idaho which educates Idahoans about the laws and factors impacting their right to access the healing and health care treatment, information, and services of their choice.


We look forward to seeing you on July 21st!
Questions? Please feel free to contact us. 
Thank you to Vineyard Boise for providing their generous space for this event!
Save This Event
When & Where

Vineyard Boise
4950 N. Bradley Street
Garden City, ID 83714


Saturday, July 21, 2018 from 10:00 AM to 5:00 PM (MDT)
Add to my calendar
Organizer

Given our belief that each person, parent or guardian should be free to choose how to get and stay well, we are committed to promote and preserve for the people of Idaho the right to access the healing and health care treatment, information, and services of their choice which they determine are necessary for their own health and survival; protect practitioners' right to practice; develop state laws, statutes, and codes that honor our inalienable human right to self determination in all aspects of our own and our children's health; and empower the citizens of Idaho by advocating understanding of the laws and factors impacting their right to access.