Description
What is the Boise Goathead Fest?
Boise Goathead Fest is a 2-day Pedal-Powered, Wonderfully Weird, and Bona Fide Boise festival that celebrates and supports Boise's diverse and thriving bicycle community. Together our tires are always full!
What is the Pedal-Powered Parade?
The Pedal-Powered Parade is the cornerstone of Boise Goathead Fest. It is an "all-ages, all-bikes, all-abilities, all-types-of-pedal-powered-people parade" that celebrates our entire bicycle community. In this parade, you aren't the spectator. You are the star! So pump up your tires, put on your costume, and get ready to ride! The route is about 2 miles long, and we're expecting over 6,000 riders from Boise and beyond! Together we ride strong!
What is the Parade schedule?
9am: Kids costume and bike decorating party. With coffee available for purchase from Dawson Taylor!
10:30am: Parade Launch Ceremony!
11am: Parade Launch!
12pm: Boise Goathead Fest in Cecil D Andrus Park! Together we'll party!
How Much?
There is a $5 recommended donation for participating in the parade (discounts for groups and families), and those funds go directly to the bicycle nonprofit of your choice! Passionate about this parade? You can donate more if you choose. With your donation of $5 or more, you also get a limited edition Boise Goathead Fest parade patch. Together we can empower our bicycle nonprofits!

Boise Goathead Fest History?
Boise has become well know for hosting one of America's largest annual bicycle parades during Tour De Fat. In 2018, New Belgium Brewing handed over the reins to the Boise Bicycle Project and said, "Create something beautiful and unique for Boise's bicycle community, and we'll support it!"
And Boom! Boise Goathead Fest was born! With the support of New Belgium and the local bicycle community, we've created a local event with limitless potential for impact. Together we can transform Boise into the Bicycle Capital of America.
Boise Goathead Fest Future?
In 2018 we hope to...
Raise $50,000 for bicycle nonprofits
Collect and eliminate 2 tons of Goatheads
Gather over 6000 people for the Pedal Powered Parade
By 2020 we hope to...
Raise $100,000 for bicycle nonprofits each year
Eliminate Goatheads from our neighborhoods and trailheads
Host the largest bicycle parade in the country. Oh yes! Together we can!
THANKS!
The Boise Bicycle Project is proud to partner with New Belgium Brewing and Boise's very own Original Goathead Ambassadors to the bring this Pedal-Powered Parade of epic proportions to the Boise community!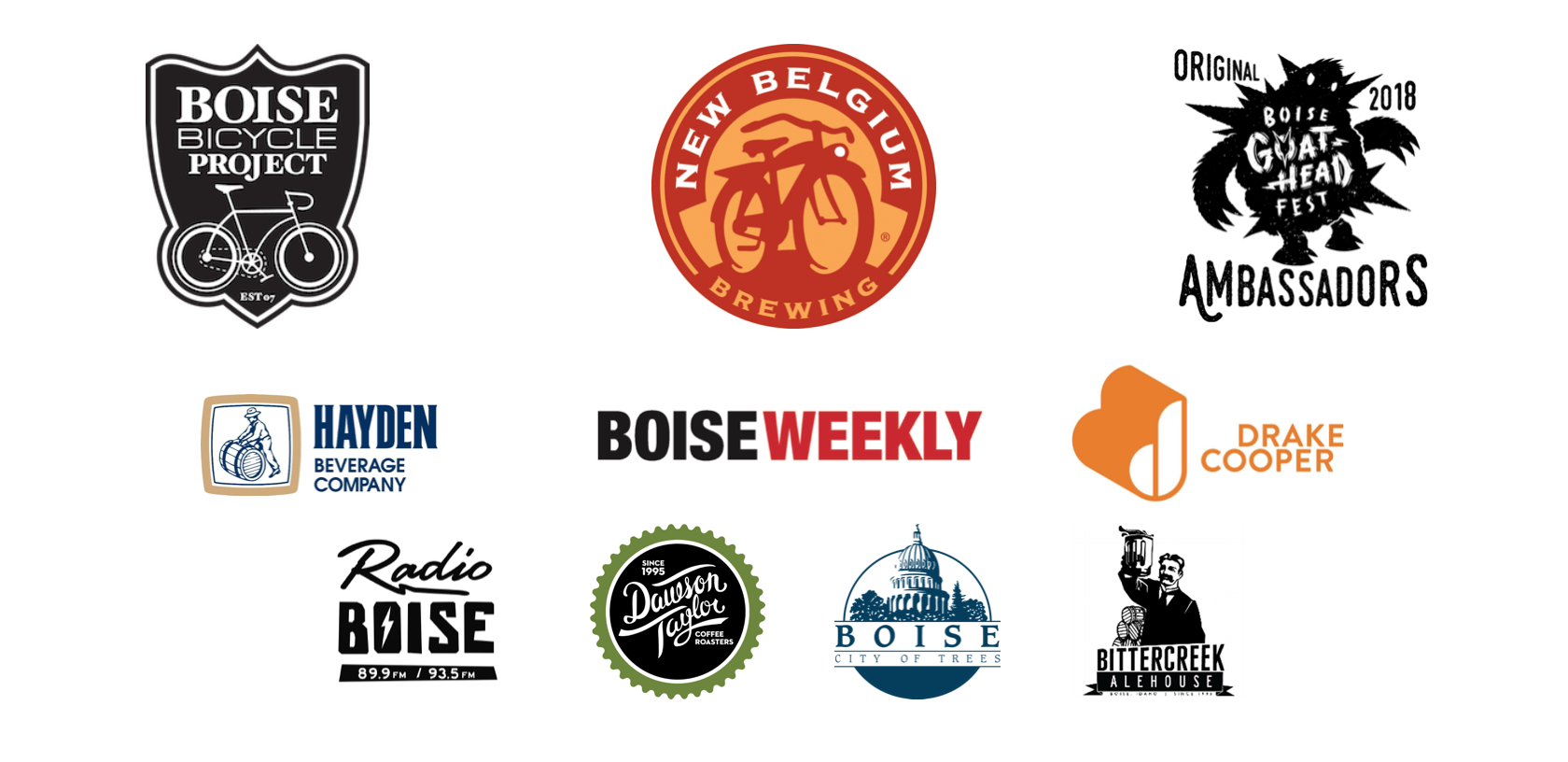 OG Business Ambassadors
BOISE STATE UNIVERSITY CYCLE LEARNING CENTER

OLIVER RUSSELL

BIKES AND BEANS

GRAEBER AND CO

BOISE FRY COMPANY

THE MODERN HOTEL

LOST GROVE BREWING

BERKELEY INC.

CTA ARCHITECTS

EVERMORE PRINTS

OUTDOOR EXCHANGE

BUSINESS INTERIORS OF IDAHO

LACTIC ACID CYCLING

NORTH END ORGANIC NURSERY (NEON)

CLIFTON LARSON ALLEN LLP

TRADEMARK

IBEW LOCAL 291