BOFFO Fire Island Performance Festival

Friday, August 26, 2016 at 8:00 PM

-

Sunday, August 28, 2016 at 11:00 PM (EDT)
Event Details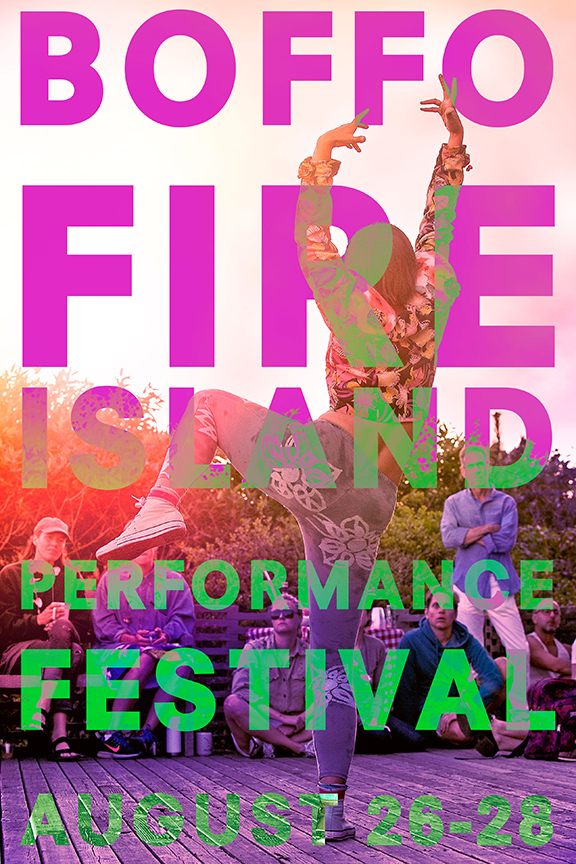 Welcome to the BOFFO Fire Island Performace Festival, a weekend of performance, music, and dance made for the island's unique social and geographic context. In keeping with BOFFO's mission of supporting experimental art and fostering dynamic social environments, we have invited a stimulating constellation of artists to produce new and adapted works for the island's diverse public.  In commissioning them to present works in the festival, BOFFO affirms its commitment to engage and enrich the vibrant cultural scene of the island.  We are excited to be presenting the works of: Tyler Ashley, The Blow, Xavier Cha with Rafael Reynoso and Adonis Vasquez, Eartheater, Fluct, Fragile (Wolfgang Tillmans), M. Lamar, Pearl, Frankie Sharp, Casey Spooner, Ssion, Telfar, and more.  
All performances are free unless otherwise noted!  
FRIDAY, AUGUST 26
8PM - M. Lamar - Whyte Hall Community Center - Albert Lepage Pavilion - 577 Fire Island Blvd. Free
11PM -  Pearl - Location announced at M. Lamar performance. Free
SATURDAY, AUGUST 27
12 - 8PM - TELFAR SHOP: MOBILE presenting TELFAR: CRUISE - The Meat Rack 
12-2PM - Carrington Estate Tour & Cocktails - 548 Beachcomber Walk. Join BOFFO, Fire Island National Seashore, and historian John Krawkuch to celebrate the Centennial of the National Park Service and visit the Carrington Estate. We'll serve cocktails at 548 Beachcomber and give tours of the Carrington Estate to groups of 20 every 30 min.  $50 Tickets
2 - 7:30PM - Tyler Ashley, The Blow, Eartheater, Fragile (Wolfgang Tillmans), Frankie Sharp, Ssion - The Beach at Susan Walk / The Meat Rack. Free
7:30 - 8PM - Xavier Cha - The Beach at Susan Walk / The Meat Rack. Free
9PM - Casey Spooner Dinner - 214 Beach Hill Walk. Join us for a magical evening of storytelling and dinner - proceeds support BOFFO and our Fire Island artist residency program.  Purchase of this ticket gives you access to Carrington Estate Tour & Cocktails on Saturday from 12 - 2pm. $500 Tickets 
SUNDAY, AUGUST 28
12 - 6PM - TELFAR SHOP: MOBILE presenting TELFAR: CRUISE - The Meat Rack
2PM - FLUCT - The Pines Club - 236 Bay Walk. Free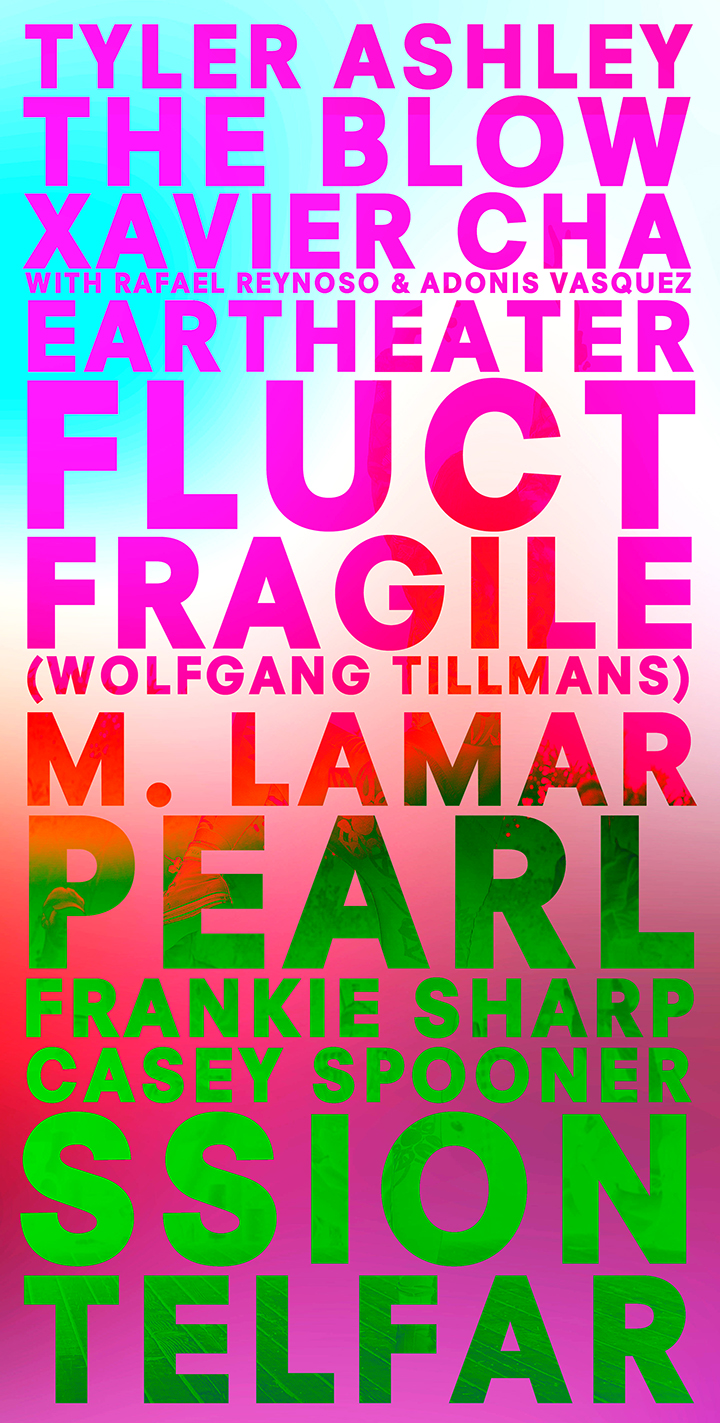 When & Where

Multiple Locations
Fire Island Pines



Friday, August 26, 2016 at 8:00 PM

-

Sunday, August 28, 2016 at 11:00 PM (EDT)
Add to my calendar
Organizer
BOFFO IS A NONPROFIT ORGANIZATION THAT PRESENTS INNOVATIVE & EXPERIMENTAL ART, ARCHITECTURE AND DESIGN. Our initiatives include artist residencies, digital commissions, and the creation of spaces, experiences and exhibitions. Since 2009 we've served the artistic community by supportiing new work and stimulating interdisciplinary dialogues. We serve local communities by offering access to the greatest voices of all media, generations, and practices in unexpected and unconvential ways.
BOFFO believes in art and design as a vehicle of change - a way to improve and enhance the quality of life of our communities and of individuals. BOFFO believes in enabling the greatest creative talent of our time to become powerful forces in shaping social, industry, and community landscapes.
BOFFO is a New York State 501(c)(3) nonprofit exempt from federal income tax.