BOFFO Fire Island Performance Festival

Friday, August 7, 2015 at 6:00 PM

-

Sunday, August 9, 2015 at 5:00 PM (EDT)
Event Details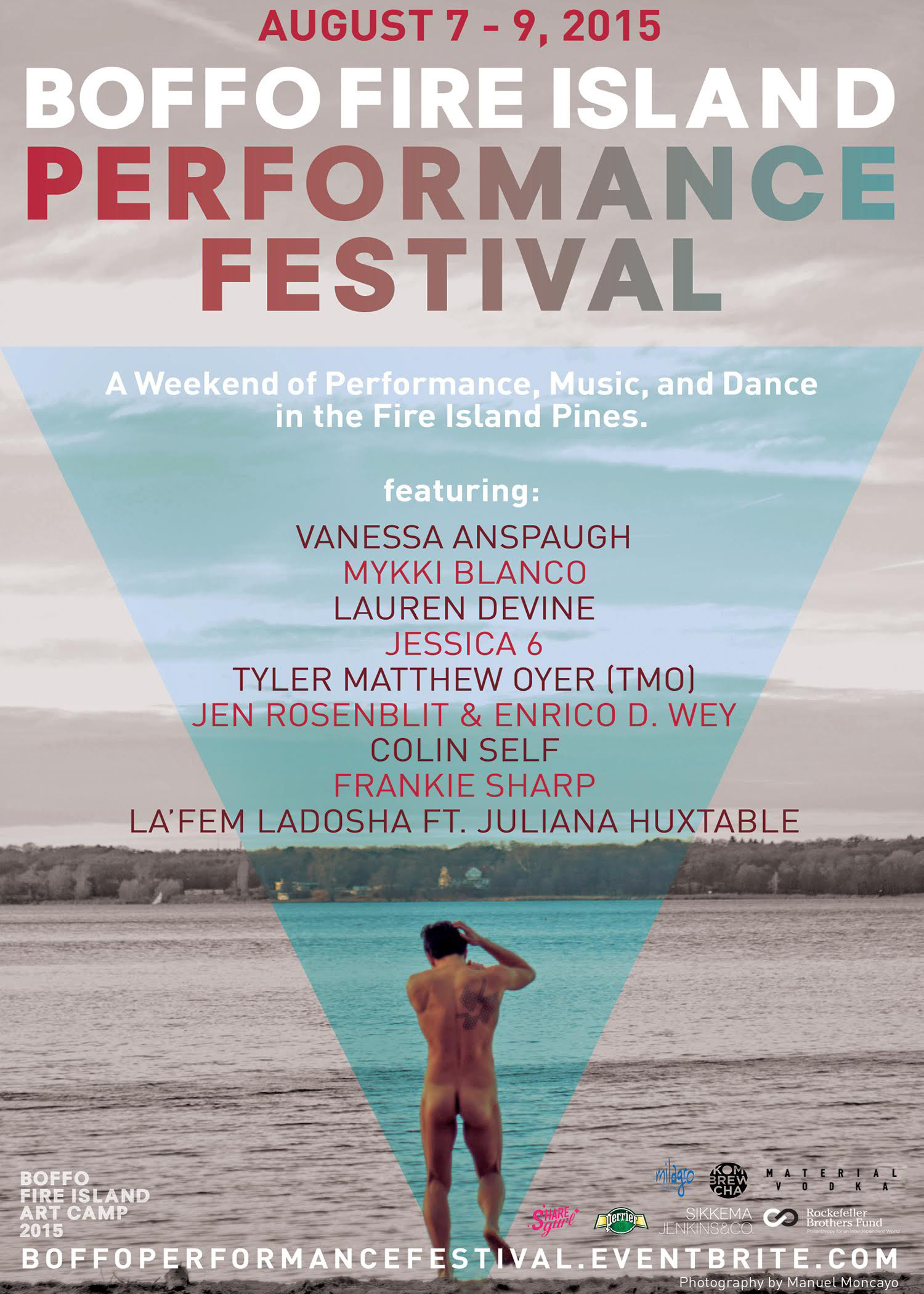 BOFFO Fire Island Performance Festival
August 7-9, Fire Island Pines
This summer BOFFO Fire Island Art Camp is presenting its inaugural Performance Festival: a weekend of performance, music, and dance made for the island's unique social and geographic context. In keeping with BOFFO's mission of supporting challenging art and fostering dynamic social environments, we have invited a stimulating constellation of artists to produce new and adapted works to engage the island's diverse public.


Participating artists have been invited to develop their works on the island, spending time with its residents and finding inspiration in its unique historical and social significance for the LGBTQ communities in the New York area, as well as its singular natural beauty.


The festival will feature the work of prominent interdisciplinary artists, choreographers, dancers, and musicians, many of whom will be in residence on the island as they refine their works.


Curated by Andrew Kachel and Clara López Menéndez  for BOFFO
Festival Schedule
Friday August 7
7:00 - 8:00 PM
Waxing and waning and small tokens
Jen Rosenblit and Enrico D. Wey
231 Bay Walk, doors open at 6:30pm
                             
8:30 - 10:30 PM
Lobster Bake BOFFO Benefit dinner*
266 Bay Walk


Saturday August 8

10:00 - 11:30 AM
DOCKING
A guided walk led via audio programming by Colin Self
Walk starts from 533 Sail Walk
                            
1:00 - 6:00 PM
Beach Music Explosion*
Lineup includes Tyler Matthew Oyer (TMO), Lauren Devine, Jessica 6, La'fem Ladosha feat. Juliana Huxtable, and Frankie Sharp
Programmed in collaboration with Frankie Sharp
Bay Beach behind 533 Sail Walk


Sunday August 9

11:00 - 12:30 PM
DOCKING
A guided walk led via audio programming by Colin Self
(A reprisal of Saturday morning's event)
Walk starts from 533 Sail Walk

2:00 - 3:00 PM
A-men (the first event)

Vanessa Anspaugh
 Bay Beach behind 533 Sail Walk
*These are fundraising events. Proceeds support BOFFO Fire Island Art Camp.
Other events unless noted are free. Registration required for all events. Location information to come.
Have questions about BOFFO Fire Island Performance Festival?
Contact BOFFO
When & Where

Fire Island Pines
577 Fire Island Blvd
(Multiple Locations in Fire Island Pines)
Fire Island Pines , NY 11782


Friday, August 7, 2015 at 6:00 PM

-

Sunday, August 9, 2015 at 5:00 PM (EDT)
Add to my calendar
Organizer
BOFFO IS A NONPROFIT ORGANIZATION THAT PRESENTS INNOVATIVE & EXPERIMENTAL ART, ARCHITECTURE AND DESIGN. Our initiatives include artist residencies, digital commissions, and the creation of spaces, experiences and exhibitions. Since 2009 we've served the artistic community by supporting new work and stimulating interdisciplinary dialogues. We serve local communities by offering access to the greatest voices of all media, generations, and practices in unexpected and unconventional ways.
BOFFO believes in art and design as a vehicle of change - a way to improve and enhance the quality of life of our communities and of individuals. BOFFO believes in enabling the greatest creative talent of our time to become powerful forces in shaping social, industry, and community landscapes.
BOFFO is a New York State 501(c)(3) nonprofit exempt from federal income tax.