BOFFO Block Party

Saturday, August 9, 2014 from 5:00 PM to 8:00 PM (EDT)
Event Details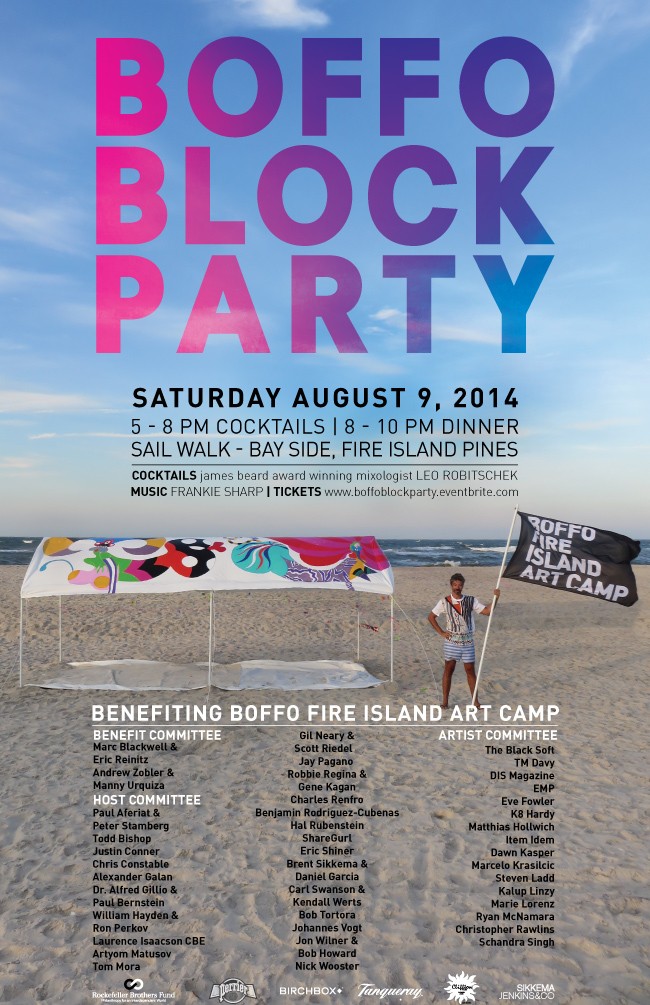 BOFFO will host a three hour block party from 5-8pm in the architecturally historic homes along the bay side of Sail Walk at the East End of Fire Island Pines.  The evening will feature immersive artist experiences, performances, art sales, and highlights from the work produced by the 2014 BOFFO Fire Island Art Camp artists in residency.  Each home along Sail Walk will highlight a unique dynamic installation with music provided by Frankie Sharp and cocktails provided by James Beard Award Winning mixologist Leo Robitschek.  Beginning at 8pm, BOFFO will host a Sunset Benefit Dinner consisting of a lobster and clam bake on the private beach behind the BOFFO Artist House.  Guests will have an opportunity to dine with artists from the residency, cultural tastemakers, and community leaders.
Benefit Committee
Marc Blackwell & Eric Reinitz
Andrew Zobler & Manny Urquiza

BOFFO Board Member Committee
Carlos Courtier
Charlie Ferrer
Brian Gorman (President)
Meaghan Gragg
Brad Lande
Nancy Jackson
David Song
Andrew Zobler
Host Committee
Paul Aferiat & Peter Stamberg
Todd Bishop
Justin Conner
Chris Constable
Alexander Galan
Dr. Alfred Gillio & Paul Bernstein
William Hayden & Ron Perkov
Laurence Isaacson CBE
Artyom Matusov
Tom Mora
Gil Neary & Scott Riedel
Jay Pagano
Robbie Regina & Gene Kagan
Charles Renfro
Benjamin Rodriguez-Cubenas
Hal Rubenstein
ShareGurl
Eric Shiner
Brent Sikkema & Daniel Garcia
Carl Swanson &Kendall Werts
Bob Tortora
Johannes Vogt
Jon Wilner & Bob Howard
Nick Wooster
Artist Committee
The Black Soft
TM Davy
DIS Magazine
EMP
Eve Fowler
K8 Hardy
Matthias Hollwich
Item Idem
Dawn Kasper
Marcelo Krasilcic
Steven Ladd
Kalup Linzy
Marie Lorenz
Ryan McNamara
Christopher Rawlins
Schandra Singh
Sponsors


When & Where

Fire Island Pines
533 Sail Walk
Sayville, NY 11782


Saturday, August 9, 2014 from 5:00 PM to 8:00 PM (EDT)
Add to my calendar
Organizer
BOFFO is a non-profit organization that produces creative, ambitious, forward-thinking public art.  BOFFO fosters collaborations between artists, designers, communities, theorists, and the media in the exploration of  contemporary subject matter that informs and educates the public, through innovative, participatory public arts programming.
BOFFO is the conduit between the emerging and the established, the obscure and the adored, the profound and the profane. BOFFO is always on the move, repurposing spaces.  All projects have a free component and are open to the public.

BOFFO is a 501(c)(3) non-profit, based in New York City.