BodySoul Matrix - Meditation & Yoga Nidra (Journey Beyond Fear & Limitation...
Description
2 Day Weekend Workshop 9am to 5pm both days. Class size is limited to 12
Reserve now for $100
non-refundable
Balance due on or before Sept 16
Pay by 6pm Aug 15 to secure Early Bird pricing


About This Course
This workshop is a combination of meditative practices, philosophical teachings, and building intuitive body awareness. We look at the whole being: physical, mental, emotional, and spiritual. These layers are interwoven and all must be honoured on the healing journey.
At this workshop, you will learn:
how to manage stress and channel negative emotions
tools and practices for quieting/calming the mind
how to think beyond the boxes of belief
strategies for resolving anxiety and fear
all about the nature of the mind and how to shift self perception and limiting beliefs
how to get out of your own way
how to tune into your innate wisdom/intuition, and find ways of trusting its guidance
This course draws on principles and teachings from the Yoga Nidra guided meditation system. It is non-dogmatic, and it is a guide of practical tools and deep understanding to help you find more peace, excitment and purpose in your life.


In a nutshell I teach spiritual empowerment.
We are in the midst of massive change on our planet, and it is change on every level, especially the levels of individual and collective consciousness. As much as we are in the information age we are also in the mis-information age. What was tolerated before is no longer so. It has become almost impossible to know what is truth and what is fiction. Learning to quiet the monkey/ego mind and developing intuition and discernment are now invaluable assets. This is what I teach. I want to open your eyes to a bigger world, to more possibilities, and to the power you have within. I am here to help you remember who you truly are.
The first thing I tell my students before we start is to allow your mind to be completely open, to consider everything as possible, and to contemplate the implications that such an outlook could have on your life. By the end of the weekend you will then use your discernment to decide what you will integrate and what you will leave behind. You have nothing to lose and potentially everything to gain.
This workshop can change your life.


About Liv
I have been studying meditation for 12 years, practicing somatic healing for 3 years, and studying the nature of self and reality my entire life. I also hold a Bachelor of Metaphysics degree. I am an Ortho-Bionomy Practitioner, Reiki Master, 500-hour Certified Yoga Teacher, and an advanced Yoga Nidra teacher. I read 10-20 books a year on all of these topics and topics like them. This course is the introduction to my life's work, and is my way to condense and share my knowledge and insight in a useful, practical way that you can apply in your everyday life to make it better.
I am a dedicated student and teacher of meditation, spiritual philosophy, and self realization. I am passionate about teaching and helping my students to realize their innate power and wisdom. The days of "follow the spiritual leader" are over. That is old energy and no longer works. What humanity needs now more than ever are empowered, connected, and heart-centered people. If we want to create a peaceful world we must first be willing to look within and face our own human shadows so that we may remember our eternal light.
I have been through my own healing process and journeyed through dark nights of the soul. I share personal stories and revelations I have gathered along the way in hopes that those insights will help you guide your path. Working on self growth is not selfish; it is a heroic act. When you create positive changes for yourself it echoes out to those around you. As you elevate yourself it makes it easier for others to elevate themselves too. To simplify a Ghandi teaching: Be the change you wish to see in this world. First we must realize and accept the power that we hold and how to navigate it.
Testimonials From Past Attendees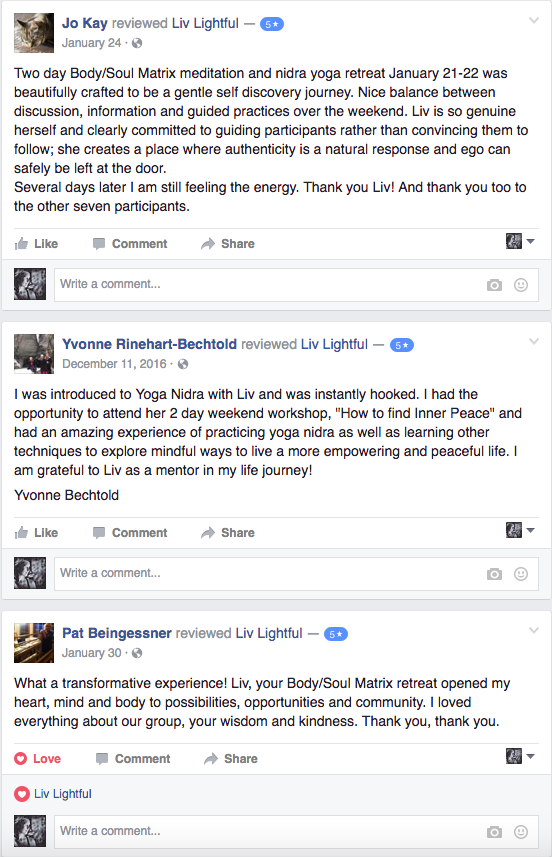 Where do I start...there are so many things that I learned over the last couple days it's difficult to narrow it down to one. I AM a different person leaving this course. You have given me some tools to help me reshape my entire being. You've taught me that I am in control and I can change the energy and vibrations I am putting out to this Earth and to those around me. I really enjoyed how supportive you were and the walking exercise we did. You nailed it in telling me that I am walking forward and open but there is a part of me holding back. I loved all the theory and information you shared with us, blew away any expectations I had.
- Natalie W.
This course taught me that I don't have to buy into other people's judgements of me. It's time to look at the change in my life as a choice, not as giving in or giving up but as a CHOICE. Fear is an illusion we place in our way.
- Jill N.
I recently attended Liv's 2-day weekend workshop.
Liv expertly, yet gently, navigated our intimate little group of 7 lovely ladies through the practice of Yoga Nidra and other cognizant techniques and material.
Having just entered into a new and unfamiliar phase of my life, I began this experience with misplaced feelings of confusion, purposelessness and fear. The end result far exceeded my expectations. Liv gifted me with a new perception of my life, and a personal recognition of endless possibilities. I left this event blessed with a fresh outlook, armed with empowering tools I can use on a daily basis.
Thank you, Liv!
- Charlene V.