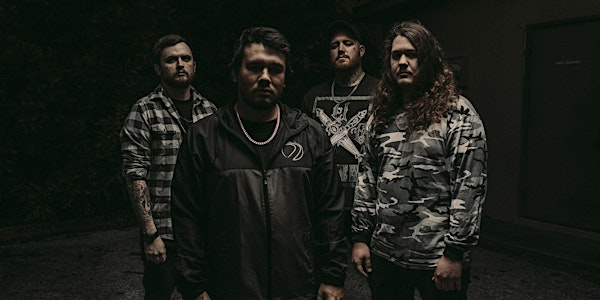 BODYSNATCHER
18+ Bodysnatcher, Angelmaker, Paleface (CH), Distant & Thirst
When and where
Location
Respectable Street 518 Clematis Street West Palm Beach, FL 33401
Refund Policy
Contact the organizer to request a refund.
Eventbrite's fee is nonrefundable.
About this event
An epically unashamed demonstration of aggression, Bodysnatcher's music is dark, furious,
and threatening. It's a sound born from the burden of struggle and an unwavering commit
-
ment to continued survival against all obstacles. Bodysnatcher put the "core" back in Death
-
core.
Bleed-Abide
, the Melbourne, Florida quartet's third album, crackles with rage and power.
As seen on tour with Chelsea Grin, Lorna Shore, and Slaughter To Prevail, and in a series of
increasingly packed, sweaty, and electrifying club shows, Bodysnatcher music, lyrics, and
imagery already inspired several tattoos and proven transformative to deeply connected
listeners.
The alligator-filled swamps and burned-out tourist beaches of Florida were fertile ground
for death metal when the late/great Chuck Schuldiner took his love of heavy thrash and
crushed it into a new subgenre. The Sunshine State gave gruesome birth to genre pioneers
like Death, Morbid Angel, Obituary, and Deicide. Morrisound Recording became the site
where legendary bands summoned essential albums. Florida claims almost as many crucial
hardcore, punk, and power-violence bands, including Poison The Well, Shai Hulud, Brethren,
Assück, and Strongarm.
Kyle Medina (vocals), Kyle Carter (guitar), Kyle Shope (bass), and Chris Whited (drums) em
-
body the hardcore spirit and cut their teeth in the tight-knit community. They are monikered
after the nickname of one of history's most notorious serial killers, Ed Gein, and represent
-
ed by a triangular symbol steeped in alchemy and the occult. But Bodysnatcher lyrics owe
more to the horrors of domestic strife than the gore of their Florida-based forebearers in
Cannibal Corpse.
The inception point came with the purest of intentions. "I was around 17," Medina explains.
"We were just going to be a band that was basically a 'breakdown band' for my friends to
mosh to."
Eventually stabilizing with a lineup that overlapped at various points with beloved groups like
King Conquer and Dealey Plaza, Bodysnatcher released a quick succession of albums and EPs, most notably
Abandonment
(2015),
Death of Me
(2017), and the utterly crushing
This
Heavy Void
(2020). Combined with a blistering live show, this led to a deal with the MNRK
Heavy label.
Bleed-Abide
is the darkest offering yet from Bodysnatcher, burning with an intensity derived
from a further focus on sonic pummeling and truth-telling narratives. "Even as a pissed-off
teenager, the first songs I wrote were about personal experiences and people who did me
wrong," Medina says. "The musicianship is more mature; there are still a lot of breakdowns
but done in a much smarter way. It's definitely still Bodysnatcher. It's like Bodysnatcher on
steroids."
All of the guys contribute to the lyrics, resulting in multiple points of view and diverse in
-
sights anchored by common themes of catharsis and resistance. "Absolved of the Strings
and Stone" is a battle cry against the gaslighting and emotional abuse of toxic people. "Hol
-
low Shell" delves into strained familial dynamics, where some family members live as virtual
prisoners to others.
"Wired for Destruction" confronts death anxiety. "It's about the fear of the unknown, how all
of us will move on," says Medina. "Are we just going to return to dust? Are we just forgot
-
ten?" Even amidst the uncertainty and darkness, there's an underlying positivity to be mined
within. "Value Through Suffering" takes a proactive stance on hardship, a way to rebuild
from the wreckage.
Too many bands resist genre classification in an aloof effort to distinguish themselves from
every other band, inadvertently consigning themselves to talking points that sound like ev
-
eryone else. Bodysnatcher is, without apology, a deathcore band. There is no compromise
in the cards.
"Deathcore kicks ass. A lot of bands shy away from labels they don't deem 'cool' enough.
But we don't give a fuck," Medina says proudly. "We like what we like, and we play what we
play. We all love hardcore and metal, so we're going to play hardcore, play metal, and play
breakdowns."
"And that's how the band is going to be, forever.