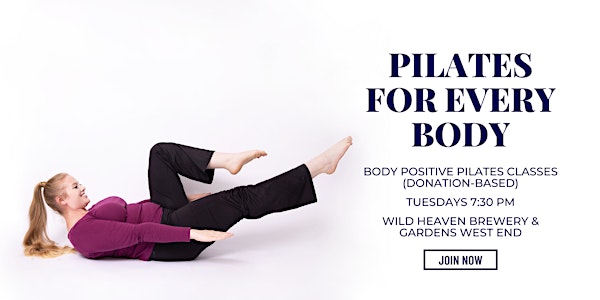 Body Positive Pilates Class (donation-based)
Finally - an accessible Pilates class for all bodies and all income levels. Wild Heaven West End Tuesdays at 7:30 PM. Pay what you can.
When and where
Location
Wild Heaven West End Brewery & Gardens 1010 White Street Southwest Atlanta, GA 30310
Refund Policy
Contact the organizer to request a refund.
Eventbrite's fee is nonrefundable.
About this event
We live in a world where learning to love your body is as insurmountable as Mount Everest. And our health and fitness culture certainly isn't making it any easier - obsessed with being a size 4, perfectly toned, 20-something Barbie.
But not all of us are a size 4, or even WANT to be a size 4!
Here's a secret...
You're allowed to live unapologetically in the body you have.
Visualize this:
- Fitness that fits your body
- Easy to follow workouts for beginners who are 50 lbs overweight, have more curves, or have absolutely zero flexibility, strength, or athleticism
- Exercises designed to relieve: upper back pain from having big boobs, low back pain from sitting all day, and hip pain from squeezing into chairs that weren't made to fit a curvy body
- Exercise classes specifically tailored for bodies of all types and sizes
That's what I do. I teach body positive fitness classes specifically designed for bodies of all types, and modified for all aches and pains.
Oh, haven't we met? I'm Lindsay, by the way. Hi! Lovely to meet you.
Here are the details for my body positive Pilates classes:
The classes take place in-person at 7:30 PM on Tuesday nights at Wild Heaven Brewery in southwest Atlanta at the Lee + White complex (1010 White St Atlanta, GA 30310). Live-streams of the classes are coming soon, as soon as I work out the technical details.
The classes will be in the Garden Room, which is the warehouse event space off to the right of the main entrance. There's a large painted "Garden Room" above the entrance door in big black letters.
Parking is abundant and free at Lee + White, and the complex is a 15 minute / 0.75 mile walk from the West End MARTA station just north along Lee Street.
Please bring a water bottle and a yoga mat, thick fitness mat, or even a towel. Pilates takes place mostly lying down on the floor, so you'll want some cushion under your hips and low back to make the exercises more comfortable.
Finally, these classes are donation-based which means you pay what you can, even if it's just $1. I strongly believe health and fitness should be accessible to everyone, regardless of income, which is why I offer these donation-based classes to the community. I recommend paying whatever you think the class is worth, but please remember that hours of my time and work go into curating each amazing class experience.
A brief description of Pilates:
Pilates is a mat-based exercise class that focuses on having really good spine and hip alignment to both prevent and reverse injury and chronic pain. We use abdominal, hip, and back exercises to lengthen, strengthen, and stabilize our "core" (i.e. anything in your torso). Pilates is often recommended by physical therapists as a fantastic way to alleviate low back, hip, or upper back/shoulder pain, and many physical therapy studios offer Pilates in-house to their physical therapy patients as a key part of their treatment.
Pilates is suitable for all people, regardless of age or physical condition. I've taught over 10,000 classes and I do an excellent job at giving modifications for all fitness levels. I'm confident you'll find the exercises challenging yet comfortable.
*Please note*
If you are actively injured (i.e. less than 3-6 months ago), PLEASE see a doctor and/or physical therapist FIRST and check that it's okay to proceed with the classes. While Pilates is often used as part of physical therapy treatment, it is not a replacement for physical therapy. Trust your doctor - they'll know your body much better than I do while I'm teaching from a stage.
I'll see you soon on the mat!
Lindsay