Location
The 9 Studios - East Williamsburg
317 Stagg Street
Brooklyn, NY 11206
Refund policy
Refunds up to 7 days before event
Description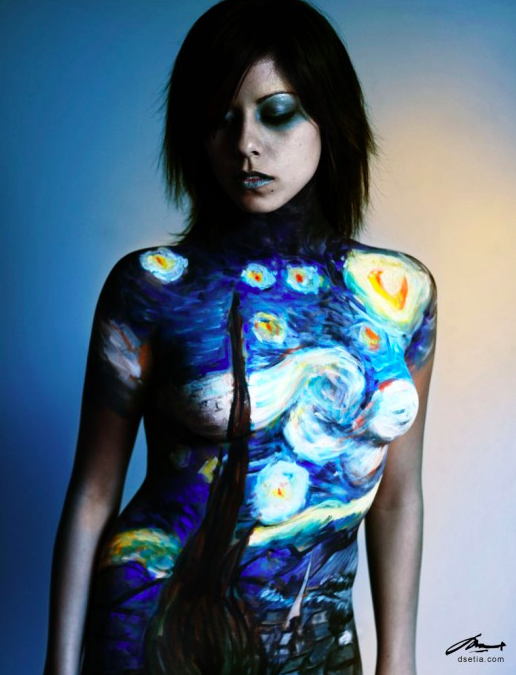 An Unforgettable and Inspiring Creative Experience for Adults of All Art Levels!
A body painting class at our studio location in Williamsburg, NYC. A fun and playful night where friends and couples can learn body painting!
In this class, we will be learning to paint one of our most popular body paintings - a tribute to Van Gogh's iconic Starry Night. This is a perfect starter piece to recreate as body painting because of the organic movements and lines that nicely fit the body contour.
This class is designed for beginners so no experience or knowledge of body painting is required! The focus of this class is to experiment with body painting as a new medium for self expression. We will cover all the basic things to get you started doing body painting.
This is a hands-on class. The instructor will start the class with some basic instruction and demo. Then the students will work together to paint the design on the model or on a partner or friend who you have purchased tickets with.
You don't need to bring any thing to the class besides your favorite beverage (we recommend your favorite wine or beer - BYOB)! Other than that, we will provide all the supplies you will need to create your masterpiece.
Check out the pictures from past classes below so you can get an idea of the kinds of artworks we have previously created in this class. If you're not very confident of your artistic ability, our instructor would be more than happy to provide help and support.
You will learn the following skills:
What body painting supplies professionals use and where to buy them
How to work with a body painting model
How to work with other painters
Structured way of breaking down a complex design
Time management to balance details vs coverage
To schedule you Private session please email us at info@denartny.com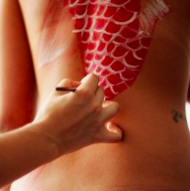 ---
FAQs
Is there an age limit to enter the event?
Because of the (partial) nudity and drinking involved in the event, you need to be at least 21 years old
What are my transport/parking options getting to the event?
The venue is a short walk from Greenpoint Av stop on G train and street parking around the venue is normally easy to find
What do I bring to the class?
We will provide the supplies for the class, so you don't need to bring anything to the class besides your favorite drink!
What if I get paint on me?
The professional body paint we use is water soluble and super washable! Still, we ask you to wear clothing you will feel comfortable getting (relatively) messy in.
Can my friend come to the session?
Sorry, this is only for registered students. Having people who don't participate in the class could make some students feel uncomfortable. However, if you wish to bring your own model to paint on, you can purchase a discounted ticket for artist and model!
Do I have to be an artist or have some artistic skills?
No. Most people who come to this class don't consider themselves as artistic or would brag about their painting abilities. The focus of this class is to experiment with body painting and have fun: to play. Our professional artist will be able to provide any help that you may need (i.e. outlining the design for you to fill in )
Do I have to be in nude for this class?
No, nudity is not required for this class.
Can I bring wine to class?
This is a paint and sip -- your favorite wine or beer is encouraged!
What if I need to cancel or reschedule?
Our standard cancelation policy applies to this class. You can review it on our site: Cancelation and rescheduling policy