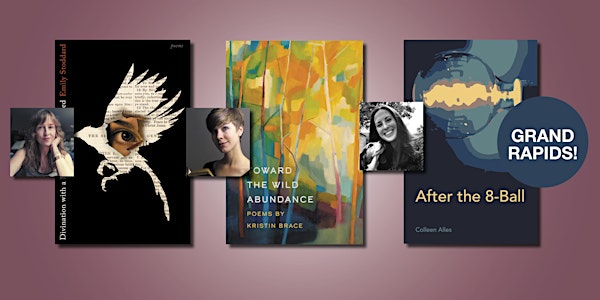 Body of Work with Emily Stoddard, Colleen Alles, and Kristin Brace
Poetry in Grand Rapids
Date and time
Starts on Wednesday, June 7 · 6:30pm EDT
Location
Schuler Books 2660 28th Street Southeast Grand Rapids, MI 49512
About this event
1 hour 30 minutes

Mobile eTicket
Body of Work: Three poets share how they developed memories, personal curiosities, and unexpected obsessions into the poems that would become their debut books. What does it take to shape an image, rough story, or family myth into a body of work? How do themes and threads come together in a poetry collection? Join us in a conversation open to poets, poetry readers, and the poetry-curious alike.
This event is free to attend. However it helps us in planning to receive your RSVP.
Divination with a Human Heart Attached by Emily Stoddard
About the Book:
In her debut poetry collection, Emily Stoddard takes on a god who "kicks us from the inside." These poems challenge the space between the divine and the stories we invent--or inherit--about what to believe and why.
Divination with a Human Heart Attached is a book where the sacred doesn't shy away from what's surreal, unavoidably human, or unexpectedly absurd. Here, the gods know what it's like to be lonely, the daughters know the power of expecting more, and every bird is at risk of becoming an omen. The poems are led by Petronilla, the daughter of St. Peter, and the magpie, who refuses easy shelter and asks you to do the same.
About the Author:
Emily Stoddard (she/her) is a poet and writer living in Michigan. Her writing has appeared in Tupelo Quarterly, Baltimore Review, Ruminate, Radar, Tinderbox Poetry Journal, Cold Mountain Review, Whitefish Review, and elsewhere. In 2021, she was selected as the nonfiction fellow in the Developmental Editing Fellowship at Kenyon Review. Emily's debut poetry book is forthcoming from Game Over Books and was a finalist for the Orison Poetry Prize, Wren Poetry Prize, and Barry Spacks Poetry Prize. She is also a leader of the Amherst Writers & Artists Method and supports fellow writers through her studio, Voice & Vessel. Connect with her on Instagram (@emily.stoddard) or at emilystoddard.com.
After the 8-Ball by Colleen Alles
About the Book:
Reply hazy, try again. All the poems in After the 8-Ball want answers, and so have thrown themselves at the mercy of a black plastic 8-Ball filled with dark blue alcohol and a tiny twenty-sided die. Love, loss, and Lake Michigan feature prominently in this debut collection from Colleen Alles who examines everyday life in the Midwest with precision and depth. From the hound asleep in the sun to the pebbles lined up in the sill of a window facing west, these poems stand ready to accept whatever the 8-ball has in store, hoping, always, for, As I see it, yes.
About the Author:
Colleen Alles is a writer, former librarian & teacher, and Michigan girl for life. She earned her bachelor's degree in English from Michigan State University (2005) and her MLIS from Wayne State University (2015). Her debut novel, Skinny Vanilla Crisis, was published in 2020 (Atmosphere Press). Master of Arts, her second novel, is available now (Scantic Books). After the 8-Ball, her first poetry collection, was published in 2022 by Cornerstone Press (University of Wisconsin). Her fiction and poetry have appeared in Red Cedar Review, The Lakeshore Review, Third Wednesday, The Write Michigan Anthology, The Michigan Poet, and other places. Her house is chaotic with young children and a hound, so don't be shocked to encounter poems about chaotic houses, small children, or hounds. Colleen writes, runs, reads, and worries she wouldn't make sense outside the Midwest.
Toward the Wild Abundance by Kristin Brace
About the Book:
Looking back, within, and ahead—while ultimately focusing on the here and now—Kristin Brace traverses landscapes of memory, dreams, and the imagination, exploring the fragments and shifting perspectives that shape experience and identity and reinvigorate the creation of meaning. With tenderness and wonder, these poems build their own stepping stones for the journey, moving from connection to disconnection, frailty to strength, and fierce love to intense isolation, depicting a whole that is enlivened by the coexistence of seemingly opposing forces, emotions, and experiences. Despite the darkness and uncertainty they embody, the poems in this collection insist on their existence, forever traveling toward moments alive with color and light. The poet draws from the riches of art, nature, and the quiet moments of every day in reflections often startling in language and content and unified by their voice-driven musicality. Fraught with illness, longing, and loss, these poems guide readers through the intricate geographies of the heart, sometimes hurtling, sometimes dancing, sometimes feeling their way through the dark toward the wild abundance of each new day.
About the Author:
Kristin Brace writes poetry, fiction, and children's literature. She is the author of the poetry chapbook Fence, Patio, Blessed Virgin. Brace earned an MFA in writing from Spalding University, and her work has appeared in journals such as Fiction Southeast, The Louisville Review, Water~Stone Review, Chariton Review, and The Other Journal. She previously served as executive director of the Grand Rapids Creative Youth Center, where kids become published authors. Brace plays the accordion, studies Italian, and loves Lake Michigan in every season. She makes her home in West Michigan with her husband, the entrepreneur and inventor Neal Brace. She can be found online at www.kristinbrace.com.
About the organizer
The first Schuler Books opened in Grand Rapids in 1982. Since then, the business has blossomed into Schuler Books & Music, three of the nations largest independent bookstores. Each location now also boasts a large selection of music, DVDs, unique gift items, as well as a full-service, gourmet café. Remaining independent and locally-owned, we continue connecting writers and readers throughout Michigan.