Description
Join us for a lecture by Professor Michael Sappol (Swedish Collegium for Advanced Study, Uppsala University) on an imaginative exploration of how Fritz Kahn's popular scientific illustrations visualized and performed industrial modernity.
---
A poster first printed in Germany in 1926 depicts the human body as a factory populated by tiny workers doing industrial tasks. Devised by Fritz Kahn (1888–1968), a German-Jewish physician and popular science writer, "Der Mensch als Industriepalast" (or "Man as Industrial Palace") achieved international fame and was reprinted, in various languages and versions, all over the world. It was a new kind of image—an illustration that was conceptual and scientific, a visual explanation of how things work—and Kahn built a career of this new genre.
In this lecture, Michael Sappol will offer his analysis of Fritz Kahn, his visual rhetoric, and the relationship between conceptual image, image production, and embodied experience.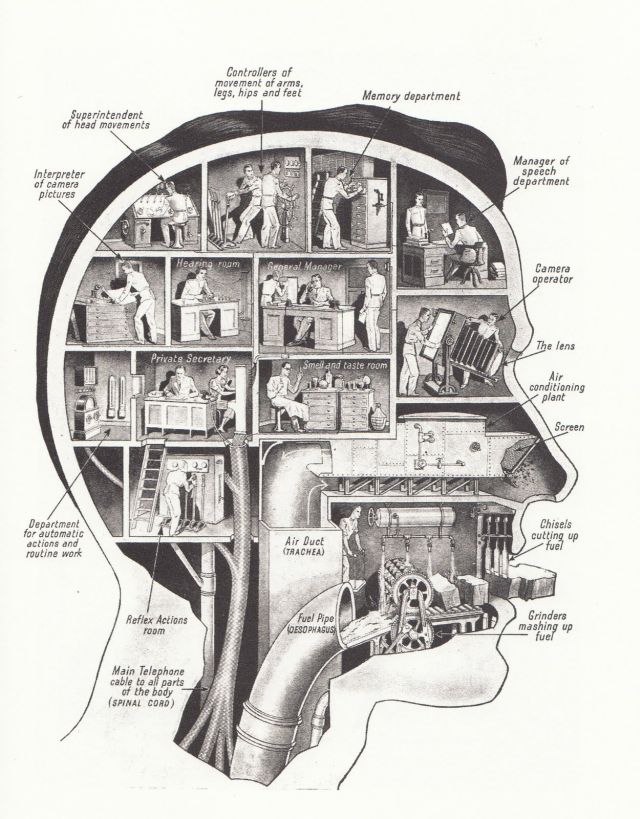 This lecture is part of our Investigations event series for 2017-2018 on the topic of Revolutions: Culture, Technology, Politics.
This event is free and open to the public. Refreshments will be served 15 minutes before the lecture, so come early and join us for lunch.
---
About our speaker


Michael Sappol lives in Stockholm, Sweden and is a visiting researcher at the Swedish Collegium for Advanced Study in University of Uppsala. For many years he was a historian, exhibition curator and scholar-in-residence in the History of Medicine Division of the National Library of Medicine (USA). Sappol's work focuses on the history of anatomy, death, and the visual culture of medicine and science in film, illustration and exhibition. He is the author of A Traffic of Dead Bodies (2002) and Dream Anatomy (2006), editor of A Cultural History of the Human Body in the Age of Empire (2010) and Hidden Treasure (2012), and formerly curator of Medical Movies on the Web. His most recent book is Body Modern: Fritz Kahn, Scientific Illustration and the Homuncular Subject (University of Minnesota Press, 2017).

Date and Time
Location
Humanities Lab - American University
228 Battelle-Tompkins Hall
4400 Massachusetts Ave NW
Washington, DC 20012