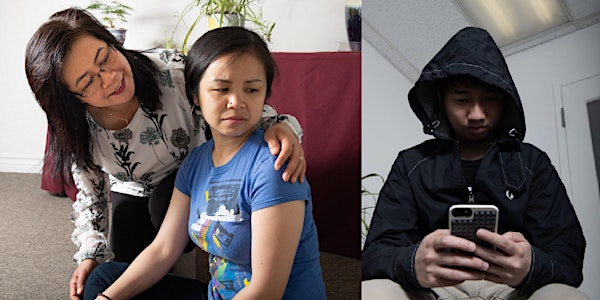 Body, Mind, Spirit: Asian Family's Challenges and Outlook 亞裔家庭的挑戰和展望
When and where
Location
Oakland Asian Cultural Center 388 9th Street Oakland, CA 94607
Refund Policy
Contact the organizer to request a refund.
Description
Body, Mind, Spirit: Asian Family's Challenges and Outlook / 亞裔家庭的挑戰和展望 / Những Thách Thức Và Định Hướng Của Gia Đình Người Á Châu
What can we do about the challenges of immigration loss, culture shock and assimilation, family structure adjustment, inter-generational communication challenges, and youth mental health? Join us with your families to listen to a speech and a panel discussion to understand the current challenges and opportunities faced by immigration families today. Interactive workshops, resource booths, and cultural activities will help parents and children/teens to better understand emotional health and how to engage in these conversations across generations. The event will be held in English, Cantonese, Mandarin, and Vietnamese. We look forward to seeing you there!
Schedule
1:00-2:30PM - Speech, skit, discussion
2:45-4:00PM - Workshops breakout sessions: 1) Self care for healthy families, 2) Parenting and intergenerational communication, 3) Mental Health 101 for families
Co-presented by the Oakland Asian Cultural Center and Asian Health Services.
亞裔家庭的挑戰和展望
2019年10月19日 (星期六) | 下午12:00 – 4:30
屋崙亞裔文化中心 屋崙第9街388號 290室
費用全免 / 網上登記出席 www.oacc.cc
移民後的生活跟您當初所想的一樣嗎? 生活的轉變曾否令 您覺得沮喪? 文化的衝擊讓您感到難以融入? 家庭結構的 改變和親子溝通的挑戰又會否令您感到困擾? 我們誠意邀 請您和您的家人參加我們的社區家庭日,透過一系列活動, 讓您學習如何面對不同的難關,促進兩代溝通和提昇親子 關係。 我們特意為您安排一場關於移民家庭的心理健康座 談會,讓您認識如何把種種挑戰轉化為機會, 迎難而上。 當天我們更會舉辦互動工作坊, 設置資源站, 及文化活動, 以加強您對家庭及青少年心理健康的認識及應用於日常生 活當中。 此活動將以英語、 廣東話、 國語及越南語進行。 期待大家 的蒞臨!

活動流程
1:00-2:30pm - 講座,話劇,問答討論
2:45-4:00pm - 互動工作坊 : 1) 健康家庭從自我照顧開始, 2) 教養孩子及兩代溝通, 3) 認識家庭心理健康
Những Thách Thức Và Định Hướng Của Gia Đình Người Á Châu
Thứ Bảy, ngày 19 tháng Mười năm 2019
Từ 12giờ trưa đến 4giờ 40 chiều
Oakland Trung tâm văn hóa Á châu Auditorium
388 9th St. #290, Oakland, CA 94607
Miễn phí/ Ghi tên tham dự trên mạng: www.oacc.cc
Chúng ta có thể làm gì về những thử thách mất mát của người nhập cư, lo lắng trước nền văn hóa mới và sự đồng hóa, chỉnh đốn lại cuộc sống gia đình, những thách đố trong giao tiếp giữa các thế hệ và sức khỏe tâm lý của giới trẻ? Hãy cùng chúng tôi và gia đình của quý vị tham gia một sinh hoạt cộng đồng nhằm xây dựng một nối kết mạnh mẽ hơn trong giao tiếp và hiểu biết giữa cha mẹ là người di dân và con cái của họ. Hãy lắng nghe một bài nói chuyện và cùng nhau thảo luận để hiểu biết về những thách thức và cơ hội hiện tại của các gia đình người di dân ngày nay. Các nhóm hội thảo, các gian hàng trình bày tài liệu y tế / hoạt động văn hóa sẽ giúp phụ huynh và trẻ em / thanh thiếu niên hiểu biết hơn về chăm sóc sức khỏe bằng tiếng Anh, tiếng Quảng Đông, tiếng Quan Thoại và tiếng Việt và làm cách nào để dự phần vào cuộc trò chuyện với thế hệ trẻ trong gia đình người di dân. Buổi họp mặt sẽ tổ chức với các ngôn ngữ: tiếng Anh, Quảng Đông, Quan Thoại và tiếng Việt. Chúng tôi mong đợi được gặp quý vị !

Lịch trình
từ 1giờ trưa đến 2giờ 30 - Thuyết trình, Đóng Kịch, thảo luận
từ 2giờ 45 – 4giờ - Chia nhóm hội thảo: 1) Tự chăm sóc gia đình khỏe mạnh, 2) Nuôi dạy con cái và giao tiếp giữa các thế hệ, 3) Sức khỏe tinh thần cơ bản cho gia đình