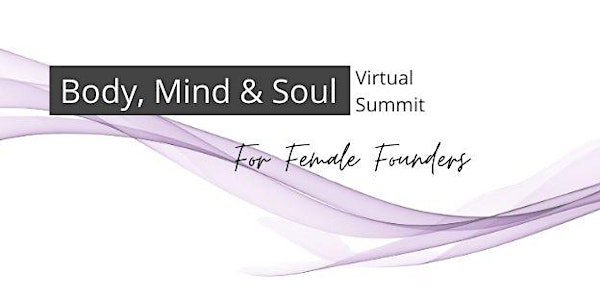 Body, Mind and Soul - Virtual Summit - FREE TO REGISTER BEFORE 19TH JULY
Could we become more energised and effective, if we took a more holistic approach to entrepreneurship? This is your invite to discover.
Refund Policy
Contact the organizer to request a refund.
Eventbrite's fee is nonrefundable.
About this event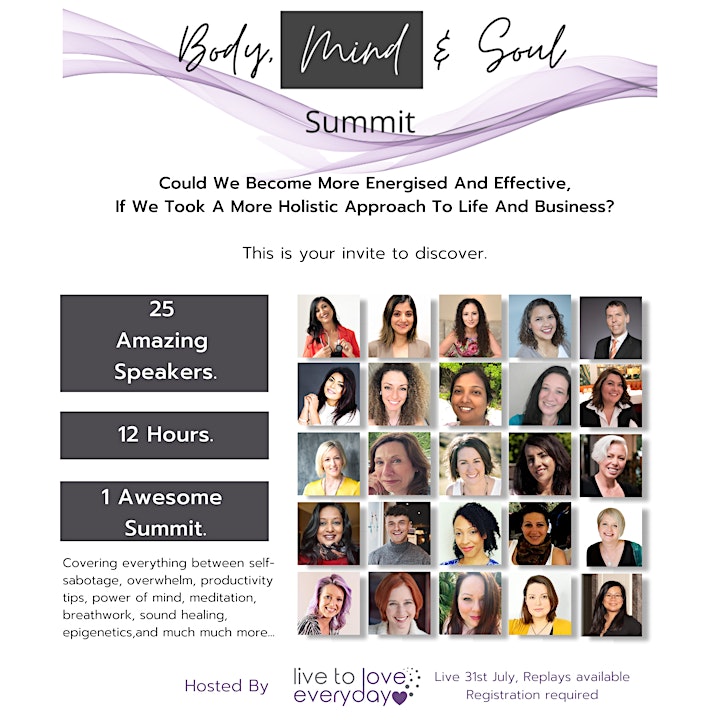 FREE TO ATTEND IF YOU REGISTER BEFORE 19th JULY.
Sometimes, we can be so focused on growing our business (or our general to-do list), that we forget about taking care of ourselves. Being too busy to take time out for your health, will likely have an impact on your business. So when was the last time you took time out to learn about methods that could make you more effective and energised?
In this day-long drop in virtual summit, we will be speaking to 30 entrepreneurs. They will be sharing their expertise, wisdom and practical to help you thrive and help support others.
What Would You Do If You Had More Energy?
If you are running a business, on your own or with other, how aware are you in how your self-care routine actually matters when it comes to your business performance?
Or are you focused so much on productivity that your health becomes second or third priority? It's even more straining if you have a family and other aspects of your life that are also important to you.
Make time for your health, otherwise, you will have to make time for disease.
Learn To Create A Self-Care Routine To Boost Your Performance in Business & Life
I'm Laila, the founder of Live To Love Everyday. And I am one of those people that are aware of how important health is but always putting down as one of the lower priorities. I am now committed to changing that, as I am aware how much a great self-care routine can have on your business, and life.
In the last three years of my entreprenurial journey, I have both experienced the highs and the lows that comes with the entrepreneurial journey. The first sale, the first referral, the first five and six-figure deals to the doubt, anxiety, withdrawal and lack of confidence. What I have discovered for myself, that building a business is more than just networking or social media or knowing something, but very much how it aligns with your purpose and the state of your well-being, body, mind and soul.
25 Amazing Guests Sharing Their Expertise, Wisdom And Knowledge To Help You Be More Aligned To Your Body, Mind And Soul
So during this summit, I have invited 25 entreprenuers to share their knowledge and expertise in what they believe makes a difference in boosting their performance. We will be addressing and learn strategies on:
What to do to prevent overwhelm
How to stay focused consistently
What to do when doubt creeps in
How you know what is important to you and your business and life
How to make sure you are creating a business you love to run
Become a better decision-maker
Tiredness, lack of energy and how to prevent it
Making tasks more effortless
Become more organised
Internally generated motivation
List of guests and their topics is at the bottom of this page!
What To Expect On The Day
I will be interviewing the entrepreneurs over a 12 hour period, each having 20 minutes to share their strategies and solutions. You will be give practical tools that will help you in your enttrepreneurial journey.
Attend the live sessions during the day and you will have access to our giveaways.
You are welcome to attend individual sessions that interests you.
List of guest and full day programme : please see below.
FREE TO ATTEND IF YOU REGISTER BEFORE 19th JULY.
The replay will be available for 5 days after the event for those who registered.
The cost to attend after the 19th July is £19, which will also give you access to the recordings.
We will send you all the information & updates, plus access to all the giveaways from our amazing guests once you have registered.
GIVEAWAY !!!
We want to encourage learning and sharing ...and sometimes it's nice to have a little reward 💕🎁at the end.
So we decided to throw a giveaway 🎉 with 20+ prizes including one main winner of a $100 Amazon gift card.
Show the speakers some love during our 12 hour summit on 'Body, Mind and Soul' for female founders around the world - we want to hear your insights, comments, questions!
Entry rules:
1. Sign up with your name and email address here
2. Go to Live To Love Everyday's Facebook page.There will be 25 individual Speaker posts. You can enter by commenting under one or more Speaker post. A max of 25 entries will be allowed (1 comment per speaker post). The more comments the better chance to win in the draw. The comment should be meaningful and relevant to the topic of the speaker.
Sign up and comments must be made between Wednesday 29th August and before Saturday 1st August 2020 14:00 BST.
The winners will be announced Saturday 1st August 2020 18:00 BST. TERMS AND CONDITIONS APPLY. UK laws apply. No purchase necessary . Full rules here on website here: https://shop.livetoloveeveryday.com/body-mind-and-soul-virtual-live-giveaway
Questions:
1. I'm not female. Can I attend?
Yes. The content is tailored towards female entrepreneurs/founders/business owners/freelancers/self-employed but anyone can register and attend
2. I'm not an entrepreneur or a founder. Can I attend?
Yes. The content is tailored to people who runs a business of some kind, however the practical tips shared by our guests will and can help you in your geenral lifestyle.
3. I am employed and work. Is this for me?
Yes. The content is tailored to people who runs a business of some kind, however the practical tips shared by our guests will and can help you in your geenral lifestyle.
4. Do I have to attend the whole day?
Your registeration will allow you access the whole day, but you can select the sessions you want to attend. We do have giveaways to attendees that can last the whole day though!