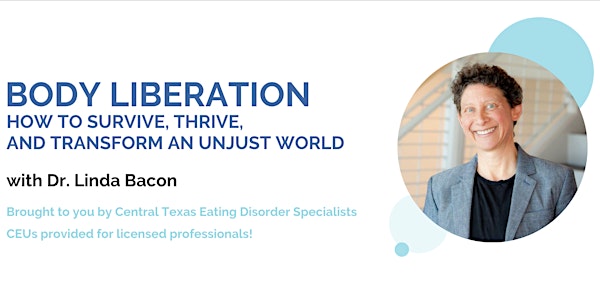 Body Liberation: How to Survive, Thrive and Transform an Unjust World
Join us and be a part of fostering a global transformation – away from our obsession with body weight and to body respect. 7 CEUS provided!
When and where
Location
Joe C Thompson Conference Center 2405 Robert Dedman Drive Austin, TX 78712
Refund Policy
Refunds up to 30 days before event
About this event
Body Liberation: How to Survive, Thrive and Transform an Unjust World
Amidst the backdrop of a national obsession with weight loss, weight has become a central concern in health care and a source of anxiety for many individuals. In this provocative workshop, Bacon examines assumptions that form the typical weight narrative (e.g., "obesity" is a disease; "obesity" causes increased morbidity and mortality; weight loss improves health; weight loss is within personal control; and thinner equals happier), unpacking the underlying science and emotion and making a case for promoting size acceptance. Along the way, she helps participants develop skills to challenge the conventional weight paradigm and advocate persuasively for size acceptance, whether with clients, friends, colleagues or the media.
Body discontent extends beyond weight concerns. Many of us experience a feeling of unbelonging —not being seen for our full humanity — whether we're not slim enough, or white enough, or young enough, or pretty enough, or otherwise stigmatized. We're burdened with the impossible, unachievable, lifelong project of hiding who we are, or of being coerced and conditioned to endlessly work on our bodies, or cursed with the awareness that our appearance will always and automatically telegraph "wrongness" and limit opportunity. In the second half of the workshop, Bacon expands the discussion, discussing broader issues of body discontent and the crisis of unbelonging. Bacon also proposes a way out, strategies we can use to build resilience, to survive and thrive even as the world doesn't treat us well, and to undermine the oppressive systems.
We all want to arrive at that place of belonging – at home in our skin and feeling welcome and valued in community. With her trademark mix of hard science, storytelling, and raw vulnerability, Dr. Bacon helps us find ways to belong to each other and create refuge for one another so that one day, more bodies are valued and all of us belong.
We belong together. Please join us on October 11th.
*Snacks and lunch will be provided. Please alert us if you require any dietary accommodations
Book signing to be held after event!
Learning objectives:
1) Identify and critically evaluate concerns regarding the ethics and efficacy of a weight-based approach to health improvement.
2) Interpret data regarding the relationship between weight and health.
3) Explain the science of weight regulation and the dysregulation imposed by dieting.
4) Name strategies to advocate persuasively for size acceptance.
5) Understand belonging as an urgent, fundamental, and biologic human need, the damages resulting from a culture that privileges some and excludes and marginalizes others, and strategies to create a more inclusive society.
6) Identify strategies to build resilience, to survive and thrive even in an unjust world.
7) Develop the cultural humility that enables delivery of compassionate, ethical, relevant and effective care to people of different social, economic and cultural groups.
About Linda Bacon, PhD
Dr. Linda Bacon is fostering a global transformation – away from our obsession with body weight and to body respect. Her mission is to provide the critical thought, inspiring vision, and practical strategies needed to empower individuals, organizations, and institutions to respect all bodies and support compassionate self-care.
Dr. Bacon holds graduate degrees in physiology, psychology, and exercise metabolism with a specialty in nutrition. A professor and researcher, for almost two decades Dr. Bacon has taught courses in social justice, health, weight and nutrition; she has also conducted federally funded studies on health and weight and published in top scientific journals. Dr. Bacon is co-author of the paradigm-shifting Body Respect: What Conventional Health Books Get Wrong, Leave Out, or Just Fail to Understand about Weight. She also wrote the iconic and bestselling Health at Every Size: The Surprising Truth about Your Weight.
Dr. Bacon's advocacy for body respect has generated a large following on social media platforms like Facebook and Twitter, health and nutrition listservs and specialty blogs, and the international lecture circuit. She is committed to centralizing the ways in which power, privilege and disadvantage complicate our experience of our bodies. Health professionals – as well as people on their own personal journeys to body appreciation – call Linda's work "life-changing" and "transformative," providing the tools and confidence for personal change and inspiring others.
A compelling speaker, writer and storyteller, Dr. Bacon delivers a unique blend of academic expertise, clinical experience, and social justice advocacy, all couched in a raw honesty and compassion that touch and inspire. Visit www.LindaBacon.Org for more information.
Accessibility Info
This venue is wheelchair accessible and seating is size inclusive. A gender neutral restroom will be available on site. Complimentary parking will be provided in Lot 40 and is located adjacent to the conference center. For more information on parking, please click here.
If you have any accessibility needs that have not yet been met, please email president@cteds.org.
About Central Texas Eating Disorder Specialists
CTEDS is a non-profit organization that represents the collaborative efforts of professionals with varied expertise in the treatment of eating disorders. The mission of Central Texas Eating Disorder Specialists is to make recovery possible through education, support, and assistance for the complex mental, emotion, and physical problems related to disordered eating. We will support the community in making recovery possible.
Thank you to our sponsors!!!