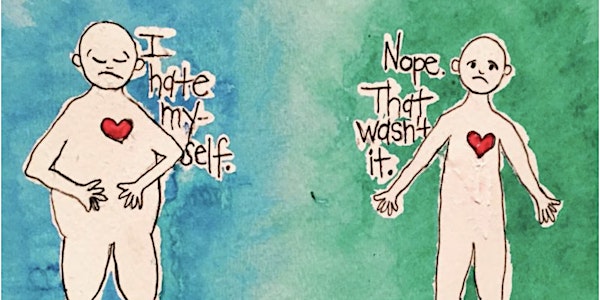 Body Justice for Professionals
This workshop explores the psychosocial aspects of weight and body shape, worth and health, social justice and body liberation.
About this event
Paula D. Atkinson, LICSW invites you to attend this virtual workshop which explores the psychosocial aspects of weight and body shape, worth and body liberation, social justice and health. The course explores specific cases and questions about our work within rampant diet culture and fat phobia. We will also explore the topics of fat acceptance, size-ism, thin idealism, and weight stigma and how these intersect with other forms of oppression as well as how they influence all aspects of health. Also discussed is eating disorders and the many manifestations of disordered eating that can occur.
In addition, participants will also be asked to explore their own thoughts, feelings, and ideas about their own bodies and how to manifest optimal health, sanity, and peace in their relationships with food and body size, as a means to grow as social workers and effective clinicians.
Learning objectives of the workshop:
After completing this workshop, participants will be able to:
1. Name 3 specific tenets of each of the following; medical, psychosocial, moral, and social/cultural perspectives on weight and health and how these tenets affect beliefs about "obesity" and the treatment of people in larger bodies in our country.
2. Evaluate 3 research studies on weight stigma and disordered eating in the United States. Also subject 5 media/news reports to critical analysis for bias and validity.
3. Name 5 ways in which each of the following; social media, capitalism, and the diet industry, affect attitudes, practices and cultural norms when it comes to body shape and weight.
4. Describe specifically the ways in which the following 6 maladies; disordered eating, negative body image, food obsession, "food addiction", exercise compulsion and diet cycling, may manifest differently in individuals.
5. Define the following 10 factors: body justice, body liberation, intuitive eating, thin idealism, fat phobia, body positivity, diet mentality, joyful movement, the fat acceptance movement, and the 'Health At Every Size' approach.
This course is appropriate for social workers and mental health professionals at the following levels of practice: beginning and intermediate.
Because the workshop is highly participatory and draws heavily on clinician questions and suggested reading, it is applicable to a wide-range of social workers at varying levels of experience. Indeed, social workers will walk away with different take-aways depending in their level/experience in practice, as outlined below:
Beginner: Beginning social workers will have an opportunity to explore how fat phobia, health-ism and thin idealism impacts them and their clients who may struggle with disordered eating, exercise regulation and/or poor body image. These issues can and do impact their practice, and to start to develop their own values and identity around body shape, health, and worth.
Intermediate: Intermediate level social workers who may have developed a more cohesive professional identity and values will be able to explore how weight stigma and fat phobia may or may not fit into that identity and their values when working with clients. They may explore and benefit more from discussion of the social justice aspect of our culture's obsession with weight and body shape, then synthesize this awareness into their approach with clients and their professional identity.
Paula D. Atkinson a Licensed Independent Clinical Social Worker, a psychotherapist in private practice. She is also a Registered Yoga Instructor with 500 hours, teaching now for over 18 years.
She has been working for over a decade with those who suffer from disordered eating, food obsession, exercise compulsion and body image issues. She is a proud Body Justice activist and a professor at George Washington University, teaching their Body Justice class about the myths of measures of health, the culture's thin idealism, the origins of eating disorders and society's unrelenting bias against large bodies. She also teaches Body Justice Workshops and has a podcast called We Are Still Hungry that addresses such issues.
Body Justice for Professionals
Workshop Agenda
9:00 a.m. - 9:15 a.m.: Introductions (including race + pronouns, identity as it relates to body size) and reason for attending this workshop
9:15 a.m. - 9:30 a.m.: Icebreaker/Reflective Exercise & Discussion
9:30 a.m. - 10:30 a.m.: Overview and exploration of the following questions:
What does weight mean in our current society? What are my personal beliefs about weight and health? What is the "obesity epidemic"? How do we define who is "overweight" and who is not? What is BMI? What influences body image and body ideals? What influences dieting? When did we start dieting? What is Fat Phobia & Size Bias? How does it intersect with other forms of oppression? Who does it serve?
10:30 a.m. - 11:30 a.m.: Case Studies and exploration of the following questions:
What do we think "causes" Eating Disorders? What is food addiction? What roles do food corporations play? What do we know about the current Body Positive Movement? Where do we go from here? How do we serve clients from a size inclusive, body justice perspective?
11:30 a.m. - 12:00 p.m.: Final reflections, Q&A and Evals
Details
Date: October 15, 2022
Time: 9:00 AM - 12:00 PM
Location: Virtual, on Zoom
CEs: Participants successfully completing all three hours of the workshop plus the course evaluation will receive 3 Continuing Education credits.
Fees: $110 for full workshop plus CEs, payable on Eventbrite or by check to Lisa Kays, PLLC. Payment must be made prior to the workshop. Refunds will not be given for cancellations; however, you may transfer your workshop registration to someone else if you cannot attend.
In order to receive CEs and certificate, attendees must attend the full workshop, and complete a course evaluation. CE certificates will be emailed to participants once evaluations are received.
"Lisa Kays, #1526, is approved to offer social work continuing education by the Association of Social Work Boards (ASWB) Approved Continuing Education (ACE) program. Organizations, not individual courses, are approved as ACE providers. State and provincial regulatory boards have the final authority to determine whether an individual course may be accepted for continuing education credit. Lisa Kays maintains responsibility for this course. ACE provider approval period: 1/27/22 through 1/27/25. Social workers completing this course receive 3 Category I continuing education credits."
If you have questions or concerns about the course content, references or content evaluation, contact Paula D. Atkinson at pauladatkinson@gmail.com or 202-215-8356.
If you have questions or concerns about registration, facilities, accommodation for disability, or course administration, contact Lisa Kays at lisa@lisakays.com.
Any concerns, complaints or grievances related to this workshop may be addressed to Lisa Kays at lisa@lisakays.com.