Description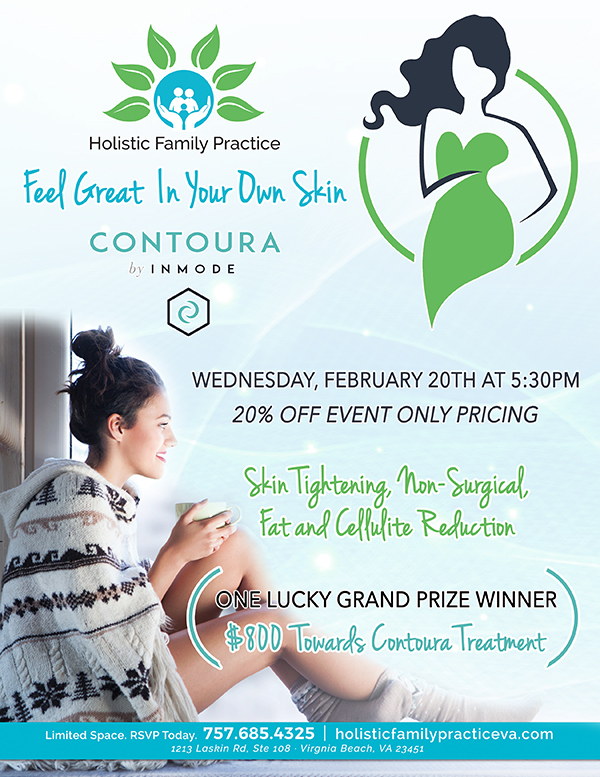 Contour, tone and tighten here, there and everywhere!
Join us for an evening to learn about Contoura, receive exclusive one-night only pricing on services, and enter to WIN our Grand Prize of $800 towards your Contoura treatment
RSVP today!
Contoura addresses: Body Reshaping, Cellulite Reduction and Skin Contraction with it's line of treatments BodyFX, MiniFX and Plus.
BodyFX is a new, long lasting, non-invasive solution to reduce the unsightly appearance of cellulite. BodyFX will reshape your body to provide a non-surgical alternative to liposuction. BodyFX is the perfect solution to get rid of your mummy tummy or muffin top, and improve your general body contour.
MiniFX is a non-invasive contouring and cellulite technology that delivers a combination of clinically proven modalities, similar to the BodyFX, however, addresses problematic fatty tissue in smaller areas like the neck, arms, and knees.
Plus is recommended for individuals who are looking for a non-invasive skin treatment to address targeted areas that require contraction. Plus can be used to reduce texture irregularities in lax skin to provide a lifted appearance.
Space is Limited – RSVP today by reserving your seat.
Food Provided by Clean Eatz, Empowered Plant Based Cakes, as well as Wine from Scout and Cellar.