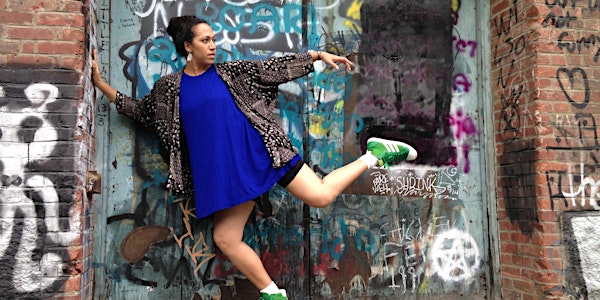 Bodies In Motion: Sundays At Five Series with Joya Powell, Hatchery, and First Generation
When and where
Location
33 Hawley St 33 Hawley Street Northampton, MA 01060
Description
APE @ Hawley presents: BODIES IN MOTION 2020
Sundays At Five Series
with Joya Powell, SCDT's Hatchery, and Performance Project's First Generation
January 12, 2020 at 5pm

Featuring new works by Joya Powell, SCDT's Teen Dance Company, Hatchery, and Performance Project's First Generation.
A native Harlemite, Joya Powell is a Choreographer and Educator passionate about community, activism, and dances of the African Diaspora. Joya is the recipient of The 2016 Outstanding Emerging Choreographer Bessie Award. Hailed by The New York Times as a "radiant performer;" throughout her career she has danced with choreographers such as Paloma McGregor, Katiti King, Neta Pulvermacher, Marsha Parrilla, Donlin Foreman and Paco Gomes. Her choreography has appeared at venues such as: BAM Opera House, Meet the Artist Saturday's at Lincoln Center, SummerStage, The Bronx Museum of the Arts, FLICfest 2016 (commission), York College in Toronto, Casita Maria (AIR 2014-15), The Performance Project @ University Settlement (AIR 2012-13), Dance on the Greenway (commission), chashama (Resident Artist at Anita's Way), The FLEA, The Outlet Dance Project in NJ, Riverside Theatre, Dance New Amsterdam, Casa del Prado Theatre in San Diego, Montgomery College Theater in Maryland, The Hammerstein Ballroom, Dixon Place, and BAAD!. She has also choreographed such Off-Broadway and out of state plays as: JOB by Thomas Bradshaw (The Flea Theater), The Brothers Size by Tarell A. McCraney (Luna Stage, NJ), Fit for a Queen by Betty Shamieh (The Classical Theatre of Harlem), True Bible Tales by Robert Askins (Jewish Plays Project/E. 14th St. Y), and The Minstrel Show by Amina Henry (13th St. Theatre), Ducklings by Amina Henry (The National Black Theater), and Gilgamesh and The Mosquito by Sam Chanse and Bob Kelly (47th St. Theater). Joya has created commissioned works for ZCO/Dance Project and Ambitions Dance Company. Additional awards and recognition include: Women in Motion Commissioned Artist 2017-18, Dancing While Black Fellow 2016-17, Stage Directors and Choreographers 2016-17 Observership Fellow. She has taught and studied dance in Brazil, Puerto Rico, Cuba, and Israel. She has also been an Adjunct Assistant Professor of Dance at Hunter College, SUNY Stony Brook, SUNY Old Westbury; a Guest Artist at Penn State, Hobart William Smith Colleges, Columbia University's Teacher's College, Queens College, Brooklyn College, Kean University; and substitute at Barnard College. She has presented at such national and international conferences as: The American College Dance Festival, The National Dance Education Organization (2008, 2012-2017), Society of Dance History Scholars, New York State Dance Education Association, Critically Kinaesthetic: Performing Bodies of Political Engagement in Toronto, and O Encontro Tribo Joven in Brazil. Joya is currently a Visiting Assistant Professor of Dance at Wesleyan University, a part of the Artistic Resource Group for The FLEA Theater, a collaborating member of Dance Caribbean Collective, choreographic collaborator of Table Theater + Radical Evolution. She received her M.A. in Dance Education from New York University, and her B.A. in Latin American Studies and Creative Writing from Columbia University. As Artistic Director/Choreographer of Movement of the People Dance Company Joya is dedicated to connecting cultures, creating socially conscious choreography and community engagement.
First Generation (FG) is an intergenerational community recently moved from Springfield to Holyoke. Using the arts, we create opportunities for young people to learn about cultural activism and claim a public voice in their communities. Members spend time in artistic training, community building, social justice dialogues, inter-generational mentoring, and leadership development. FG members may be the first in their family to grow up in this country, speak English, graduate high school, go to college, be incarcerated, be an activist, be drug-free, be openly LGBTQ+, be a feminist, break a silence, or any other first.

First Gen members form an ensemble and create original multi-lingual performances that highlight local and global issues inspired by their life experiences and conversations.
The School for Contemporary Dance & Thought is proud to present Hatchery, a dance company for exceptional teens who love dance, ages 13-18. Hatchery offers dance training in contemporary techniques with an emphasis on developing the choreographic voice. Hatchery prepares young dancers from diverse backgrounds for the versatile demands of a professional career, both inside and outside the studio. In addition to studying with internationally acclaimed artists, members will choreograph their own work, receive mentorship from experts in the field, and create dynamic, inspiring performance for the Pioneer Valley.

​Hatchery offers creative teens who love to dance a supportive environment where enthusiasm and curiosity are just as important as technique! Hatchery has performed at Jacob's Pillow and worked with professionals such as Raja Feather Kelly, Stuart Singer, Shakia Johnson, Shura Baryshnikov, La Alternativa (Kathleen Hermesdorf & Albert Mathias), and many more.