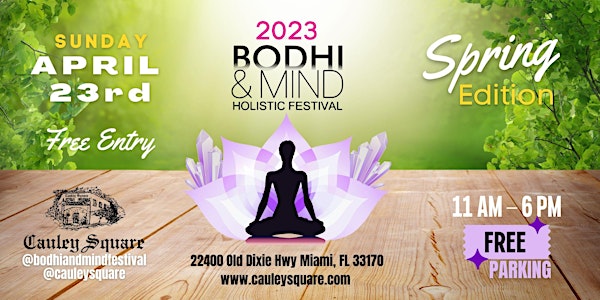 Bodhi & Mind Holistic Festival Spring Edition at Cauley Square Village
Bodhi & Mind Holistic Festival Spring Edition at Cauley Square Village by Healing Arts April 23rd 2023
Date and time
Sunday, April 23 · 11am - 6pm EDT
Location
Cauley Square 22400 Old Dixie Hwy Miami, FL 33170
About this event
Bodhi & Mind Festival Spring Edition 2023 will be uniting the most diverse group of conscious leaders, artists, makers, speakers, organizations, vendors and providers of South Florida. It's mission is encouraging the local holistic entrepreneurship, while contributing to individual, community and global balance between mind, physical body and spirit. Cauley Square Historic Village will be once again a Portal of light for Miami!
They will be creating a space for healing through art and the awakening of consciousness and wellbeing. It is expected to gather attendees in different spaces full of nature, beauty, light, energy and transformation where many professionals will be offering services for personal growth and development at the beautiful and magic village of Cauley Square with over 10+ acres of picturesque gardens, shops, outdoor vendors, art galleries, restaurants and wellness spas.
Register Here: https://www.eventbrite.com/e/bodhi-mind-holistic-festival-spring-edition-at-cauley-square-village-tickets-565699040057
Admission and parking are free and will feature a wide variety of products, services, great food, lots of fun activities and performers, DJ, makers market, featuring dynamic Speakers, Meditations, Holistic Therapies, Yoga, Dance, Art, Music, and vendors that will bring your life to new levels of fulfillment in an unprecedented day !
Time: From 11am to 6pm
Date: Sunday, April 23rd. 2023
Place: Cauley Square Historic Village, 22400 Old Dixie Hwy, Miami, FL 33170
Calling all Vendors! Outdoor 10x10 spaces are available for $150. If you would like to our sponsor , speaker, performer us or to become a vendor please apply here: https://forms.gle/oGch8FvtvdFGwYxv6
For more information please call Patty Lefont 305-336-9313 or email us at events@cauleysquare.com
You can learn more about the event, its speakers and activities in general on or communicate directly as we are shaping our agenda with tons of new surpises! In one day, in one space, you'll be able to learn about and sample a HUGE variety of life-enhancing modalities from highly skilled teachers and practitioners, including: Reiki, Astrology, Bioenergy, Biomagnetism, Chromatheraphy, Crystals and Aromatherapy, Quantum Medicine, Sacred Geometry, Ayurveda, Sustainable living, Numerology, Reflexology, Meditation, Reconnection, Neuroscience, Laughter Yoga, Metaphysics, Massage, Yoga, Aura reading, Feng Shui, Chakra Balancing, Tantra Healing, Reading of intuitive Tarot among many others!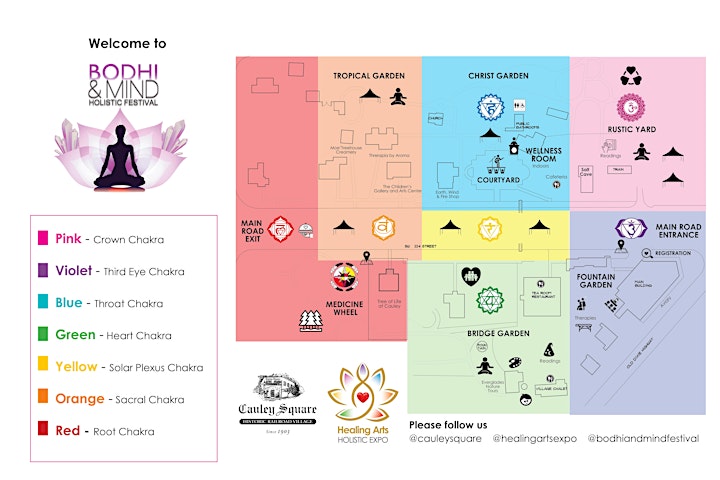 El 6º Festival Anual Bodhi & Mind Holistic se llevará a cabo el Sunday, April 23rd. 2023 en Cauley Square Historic Village.
Una vez más, Bodhi & Mind unirá al grupo más diverso de líderes conscientes, artistas, organizaciones, vendedores y proveedores del sur de la Florida. Su misión es fomentar el espíritu empresarial holístico local, al tiempo que contribuye al equilibrio individual, comunitario y global entre la mente, el cuerpo físico y el espíritu.
Estarán creando un espacio para la sanación a través del arte y el despertar de la conciencia y el bienestar. Se espera reunir a los asistentes en diferentes espacios llenos de luz, energía y transformación donde muchos profesionales estarán brindando servicios para el crecimiento y desarrollo personal en el hermoso y mágico Cauley Square.
¡La entrada es gratuita e incluirá una amplia variedad de productos, servicios, vendedores de comida, actividades y artistas que compartirán sus conocimientos destacando todas las áreas del arte, teraias de sanación, la ciencia, el yoga, coaching, la meditación, la danza y mucho más! ¡Puede obtener más información sobre el evento, sus oradores y las actividades en general en el sitio web o comunicarse directamente mientras estamos dando forma a nuestra agenda con toneladas de nuevas sorpresas!
Hora: From 11am to 6pm
Fecha: Sunday, April 23rd. 2023
Lugar: Cauley Square Historic Village, 22400 Old Dixie Hwy, Miami, FL 33170
Para reservar su stand 10x10 reserva aqui: https://forms.gle/oGch8FvtvdFGwYxv6
Si desea participar como orador, patrocinador, voluntario al 305-336-9313 o envíe un correo electrónico a healingartsexpo@gmail.com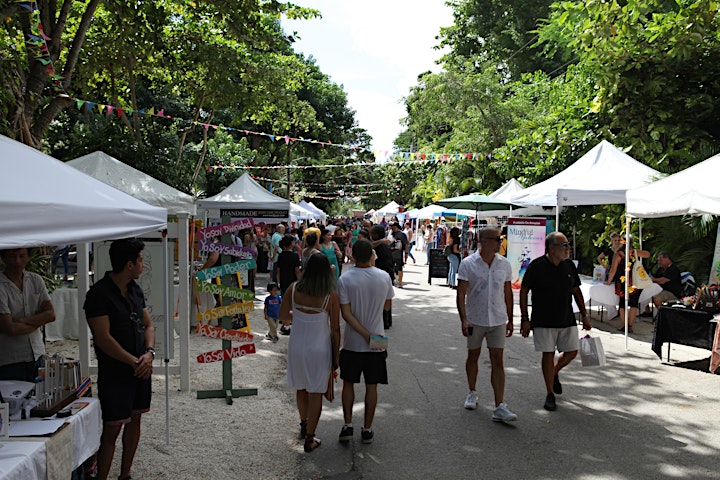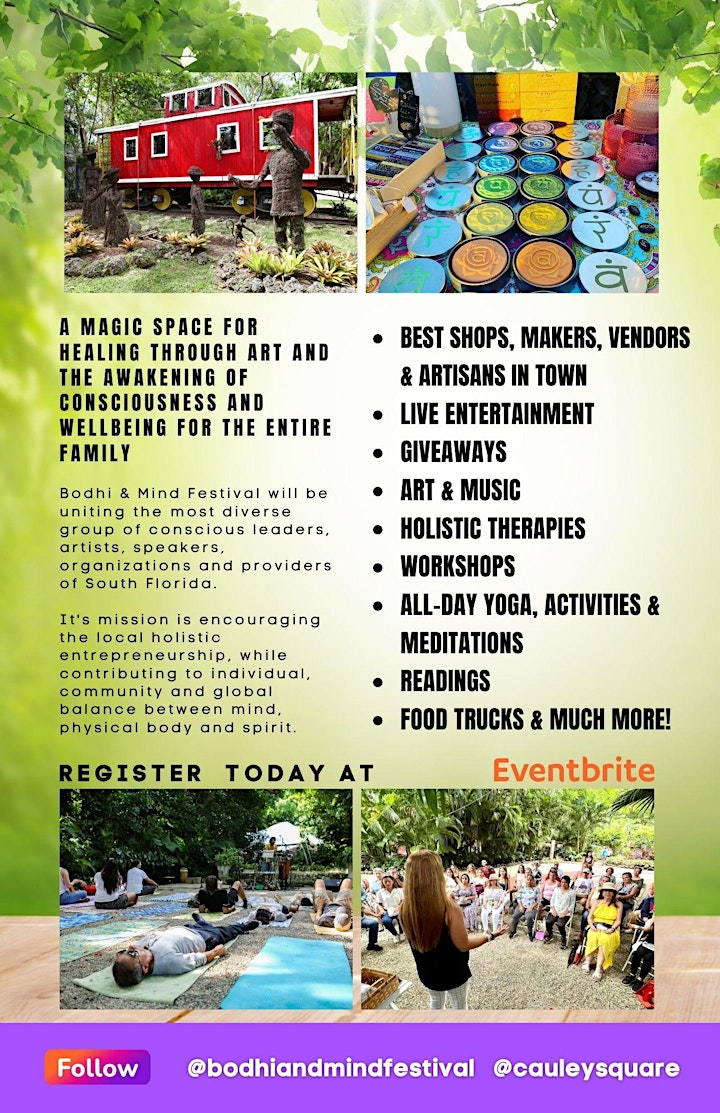 About the organizer
Click here to subscribe to our text messages.
Healing Arts is a unique holistic experience! A kind, colorful, fun, creative, expansive, supportive, compassionate transformational conscious-consumer festival created for the entire family, presenting a celebration of pure love, human empowerment, spirituality, mindfulness, self-care, well-being and arts, fitness, beauty featuring top local practitioners, healers, workshops, artists, performers, brands, holistic centers and organizations in South Florida.. You can learn more about the event, see our list of our sponsors, speakers and diverse activities on the website www.helingartsexpo.com. Contact us to reserve your space or to participate as a speaker, sponsor, volunteer.at 305-336-9313 or by email at healingartsexpo@gmail.com. Follow us @healingartsexpo on IG and FB