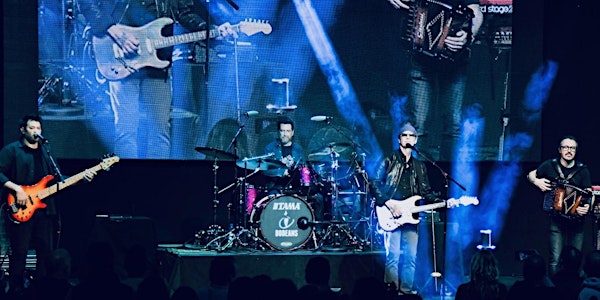 BoDeans
BoDeans tour year round and continue to deliver amazing, high energy, performance
Date and time
Starts on Friday, April 21 · 8pm CDT
Location
Uptown Social 907 Franklin St Michigan City, IN 46360-3511
About this event
7:00 PM: Doors
8:00 PM: BoDeans
21+
Long known as one of the best live acts in the business, BoDeans continue to tour year round and continue to deliver amazing, high energy, performances. "I realized some time ago that the key to the BoDeans identity is the fans' connection to our music-nowhere is that more evident or rewarding as when we come together-live. We love to connect with the fans who have supported us for so long and who have brought us so much inspiration." said Kurt Neumann, the band's founder and frontman, "We will continue to play as long as they continue to come out and sing along."
BoDeans' made an appearance and their music is featured throughout the NetFlix original series, "The Ranch" which features Sam Elliott, Ashton Kutcher, Danny Masterson and Debra Winger. The band has been featured on "The Today Show," "Saturday Night Live," "Late Night with David Letterman," "Imus In the Morning," CNN, ESPN, Nickelodeon Kids Choice Awards, and had their own PBS special.
Chart topping songs like "Fadeaway," "Only Love," and "Dreams" won them Rolling Stone's readers poll for "Best New American Band" in 1987, and they were part of a small contingent of bands that inspired a new radio format known as Adult Alternative, Album Rock-Triple A. Their reputation for delivering a dynamic live show garnered support slots with U2, Bob Dylan, Paul Simon, Tom Petty, George Thorogood, The Pretenders, David Bowie, and Chris Isaak. They've shared the stage with Los Lobos, Big Head Todd & The Monsters, Joan Osborne, Train, The WallFlowers, Cheap Trick, Robbie Robertson, Daniel Lanois, and many others.
The BoDeans signed their First recording contract with Slash/Warner Brothers Records in 1985 and their First record, "Love & Hope & Sex & Dreams" was released May, 1986. In the 36 years that followed, BoDeans have released 13 studio albums with ten records that hit the Billboard Top 200 Chart, and numerous singles on the Mainstream Rock, Top 40 and Triple A radio charts. Bodeans 14th studio album, '4 the Last Time' will be released this June and the band intends to tour extensively in support of its release.
BoDeans songs have been used in various television shows including "Party of Five," ABC News, NBC Monday Night Football, "The Simpsons," "Northern Exposure," Dawson's Creek" and many others. FOX used the song "Closer To Free" as the opening theme of their hit TV show, "Party of Five," which became the band's biggest hit, peaking at #16 on the Billboard Hot 100 Chart. Their songs have been in movies such as "The Color of Money," "The Player," "Opportunity Knocks," Heavyweights" and many others.
BoDeans now reside in a small group of bands that have managed to survive the ups and downs of the industry, remaining true to their sound and their style, for over 35 years. The BoDeans have a permanent installation at the Rock and Roll Hall of Fame Museum in Cleveland as part of their Midwest Artists exhibit.
Refund policy: No refunds or exchanges. In the event of a cancellation, refunds will be issued.
WAIVER OF LIABILITY AND ASSUMPTION OF RISK. All attendees, by purchasing a ticket and/or attending the event, agree to assume all of the risks, hazards and dangers that may arise from, or relate in any way to, the risk of contracting a communicable disease or illness whether occurring before, during, or after the event, however caused or contracted. Therefore, anyone who purchases a ticket and/or attends the event, hereby waives any and all claims against Uptown Theater, LLC. (Uptown Social) the artist, and/or all related sponsors relating to all risks of personal injury, sickness, permanent disability and/or death.
About the organizer
Gather, socialize and customize your experience by exploring our fully transformed event space, covered patio and iconic courtyard. Enjoy a signature cocktail handcrafted and poured to perfection by one of our premier mixologists, reserve space in our fully transformed venue for any special occasion and/or immerse yourself in one of our live concert experiences.
The choice is yours!