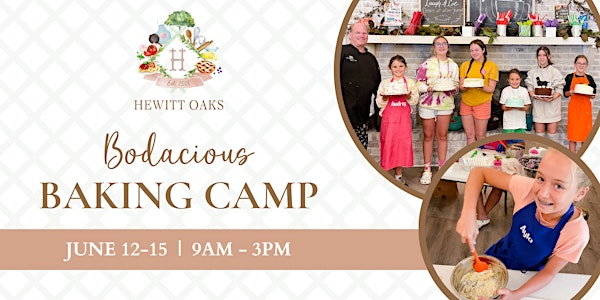 Bodacious Baking Camp | June 12 - 15 (ages 7-13)
This 4-day baking day camp will teach kids the art of baking in an energetic & empowering atmosphere.
Date and time
June 12 · 9am - June 15 · 3pm EDT
Location
Hewitt Oaks 205 Stillwell Road Bluffton, SC 29910
About this event
3 days 6 hours

Mobile eTicket
Dates: Monday, June 12th through Thursday, June 15th
Time: 9am-3pm daily
Ages: 7-13 yrs.
Bodacious Baking Camp gives campers the opportunity to learn the art of baking with fun challenges and tips for success provided by our chefs.
Students will learn how to bake delicious treats to share with the family. Cheddar Bacon Bread, Strawberry Chantilly Cream Pie, and a beautiful French Tart with Raspberries & White Chocolate are just a few examples of recipes we've made in previous baking camps.
WHAT'S INCLUDED
Kid-friendly lunches will be provided everyday with each child preparing their own dessert. Each evening, campers will be able to take home a goodie box prepared by them to share with their family. These will vary based on the day's recipes and required bake times.
Campers will receive a personalized apron and personalized water bottle to use during camp and take home at the end of the week. They will also get a recipe booklet with all recipes from the week.
HEALTH & SAFETY MEASURES
We will maintain a 1:6 staff to student ratio for proper supervision and guidance. Although our chefs will be there to offer guidance, our goal is to allow the kids to work as independently in the kitchen as possible while learning proper food handling, hand washing, and workspace sanitization procedures. Closed toe shoes are required.
COVID-19 Precautions: For your child's safety and the safety of other children we've implemented additional practices beyond our usual measures for food safety and sanitization.
Face masks are not required, but campers are welcome to wear one.
Gloves will be provided and worn when working with food.
If a child exhibits ANY signs of illness, they will not be allowed to attend.
We use kitchen safety and clean-up as a learning opportunity, keeping the mood fun and uplifting with impromptu dance parties!
Rules & Respect: Each child is expected to respect leadership and follow the rules of treating others the way they want to be treated. If a child is not able to follow these basic rules and manners, the parent will be called and they will be asked to leave camp for the day. If it happens a second time, they will not be able to return to camp. We want to maintain a positive environment that is uplifting, encouraging, and positive.
OUR MISSION & PHILOSOPHY
Hewitt Oaks Summer Camps are sure to be a highlight of your child's summer! We teach kids basic culinary skills while they work in small teams to cook the day's recipes in a positive, Christ-centered atmosphere bursting with an energetic & empowering vibe.
Cooking, creativity, and design is what we LOVE to do! It's fun and a valuable life skill that is getting harder to come by. We know that "real food" is really good – it tastes delicious and we need it for strong, healthy bodies and brains. We want to inspire outside-the-box thinking and explore artistic expression in new ways. We have seen that the best way to get kids loving healthy food is to get them in the kitchen measuring, mixing, chopping, touching, smelling and tasting. We believe in the power of hospitality and community — real change happens one bite at a time.
ABOUT HEWITT OAKS
Hewitt Oaks is an all-season, full-service venue for weddings, events, and retreats. Located in Bluffton, South Carolina, Hewitt Oaks embodies the quintessential Lowcountry experience. Dreamy oak canopies make an exquisite backdrop for elegant events, blending relaxed charm with world-class cuisine.
OUR STAFF
Chefs Christopher and Bethany Hewitt will be leading alongside the Southern Graces & Hewitt Oaks team members. Everyone assisting with camp is vetted and known for their character and responsible nature. Rest assured that the environment will be uplifting, empowering, and encouraging — that is the heart of who we are!
FAQs
What should campers wear each day?
Students can wear comfortable clothes. Because we will be working in the kitchen, closed toe shoes are required. An apron will be provided on the first day of camp for each child.
What should campers bring each day?
We will provide all baking supplies, an apron, lunch, and a water bottle with water & lemonade or punch. If preferred, campers can bring their own water bottle, lunch, or other preferred beverages to use throughout the day.
Do kids need baking experience?
Not at all! We welcome kids of all skill levels. At times, we may separate children into two groups by age to keep the class moving at a pace that's right for each age range so that all children have a great experience!
Do you offer refunds?
CANCELLATION POLICY: If your child is unable to attend, please inform us as soon as possible. The registration fee is non-refundable, however, if you are able to find another family to fill the spot, we will issue you a refund once the other participant has registered in your place. You are welcome to gift the camp session to another child, and provide us with that person's name, age, and contact information. Please do so at least 7 days prior to camp so that their personalized items will be ready for them on the first day.
What if I have other questions?
Please reach out if you have any other questions! You can call us Tues. - Fri. during normal business hours at (843) 757-4600 or email us: hello@hewittoaks.com