About this Event
The 2020 Boca Raton Eco Trail Trekker and Expo due to take place on April 11th and 12th
has been cancelled due to concerns of coronavirus.
We are devastated to have to make this decision, but we believe this course of action is in the best interests of our participants, our recommended and supporting charities, the event team delivering the event, our trail makers, sponsors and vendors without whom it would be impossible to have the event.
We are supportive of the decisions made by the City of Boca and will always work with them in the best interests of the community as a whole.
We live in unusual times, but my team and I speak as one when we say that our thoughts go out to everyone. We wish everyone the strength to carry on and hope that you and your loved ones will come through unharmed in any way. It is our responsibility as a society to all do our part to prevent and stop the spread of the virus. Please practice optimal hygiene, washing hands thoroughly with soap and water as often as possible and be conscientious of touching your face. We also remind everyone that it is always a good idea to do all possible to boost your body's immune system via all natural methods obtainable to you.
We sincerely look forward to your continued support when we hold our event in 2021. We are working diligently and as fast as we can to secure suitable dates for our next event, to be announced very soon.
My sincere thanks for your understanding.
If you have any questions please reply to me directly at:
paul.collins@ecotrailtrekker.com.
Thank you,
Paul Collins
Founder
Eco Trail Trekker Global USA
GUEST SPEAKERS, MIND/BODY/SOUL CLASSES & CANNABIS FORUM:
* Speakers Room Access: $10
* Mind/Body/Soul Class Access Pass: $10
* ALL ACCESS PASS: $15
SATURDAY SCHEDULE:
EXPO HOURS: 10:00am - 5:00 pm
SPEAKERS: 10:20am - 2:20pm
**10:20 am Tracy McDonough
**11:10 am Dr. Gregory Jean-Pierre
**12:00 am Thomas Taylor
**12:50 pm Laura Saltman
** 1:40 pm Richard Shaffer
MIND/BODY/SOUL CLASSES: 10:20am - 4:00pm
BRING YOUR YOGA MAT!
**10:20am Crystal Bowl Sound Healing Meditation with Reina Ananda
**11:30am Pilates with Terry Michael
**12:40pm Max Pac work out with Andrea Hammer
**1:50pm Zumba with Rosalie Galante
**3:00pm Fusion Flow by Yoga Joint
CHILDREN'S GAME ROOM: 10:00am - 3:00 pm
Crazy Games will be hosting and running the children's game room, full of so many exciting games! Including Creative Block Station, Jumbo Basketball Toss, Hopper Ball, Bouncy Bulls, Hop Zone, Carnival Target and Nerf Target Practice!
SUNDAY SCHEDULE:
EXPO HOURS: 8:00am - 1:00 pm **outside only**
CHALLENGES:
** 30k begins at 7:00am
** 10k begins at 8:00am
** 5k begins at 8:00am
** 2k FAMILY FUN WALK begins at 9:30am
REGISTER ONLINE NOW! Walk, Trek, Jog, Run, We don't care as long as you have Fun!!!
https://www.ecotrailtrekker.com/boca-raton-team-entry-form/
Vendor Packages & Booth Opportunities available:
Become a Vendor at : https://www.ecotrailtrekker.com/boca-raton-booking-expo/
Spaces available starting at $270
Email info @ecotrailtrekker.com for full information or text 561 674 3454. Make sure to leave your contact number, name and business information
The Boca Raton Eco Trail Trekker 2020 is a community sports event, promoting health, wellness, leadership, team spirit, commitment to excellence and raising money for charities and good causes.
Teams of 4 start together, stay together and finish together! Though it is GREAT FUN participating as a team you're still more than welcome to participate as an individual!
Enter online now and make sure you get one of the fantastic participants shirts at www.ecotrailtrekker.com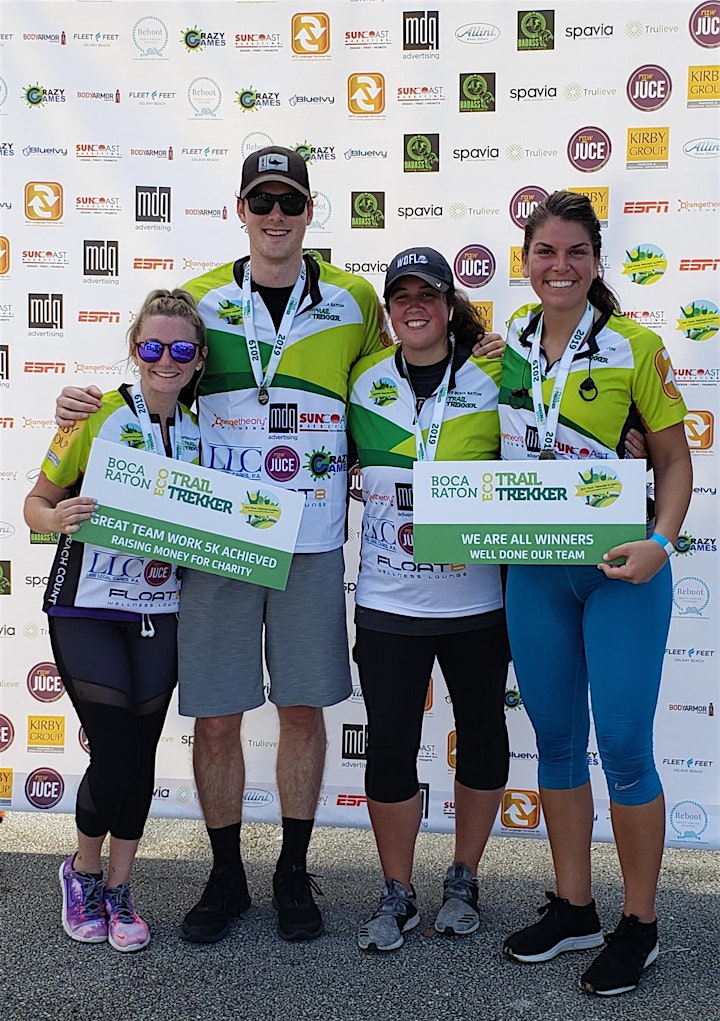 Everyone who attends can enter our Lucky Draw and win great prizes ,including a Reboot Cruise!!!
Visit the website at: www.ecotrailtrekker.com