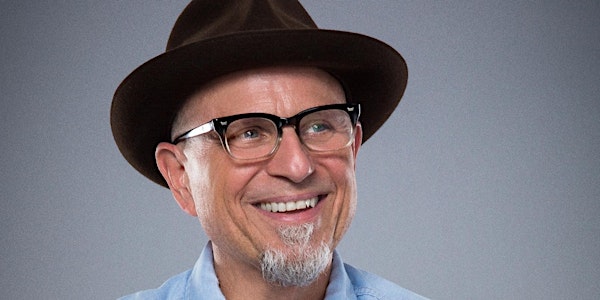 Bobcat Goldthwait (Police Academy, Letterman) at Club 337 NEW DATE!
Lafayette Comedy presents comedian & actor Bobcat Goldthwait on Thursday, OCTOBER 13, 7:30 p.m. at Club 337 inside the Doubletree Hotel
When and where
Location
Club 337 inside The Doubletree Hilton Hotel 1521 W. Pinhook Rd. Lafayette, LA 70503
About this event
NEW DATE: October 13th
Tickets on sale now for $25.
Doors at 6:45 p.m., show at 7:30 p.m.
BOBCAT GOLDTHWAIT
Legendary Comedian, Bobcat Goldthwait, is no stranger to show business. Since his first appearance at the age of 20 on the David Letterman Show in 1983, Bobcat has gone on to maintain a thriving career as a writer, director, actor, voice actor and stand-up comedian.
As a comedian, Bobcat has starred in multiple HBO and Showtime specials and has toured as an opening act for the rock band Nirvana. Well known for his roles in Scrooged with Bill Murray and as Zed in the Police Academy franchise, Goldthwait has gone on to become a well respected director and Sundance alumni.
He has directed TV (Jimmy Kimmel, Chappell's Show, Community), feature films, (World's Greatest Dad starring Robin Williams, Willow Creek starring Bigfoot, God Bless America) and documentaries (Call Me Lucky, and Joy Ride). Bobcat has also directed numerous standup comedy specials (Patton Oswalt, Marc Maron, Ron Funches, Iliza Shleshinger, Mo Willems) and is currently working on converting his critically acclaimed documentary, Call Me Lucky, into a narrative film with Judd Apatow.
After fleeing Los Angeles, he now lives somewhere in the woods in Illinois with his girlfriend, Nora Muhlenfeld, and their 4 cats: Anderson Coopurr, Alice Coopurr, Tina Sparkle and Robert Smith.
Lafayette Comedy produces stand-up comedy shows around the Acadiana area, featuring local, regional, and national comedians. Lafayette Comedy also produces weekly open-mics, monthly showcases, and special comedy shows.
SHOW RULES:
* Cell phones must be set on silent or turned off. Never take a phone call during the show. If it can't wait, please step outside.
* Table Talk – must be kept to a minimum. Lafayette Comedy reserves the right to remove loud, talkative patrons. No refunds will be given.
* No Flash Photography permitted
* No Recording: Each comedian owns the rights to their own material, you however do NOT.
* Do Not Heckle the Comedian: Heckling is interrupting the performance to upstage, disparage, or throw off the comedian. It is never acceptable, and the quickest way to ruin the show for everyone. It is also the quickest way to ejection.
* Do Not Interrupt the Comedian: The common excuse for this is "I'm helping the comedian" and "that's what you're supposed to do at Comedy Clubs!" Comedians are professionals, they do not need help. Exception: If a comedian directly engages you in conversation, it is ok to respond. Some of the best comedy happens this way, and can make for a memorable experience. Be ready to let it go when the bit is over.
I don't recognize the comic's name, will the show be funny?
Yes, all of our acts are professional nationally touring comedians. There are so many talented comedians out there today; it is impossible for all of them to become household names.  That being said, comedy is subjective and we recommend you research the comedian you are coming to see.
Unless otherwise stated, please consider all of our shows as "adult subject matter."
No refunds unless the show is cancelled or rescheduled. 
For any questions or to request more information, please contact Lafayette Comedy at lafayettecomedy@gmail.com or (337) 298-4373.