Finnish singer/songwriter Bobby Oroza visits Club Congress with support from Brainstory and DJ Herm.
About this event
Bobby Oroza
Brainstory
DJ Herm
Live at Club Congress
Wednesday, November 17
$12 adv / $15 dos
*PROOF OF VACCINATION OR NEGATIVE COVID TEST REQUIRED FOR ENTRY*
The artist and venue have agreed to require proof of vaccination or proof of a negative covid test that was administered by or under the supervision of a healthcare provider within 72 hours of the show.
We will accept a picture or scan on your cell phone, photocopy or original document of your CDC-issued vaccination card.
If you need a replacement vaccine card, you can contact your vaccine provider or local health department.
We will accept a printed or digital copy of a negative covid-19 test result administered by or under the supervision of a healthcare professional within 72 hours of the date of the show.
At-home tests will not be accepted under any circumstance.
Bobby Oroza
After years of grinding as a sideman in the Finnish music scene, Bobby Oroza has stepped up to make his voiceheard. Always with an air of crude romanticism, Bobby pushes towards an expression transcending the borders ofsoul and rock balladry. His dark and intimate debut single "This Love" didn't take long to reach the ears and hearts ofa worldwide soul music community and is already a proper classic amongst the lowrider and soul collector scenes.Bobby was born in Helsinki, Finland into a family of musicians and artists. During frequent family parties Bobby´sBolivian grandfather would pick up a guitar and sing Latin canciones and Cuban classics. Bobby´s mother is a singerand his father a gypsy-style jazz guitarist. All his siblings work in show business and music. As a kid, Bobby waslucky to grow up surrounded by his parents' record collection which included early jazz and blues, Motown hits,gospel ensembles, and doo-wop groups like The Drifters and The Clovers. The Soul records were balanced out byBrazilian ones, African ones, his mother's collection of North and South American folk songs, and Nuyorican Salsaalbums. All of these influences show up in Bobby's music.Bobby started working professionally as a musician in his early teens. His main instruments are guitar andpercussion. Before finishing high school Bobby decided he needed to experience the rhythmic source that hadinspired him the most, and travelled to Santiago, Cuba. There he studied percussion and singing intensively formonths. Since his return he's been producing, recording and performing music to make a living for his family.Teaming up with the Timmion Records house band Cold Diamond & Mink, led by Jukka Sarapää, Sami Kantelinen,and guitarist/composer Seppo Salmi, he has a tight quartet of musicians to support his vision. With his instant classic,debut album "This Love" Oroza has shared his strange and unique shade of Soul with the world, creating a cult-likefollowing for his sound from Finland to sunny Southern California and beyond.
Brainstory
To be familiar with Brainstory is to know their Rialto, CA, roots, the positivity that laces each of their songs, and then the maverick-musicianship-meets-real-friendship that expertly holds it all together.
If you're new to Brainstory, you'd be forgiven if you didn't quite believe the music they make—from sweet soul slowies to psyche rock-tinted bangers to ballads with a nod to a smooth jazzy R&B of the 70s—is the product of only three people.
Brainstory is the brothers Kevin and Tony Martin (on guitar/vocals and bass, respectfully) and Eric Hagstrom (drums)—but all three of these raw, sensitive, California dudes are family.
Inspired and conceived in California's Inland Empire, these three found each other through the common denominator of jazz. With no real music scene to speak of in the IE, Kevin and Eric landed in music school (where they initially met) while Tony left for San Francisco to study jazz bass the more traditional way—gig after gig, learning by trial-by-fire. By the mid-2010s, the group was in Los Angeles. "That's what we were all into at the time—jazz," Kevin explains. "And that's what we wanted to do with our first EP in 2014—take our songs and expand them, improvise, weld jazz onto them. We wanted to trick people into listening to jazz, basically."
Fast forward to today, and no trickery is needed. Kevin, Tony, and Eric have evolved into something seemingly bigger than the self-released EPs and opening acts of their past. Indeed, they needed to grow through it all—and are very thankful for it. But don't limit them as just jazz heads, although the transcendent and freeing nature of that genre is crucial to the Brainstory sound.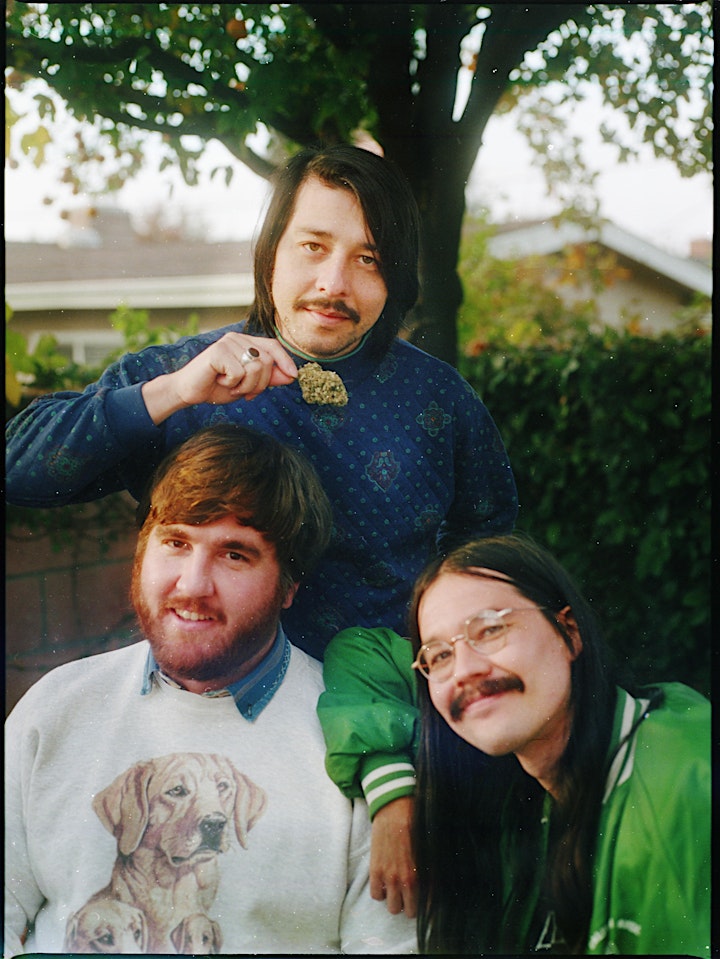 Performers
Date and time
Location
Refund policy