Description
THERE ARE A FEW REMAINING BLUES SPECTACULAR TICKETS AVAILABLE VIA THE WILLIAM AND MARY EVENTS WEBSITE AT: https://events.wm.edu/event/view/kimball/98124
This photo from last year's New Year's Eve Blues Spectacular says it all! So we're gonna do it again!!!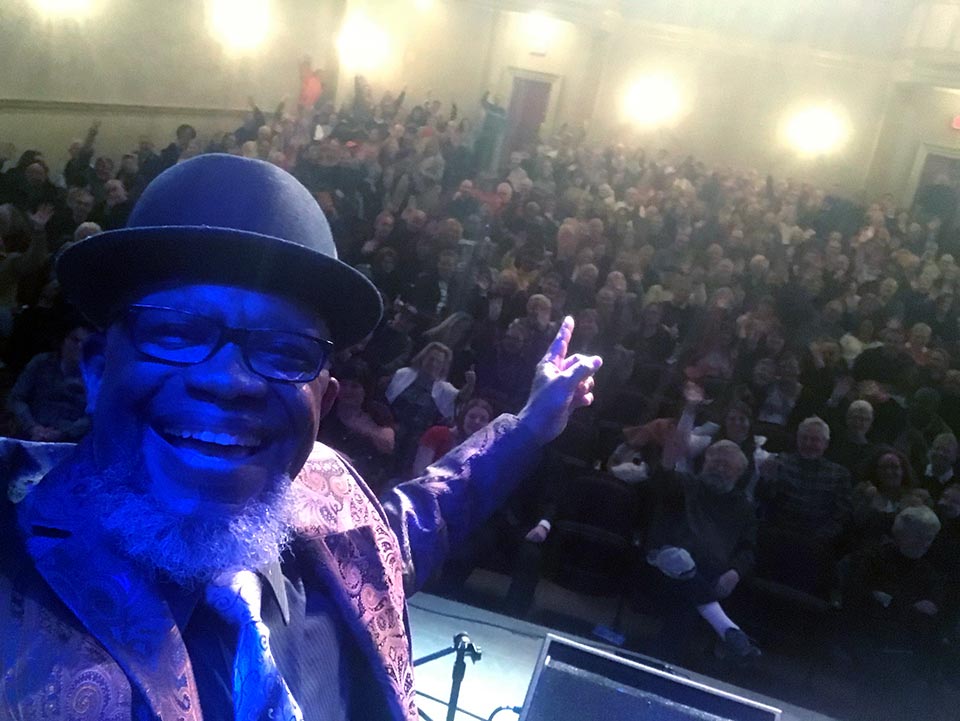 You are cordially invited to join Bobby Blackhat for a family friendly evening of Toe Tappin', Finger Poppin', Hip Shakin' Blues at the beautiful Kimball Theatre located on Merchants Square in Historic Colonial Williamsburg. This event features some of the most talented musicians in Virginia including:
Bobby BlackHat Band - Finalist 2016 Intenational Blues Challenge and Winner of the nationwide USAA/We Are The Mighty Mission: Music competition. Bobby BlackHat brings together the finest blues musicians in Hampton Roads to perform classic, modern, as well as original blues tunes that will keep your toes tappin and your hips shakin all night long. The Bobby BlackHat Band includes Tom Euler, Brian Eubanks, Michael Behlmar, and Lucy Kilpatrick.
Sharon Rae North - Sharon Rae North is a talented songstress who sings jazz (straight- ahead, contemporary, smooth, standards). However, for the Blues Spectacular, Sharon is going show off her blues skills. Special note: Her latest album, a Smooth Jazz/Adult Contemporary EP titled Sincerely Yours was a first ballot contender in the Best Jazz Vocal Album category for the 59th Annual Grammy Awards in 2017.
Parker & Gray - Parker & Gray are a music duo that stems from two diverse musical backgrounds intersecting at acoustic blues, folk, and soul. Based out of Staunton, Virginia, P&G are adding a new twist to the bare knuckle style of blues duos with the style and vigor of a full band, but in a package that fits any stage and many musical taste. (Daniel "Mojo" Parker – Vocals, Guitar, Percussion; Scott "Hambone" Gray – Harmonica & Guitar). Parker & Gray were 2018 International Blues Challenge semi-finalists.
Little Doors - Little Doors is a musical quartet specializing in vocal renditions of popular blues songs from the mid-twentieth century. Simply presented with vocals, guitar, upright bass and percussion, Little Doors takes the listener to a place in their past ; a place of nostalgia evoking forgotten joys or heartaches, sometimes with a fresh appreciation that comes from having been away from an old friend for too long.
Fade To Blue - Fade to Blue is an Electriying Blues based band and is taking tha Hampton Roads areas by storm. But by know means do they limit themselves to just playing Blues. Their repertoire includes great music from the genres of Blues, Soul, Classic Rock, Jazz and Fusion. Fade To Blue will put a smile on your face as you sing and dance along to some of your favorite tunes.
---
FAQs
Are there ID or minimum age requirements to enter the event?
This is a family friendly event for music lovers of all ages!
What time does VIP Early Entry start?
VIP Early Entry starts at 5:30pm. General Admission Entry starts at 6:00pm
What is Building Accessibility?
Entrance to the Facility: Ground level entrance into theatre; no stairs for main auditorium access.

Access to Restrooms: Wheelchair accessible stalls, toilets and sinks accessible.
What are my parking options for the event?

Public parking lots in Colonial Williamsburg (near Merchant Square) can be used.
Will tickets be available at the Kimball Theatre Box Office?
Yes. Box office tickets sales will be available at a later date.
What's the refund policy?
No refunds at any time.
How can I contact the organizer with any questions?
Direct questions to info@bobbyblackhat.com or call 757-871-5485.