Description
PLEASE NOTE! THE SHOW IS FROM 5PM-MIDNIGHT
BOB SINCLAR 9-11 PM
G-Stav & St. John 8-9pm, Pheeko Dubfunk 7-8pm, Lucas Med 6-7pm, Kean B. 5-6pm
closing set by Dirtyhertz 11-midnight
SAN FRANCISCO… The time has come to welcome the living legend, the King of house music, the Icon that everyone knows as THE BEST!!! BOB SINCLAR IS IN THE HOUSE!!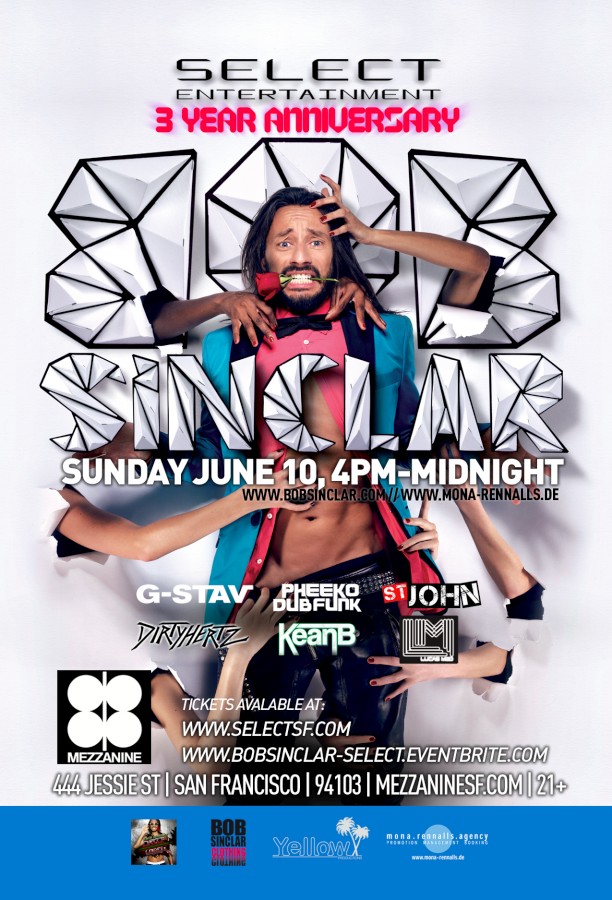 SELECT 3 YEAR ANNIVERSARY AT THE MEZZANINE, SF (6.10.12)
We are celebrating THREE YEARS of fantastic events in San Francisco and beyond and would like to thank all of you with this spectacular show that is by far the biggest and most impressive party we've put together to date. BOB SINCLAR has created tracks that have topped all of the charts all over the globe such as #1 hits: "WORLD HOLD ON", "LOVE GENERATION" and "SOUND OF FREEDOM". This event is also to thank everyone for 3 years of outstanding support for SELECT. We started off with something small and simple, and only through amazing support and great people surrounding us, have we been able to move forward to create something more special than any of us ever imagined! This event will be stacked with talent such as our favorite local Dj's: G-STAV, PHEEKO DUBFUNK, DIRTYHERTZ, LUCAS MED and KEAN B. We also have an amazing Venue, the MEZZANINE. Equipped with Funktion One sound system which is the top of the line sound system on the planet, lasers, cryo-jets, concert type lighting, giant foam LED sticks for everyone, a massive dance floor and the best VIP set up in all of San Francisco! This is going to be the BEST damn party we have ever thrown, so don't miss out on this because if you think you have had a good time with us in the past, you really have no idea! Be ready for this one!!
We wanted to do something a little different and special for this show, so the party will last all day long from 5pm – midnight! BOB SINCLAR will be on from 9-11 pm and will be headlining the mini festival. Be sure to arrive early to support all of our favorite San Francisco openers and to avoid lines. This Event will SELL OUT so grab tickets quick.
Table options available for groups of 10, 8 and 6 are also available and will include the price of admission along with the table.
Doors open at 5pm | 21+ show | www.selectsf.com | Mezzanine 444 Jessie St. San Francisco
____________________________________________________________________________________
Tickets: After purchasing a ticket through Eventbrite you may either print out your confirmation email for faster entry, or bring your ID and your name is automatically added to will call.
NO REFUNDS
Mezzanine Ticket Transfer Policy: If you would like to have someone else claim your will-call spot, you MUST provide them with a photo copy of your driver's license or credit card used to purchase the tickets, along with a signed note authorizing them to use your spot (specify quantity). Without proof and written consent, they will not be admitted inside the venue.
All events are 21+ | Please bring valid identification. For more information visit mezzaninesf.com