Bob Sarles "Bang" Jeff Foster Aerial Imaging Jarle Leirpoll Premiere Pro
Description
TONIGHT'S EVENT IS NOW SOLD OUT.
WE ARE AT CAPACITY - WE CANNOT ADD MORE SEATS>

IF you do not already have a ticket, please do not arrive. Thanks in advance
SF Cutters Gold Sponsors: Adobe Systems and Blackmagic Design
Special Event Discount Sponsor : Future Media Concepts FCPX Creative Summit

NO CAMERAS OR RECORDING WITHOUT PRIOR PERMISSION.
If you missed Adobe Video World - it would be valuable to check the website, and the speakers - most have websites and many have training either on Lynda.com, or iTunes or available on YouTube or from their own store.
http://www.adobevideoworld.com/speakers
-------------------------------------------------
SF Cutters Meeting AGENDA
Wed Oct 26, 2016 Doors open 6:15 PM

Venue looks like it will remain 410 Townsend see the end of this message for transportation, and parking tips. There is no wifi for guests at this location. Check the local eateries around Townsend and 5th to see if any offer Wifi if you need to arrive early.

Speakers:

Bob Sarles: Fillmaker, Editor

http://www.imdb.com/name/nm0004247/?ref_=fn_al_nm_1
"Bob Sarles is a Primetime Emmy nominated film + television editor and documentary filmmaker. He co-edited the Peabody Award winning documentary series Moon Shot, the ABC documentary 'The Story of Fathers & Sons, three of the first four seasons of the MTV's ground breaking reality series The Real World, and unscripted television series produced for NBC, ABC, Bravo, VH1, Discovery, FX, WE and Oxygen.

Bob Sarles co-directed and edited the documentary Bang! The Bert Berns Story, narrated by Steven Van Zandt which premiered at SXSW. He directed and edited the documentary Sweet Blues: A Film About Mike Bloomfield, as well as films displayed at the Rock and Roll Hall of Fame in Cleveland, the EMP Museum in Seattle, and the Stax Museum of American Soul Music in Memphis."

Bob will show excerpts and talk about the making of his latest :
Festival Laurels for "Bang, The Bert Berns Story"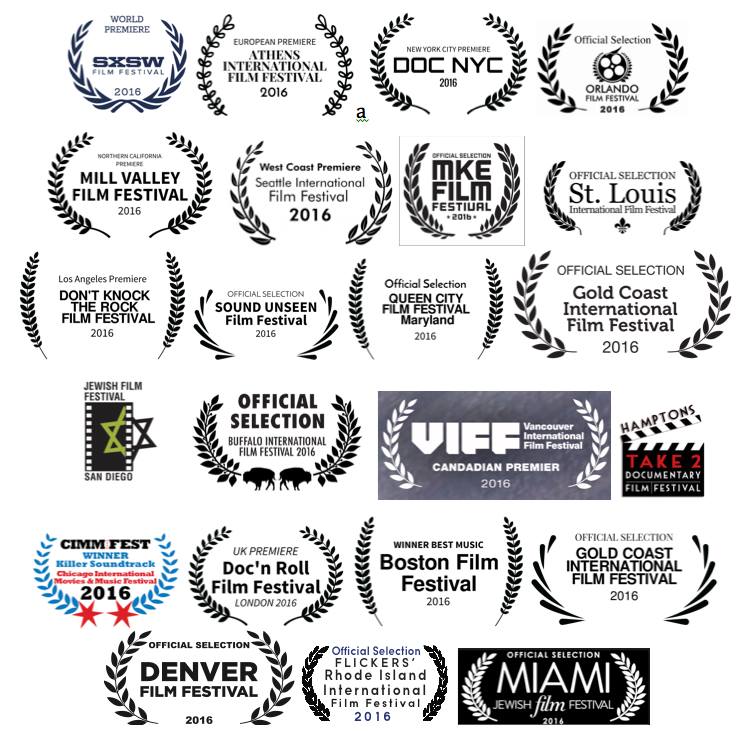 _____________
Jarle Leirpoll - "
Time-saving techniques in Premiere Pro

"




Jarle Leirpoll | Editor, Colorist, Premiere Pro Master Trainer | premierepro.net
Author of The Cool Stuff in Premiere Pro

Most editors who come from Avid and Final Cut will use Premiere as if it was FCP or Avid. This kind of works, but it's the slowest way you will ever work in Premiere. Learn how to utilize the many unique features in Premiere and let Premier do the heavy-lifting for you.
•

Unleash the power of the bin. Do lots of automation in the bin so you can work faster in the timeline. Including batch-syncing of dual system audio, adding LUTs, setting audio levels and storyboarding the scene.

•

Super-fast Top & Tail editing and fast trimming with several under-used shortcuts for Timeline Trimming

•

Work with stacked timelines to quickly find the best material and save lots of time

•

Customize the timeline and set shortcuts for timeline views and source channel mapping.

•

Presets for everything will save you lots of time
•
All this, and much more!
PremierePro.net is run by Jarle Leirpoll, and most of the templates and effects presets you'll find here are made by him.
Jarle makes his living by making corporate movies and documentaries, and by teaching how to shoot, edit and add VFX to films. He is an Adobe Certified Expert and Adobe Certified Instructor in Premiere Pro and After Effects.
Jarle is also the author of "The Cool Stuff in Premiere Pro". Need help to make a film? Need to learn Premiere Pro? Jarle can help!
Jarle Leirpoll is flying in from NORWAY just to speak to us. I have seen Jarle speak at Adobe events many times - and hope you save the date to enjoy this very special Adobe Certified Expert and Trainer in Premiere Pro and After Effects.

_____________

Jeff Foster " Latest Trends in Aerial Imaging"

Subscribe to the Drone Coalition Newsletter and view Jeff Foster's Articles:
http://dronecoalition.net/author/jfoster/
Jeff Foster has been on the forefront of the aerial drone photography and video industries, and has been shooting commercially and for a few years. He is the cofounder and Editorial Director of the Drone Coalition and has delivered workshops, seminars and tutorials in person at conferences and online. He will be sharing some of his recent project highlights, give his perspective on the industry from both the hobbyist and commercial aspects, and provide a brief overview of the current offering of available drones/cameras used in various productions - including some example drones on display.

Jeff Foster has also generously donated his latest DVDs to the Raffle
Aerial Photography and Videography Using Drones Learn by Video
And from Focal Press - 1 copy of Jeff Foster's Green Screen handbook! see RAFFLE

Jeff Foster on ProVideo Coalition
GoPro's New HERO5 & Karma Hands-On!
http://www.provideocoalition.com/gopro-new-hero5-hand
__________________
MEETING LOCATION
THE address - 410 Townsend - and see the parking info below -

IT IS NOT THE SAME PLACE AS the main Adobe building _ New location.

MAP

https://goo.gl/maps/z53Xh6eftF62


Metered parking is available on street - depending on what street it will have different cut off times and different rates - even broken meters need to have the rate paid - there is a way to do it by cell phone.

You can park for free at 650 KING - which is the Adobe Parking Garage, remember to go to 601 Townsend security to validate the white ticket, before walking 3 Blocks down Townsend to 410. You will need the validated ticket to reenter the garage gates and also to exit the security door.

All other parking garages in the area are private - require payment and have their own hours - usually their tickets are pink or green. Please note where you are parking.

410 Townsend is a several block walk - you can take a taxi or walk from 601 Townsend or park closer in metered street parking near the venue. I have found parking on Bluxome usually a little less expensive and most meters there seem to end at 6pm - however READ the Signs and the METERS. Tickets are very expensive
___________________________________________________
__________________

Films to see in the SF/ Bay Area and Events of Related Interests - registration or ticket sales links provided:
A New Color | SF Edited by Maureen Gosling
WORLD THEATRICAL PREMIERE
SF | 10.30 | Roxie
OAK | 11.1 | The New Parkway
SAN RAFAEL | The San Rafael Theater
Nov. 3- 7 pm - Smith Rafael, San Rafael:

http://rafaelfilm.cafilm.org/a-new-color-the-art-of-being-edythe-boone/
https://www.facebook.com/events/983934361731946/

Winner of the AUDIENCE AWARD Special Mention at Mill Valley Film Festival & BEST SHORT DOC AWARD at Peace on Earth Film Festival

About the Film:

Celebrated San Francisco Women¹s Building muralist and educator paints walls
to build bridges toward unity when the chokehold death of her nephew and his
final words ignite a national outcry for racial justice. A NEW COLOR was
the Audience Favorite Special Mention at Mill Valley Film Festival, won Best
Documentary Short in Chicago and received feature stories in the SF
Chronicle Datebook:
<http://www.sfchronicle.com/movies/article/Artist-activist-Edythe-Boone-find
s-New-Color-6524310.php?t=54cc1be6d9331b8bde>




Watch trailer and learn more at anewcolordocumentary.com
Editor: Maureen Gosling
Executive Producer: Jed Riffe
Cinematographer: Peggy Peralta
_____

INDIEGOGO Fundraiser: "Collisions" by Richard Levian

Flexible Goal - Ten DAYS Left ( flexible means all funds raised will be used - budget/goals may be adjusted)
https://www.indiegogo.com/projects/collisions#/
Hi all! We just finished principal photography on my first feature, "Collisions", written, funded and shot almost entirely in the San Francisco Bay Area, about a girl who comes home from school to find her mom taken away by the immigration police. Please check out our Indiegogo campaign - be one of the first in the world to see the footage! Thanks so much for your time!
Goal is halfway there - and this is flexible so whatever you can contribute will go a long way on this project!

_____________

Thanks to Adobe and Blackmagic Design for Support, and all our continuing Raffle Sponsors -
Raffle info BELOW is updated . Check below for Discounts to:


Moviola Seminars and ProVideo
Lynda.com
Adobe Max in San Diego Nov 2-6
FCPX Creative Summit in Cupertino Oct 27-30


Tues Oct FREE ONLINE MOVIOLA WEBINARs _ MUST REGISTER
To gain 24/7 access - subscribe to an inexpensive membership - or use the one you win in our raffle!

Free Moviola.com Webinar register ONLINE with
Free INTERVIEWS with American Cinema Editors - chose your favorite editor or watch them all
http://moviola.com/inside-hollywood/storks-john-venzon-ace/
Shooting Wide Open - Throwback Thurs with Barry Andersson Thurs Oct 27

http://moviola.com/webinars/throwback-thursday-frequently-used-filters/
Throwback Thursday: Most Frequently Used Filters
Videographers focus a lot on lighting, sound, composition and other more "noticeable" ways of making videos stand out. This course will talk you through a series of filters that you should use most often. We will show examples of all the filters and their uses, the shooting conditions for each and how to intelligently pick your filter strength.

Full Moviola Calendar
( even if you are a little late you can still tune in - the webinars are on a Digital DVR )

Watch EVERYTHING ANYTIME ON MOVIOLA WEBINARS - only $9 / month or $99 per year
http://moviola.com/promos/become-a-member/
___________
Lynda.com Discount Codes for Annual Membership - courtesy Adobe User Groups

Lynda.com also offers a discount 20% off Annual Plans:
20% off Annual Standard use Code: UG10A

20% off Annual Premium use Code: UG10P

___________

ADOBE MAX is a conference held annually this year in San Diego, CA Nov 2-4
Featuring All Adobe Software - and Design Sessions
A discount code for Adobe User Group Members - all SF Cutters -
User Group Members: UGMDP16
$1195 (a US$400 savings). Includes full MAX Pass.
REGISTRATION: https://max.adobe.com/registration

If you cannot attend in person Adobe MAX Keynotes will be live ONLINE Nov 2, 3 - signup for free

https://max.adobe.com/sessions/max-online/
_____________________

FCP X Creative Summit UPGRADED DISCOUNT CODE

Future Media Concepts
Cupertino Oct 27-30
One event, two great keynote panels! A day jam-packed with

some of the biggest names in the FCP X community. Join Glenn Ficarra, John

Requa, Jan Kovac, Chuck Braverman, Lucas Wilson and Duncan Shepherd at the

second edition of #FCPXSummit taking place this month in Cupertino.

Save $165 with code CUTTERS16: http://ow.ly/JHRW304VT0M
Be sure to insert code BEFORE Completing Checkout and Payment

___________________________________________________
RAFFLE and Giveaways- Over $4000 in value




Jeff Foster added a couple copies of His Peachpit Aerial Photpgraphy and Videography Using Drones DVD

http://www.peachpit.com/store/aerial-photography-and-videography-using-drones-learn-9780134121949

http://ow.ly/5Adi304ZrEy

GenARTS : One year subscription Sapphire Plugins
http://www.genarts.com/sapphire
Premium plugin suite of 250+ effects, transitions, and preset looks used for broadcast, film, and advertising

Premium Beat Royalty Free Music and Sound Effects and
Rocketstock : Royalty Free After Effects Templates
 Cool Stuff- Mugs, T-Shirts and Moleskins

$100 Voucher Premium Beat Music http://www.premiumbeat.com/
$50 Voucher Rocketstock - After Effects Templates https://www.rocketstock.com

BORISFX / IMAGINEER SYSTEMS 
Imagineer Systems:
TWO
One Year Imagineer Systems Mocha Pro 5 Subscription
Stream 4 hours of Training: Fundamentals of Mocha for Free
http://www.imagineersystems.com/products/training/

ONE
One Year BorisFX Continuum Complete Subscription
BCC 10 is the most complete plug-in collection available for Adobe Premiere Pro & After Effects users. Over 250 filters and tools for professional motion graphics, visual effects & finishing! Make it in post.
https://borisfx.com/pages/continuum-complete

DIGIEFFECTS http://www.digieffects.com/

1 DigiSuite Suite of VFX software: Damage, Phenomena, Tweak and Aura
1
1 Video Wall: animate your wall or flatscreen a multitude of ways, images and clips



DIVERGENT MEDIA http://www.divergentmedia.com/

1 ScopeBox: Monitoring, Scopes, Capture http://www.divergentmedia.com/scopebox
1 Edit Ready: Easy, Fast, Powerful Transcoding for Video http://www.divergentmedia.com/editready

Focal Press now part of Routledge, Taylor & Francis Group
https://www.routledge.com/applied-media
"The Green Screen Handbook" 2nd Editions by Jeff Foster IBSN 9781138780330
https://www.routledge.com/The-Green-Screen-Handbook-Real-World-Production-Techniques/Foster/p/book/9781138780330

http://ow.ly/AsY1304ZuxL
iZotope: Boxed RX 5: https://www.izotope.com/en/solutions/repair-and-edit/rx.html
The professional's choice for rescuing audio

Moviola Learning : ONE Three Month Subscription to EVERYTHING
http://moviola.com/
Free LIVE Seminars every Tues and Free previously Live Seminar TBT every Thurs

Rampant Design Tools
2 X 1 DOWNLOADABLE Volume -
http://rampantdesigntools.com/products/
Visual Effects, Transitions, Design Element Packages

Redgiant Software: http://www.redgiant.com/
Effects Suite - https://www.redgiant.com/products/effects-suite/
Effects Suite 11.1 Visual Effects and Motion Graphics tools

Red Giant Effects Suite is a set of 9 tools that have served
the visual effects community for years, delivering the
creative freedom to produce professional effects.


and
Magic Bullet Suite 12.1
https://www.redgiant.com/products/magic-bullet-suite/

Color correction, finishing and film looks for filmmakers

Magic Bullet Suite is a set of seven tools that bring intuitive,
powerful color correction, and beyond, right to your editorial timeline.