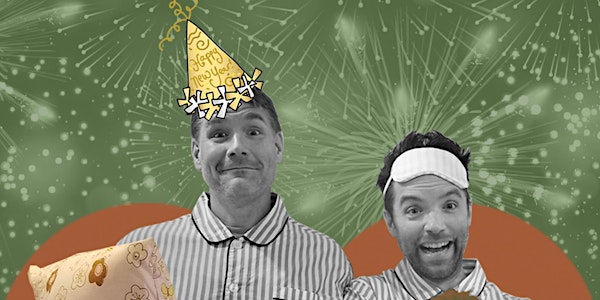 Bob and Reggie Stay Awake
Two idiots struggle to ring in the New Year. A silent comedy from the creators of the Fringe Festival hit, Bob and Reggie Go to Bed.
When and where
Location
Bryant Lake Bowl and Theater 810 West Lake Street Minneapolis, MN 55408
Refund Policy
Contact the organizer to request a refund.
Eventbrite's fee is nonrefundable.
About this event
The set up is simple: Bob and Reggie are idiots. They want to stay awake until midnight. Complications arise. From the creators of the Fringe Festival hit, Bob and Reggie Go to Bed, comes a New Year's comedy for the whole family!
Bob and Reggie Stay Awake is a silent physical comedy starring Joshua English Scrimshaw, Levi Weinhagen and Sulia Altenberg with live musical accompaniment by Rhiannon Fiskradatz.
Tickets are $8 Kids (12 years and younger)/ $12 in advance or at the door with Fringe Button/ $15 at the door
Doors are as follows:
6:00 PM on December 29th
6:00 PM on December 30th
4:00 PM for the first show on December 31st
6:30 PM for the second show on December 31st
As of July 1st, the Bryant Lake Bowl Theater will no longer require proof of vaccination or negative COVID-19 tests at the door. Please click here and read the current COVID-19 policy at the Bryant Lake Bowl Theater.
PRAISE FOR COMEDY SUITCASE:
"If you see 'Comedy Suitcase' attached to a Fringe show, reserve tickets early and go see it, and prepare to laugh." - Cherry and Spoon
"Scrimshaw and Weinhagen's exuberant brand of physical comedy has made them perennial Fringe favorites." - Star Tribune
"These people know how to craft a good comedy show, and it shines through in everything they do." - Twin Cities Daily Planet
"There is genius in their simplicity." - Pioneer Press
PRAISE FOR BOB AND REGGIE GO TO BED:
"This show is just pure joy and delight and laughter" - Cherry and Spoon
"Worthy of a Buster Keaton film" - Pioneer Press
"I don't know what I was expecting when I entered the theater for this show but it wasn't to see my love of silent comedy brought to life, live on stage... Scrimshaw and Weinhagen are brilliant in their gag creation and execution. You have to be pretty smart to act this stupid." - MN Stages
ABOUT COMEDY SUITCASE
Comedy Suitcase is a Twin Cities based theatrical comedy company dedicated to creating live comedy for all-ages. Founded in 2010 by Joshua English Scrimshaw and Levi Weinhagen, Comedy Suitcase strives to bridge the gap between imaginative theater for children and sophisticated comedy for adults. In the words of Groucho Marx: "A child of five could understand this.. Fetch me a child of five!"
ABOUT THE CAST
Levi Weinhagen is a writer, producer, performer, podcaster, trainer and educator. He co-founded the all-ages theater company Comedy Suitcase and has created multiple original shows that were in the top 10 of ticket sales at the Minnesota Fringe Festival. In 2012 Levi was named an Artist of the Year by City Pages. He was the first ever Artist in Residence for the Walker Art Center's Education and Family programs department in 2014-2015. He is a teaching artist with COMPAS. Levi produced and hosted a podcast called 'Not About You' that is a serious yet entertaining look at social justice issues in America. He is a graduate of HOPE Community's Sustainable Progress Through Engaging Active Citizens (SPEAC) organizer training program. Levi is a qualified administrator of the Intercultural Development Inventory. He completed the 2017 Center for Performance and Civic Practice Summer Institute. Levi is also Senior Strategist and Special Projects Director for the race and gender justice focused consulting firm, Team Dynamics.
Joshua English Scrimshaw is a Twin Cities-based actor, writer, producer, and co-founder of the all-ages theater company Comedy Suitcase. He has been called "a clever and inventive voice in Twin Cities comedy theater" by The Star Tribune, "a modern day Buster Keaton" by mnartists.org, and was named an Artist of the Year by City Pages in 2002 - A WHOLE DECADE BEFORE LEVI! Joshua is a frequent contributor to the speculative fiction showcase, The Not-So-Silent Planet, including their 2021 Minnesota Fringe production, Where Dark Things Sleep. In 2013, Joshua was cast in his first Ghoulish Delights production, The Strange Case of Doctor Jekyll and Doctor Jekyll. Since then he has appeared in The Thermos Bottle (2014), The Screaming Skull (2018) and Rattus Rattus (2022). He is also a founding member of Ghoulish Delights' The Mysterious Old Radio Listening Society; an old-time radio podcast and performance group.
Sulia Rose Altenberg is very excited to be back at the MN fringe with Comedy Suitcase, after playing their best friend Becca at the age of 13 in their 2009 fringe favorite The Harty Boys and the Case of the Limping Platypus. Since those shenanigans on the Rarig Thrust, Sulia has had the pleasure of working on every stage (whether it still exists or not) in the Twin Cities as well as some of her favorite outside-of-the-metro venues. Sulia has performed with Six Points Theater (formerly Minnesota Jewish Theater), Park Square Theatre (as the Wall Street Journal's acclaimed Anne Frank), Open Eye Figure Theater, Frank Theater, Walking Shadow, Loudmouth Collective, Daleko Arts, Mariah Theatre Company, Illusion Theater, Theater Unbound, Strike Theater, Huge Theater, Heart of The Beast, Pillsbury House's Chicago Avenue Project, New London Little Theatre, and in many many other MN Fringe shows with many fellow scoundrels.