Location
239 Thimble Island Rd
239 Thimble Island Road
Branford, CT 06405
The community can visit our boats and their captains from 3:00- 5:00. At 6:00 there will be a BBQ dinner for ticketed guests.
About this event
The Stony Creek Museum is hosting a special boating event on the shore. Unique vessels will be on display in the harbor. Community members are invited to visit the boats and their captains from 3:00-5:00. There will be refreshments and even boats available for purchase.
At 6:00 there will be an exclusive museum fundraiser for ticketed guests. Each ticket includes BBQ dinner and a drink ticket for a local beer sample. Guests will mingle on the lawn of a private historic residence as the sun sets over our curated collection of boats in the harbor.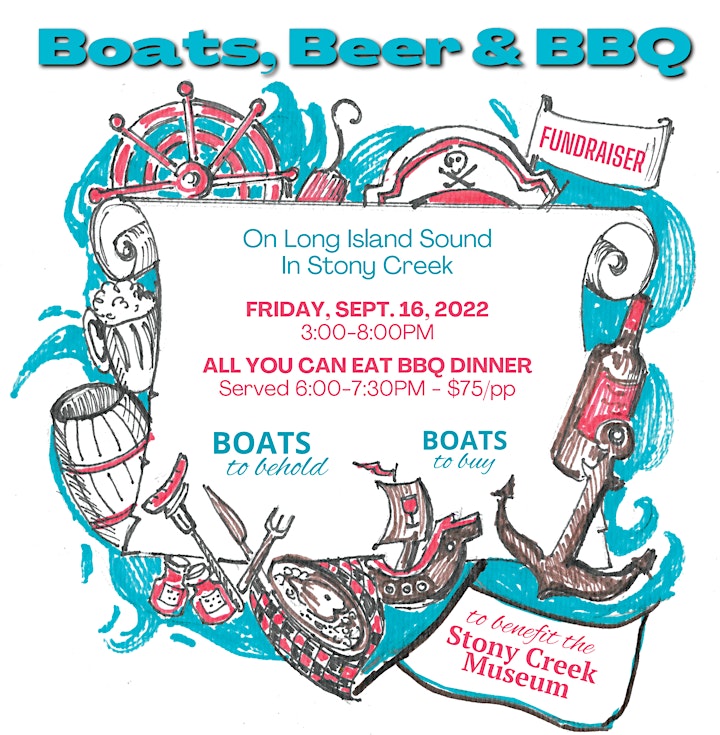 WAIVER: I know that attending the Boats, Beer & BBQ Dinner is a potentially hazardous activity. I will not attend unless I am medically able. I assume all risks with attending this event, including but not limited to falls, contact with other attendees, COVID 19, effects of weather, including high heat and humidity, consumption of alcohol, proximity to water, all such risks being known and appreciated by me. Having read this waiver and knowing these facts and in consideration of your accepting my entry, I, Myself and anyone entitled to act in my behalf waive and release the Town of Branford, Stony Creek Museum, event officials, property owners, volunteers, and all sponsors from all claims or liabilities of any kind arising out of my participation in this event, I grant permission to all of the foregoing to use any photographs, motion pictures, recordings or any other record of this event for any legitimate purposes.