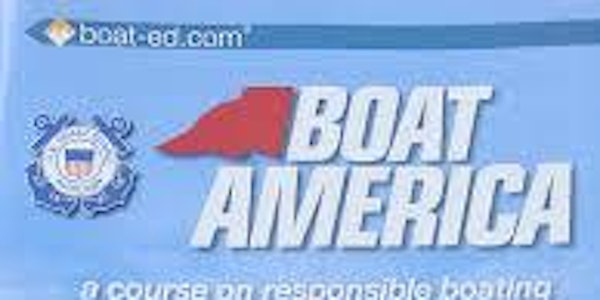 Boating America (BA) May 22-23, 2021 - ONLINE
ZOOM course, 2 days from 9AM to 1PM - Upon approving the test, you will receive the FL Safe Boater Card via mail.
Refund Policy
Contact the organizer to request a refund.
Eventbrite's fee is nonrefundable.
About this event
This is the Boating America (BA) course. Once you succesfully finish the course you will receive the Florida Boating Safety Education ID card
A charge of $40.00 will cover the cost of materials Classes are held online via ZOOM
The test will be proctored. Each student should be in front of a webcam when taking the test. Audio only participation is not accpeted. The test is closed book.
You may contact the Public Education Officer at (731) 907-0307 or by email courses@aux37.org
Introduction to Boating
Types of power boats; sailboats; outboards; paddle boats; houseboats; different uses of boats; various power boating engines; jet drives; family boating basics.
Boating Law
Boat registration; boating regulation; hull identification number; required boat safety equipment; operating safely and reporting accidents; protecting the marine environment; Federal boat law; state boating laws; personal watercraft requirements.Boat Safety Equipment
Personal flotation devices ("life jackets"); fire extinguishers; sound-producing devices; visual-distress signals; dock lines and rope; first aid kit; anchors and anchor lines; other boating safety equipment.
Safe Boating
Bow riding; alcohol and drug abuse; entering, loading, and trimming a boat; fueling portable and permanent tanks; steering with a tiller and a wheel; docking, undocking and mooring; knots; filing a float plan; checking equipment, fuel, weather and tides; using charts; choosing and using an anchor; safe PWC handling; general water safety.
Navigation
The U.S. Aids to Navigation system; types of buoys and beacons; navigation rules (sometimes referred to as right-of-way rules); avoiding collisions; sound signals; PWC "tunnel vision."
Boating Problems
Hypothermia; boating accidents and rescues; man overboard recovery; capsizing; running aground; river hazards; strainers: emergency radio calls; engine problems; equipment failures; carbon monoxide (CO); other boating and PWC problems.
Trailering, Storing and Protecting Your Boat
Types of trailers; trailer brakes, lights, hitches, tires, and bearings; loading, balancing, and towing a trailer; towing (and backing) a trailer; boat launching and retrieving; boat storage and theft protection; launching, retrieving and storing a PWC.