In person class 8AM to 4PM - Upon passing the test, you will receive the FL Safe Boater Card via mail. Lunch included
About this event
This is the Boating America (BA) course. Once you successfully finish the course you will receive the Florida Boating Safety Education ID card
A charge of $50.00 will cover the cost of materials Classes are held online via ZOOM
The test will be proctored. Each student should be in front of a webcam when taking the test. Audio only participation is not accepted. The test is closed book.
You may contact the Public Education Officer at (731) 907-0307 or by email courses@aux37.org
Introduction to Boating
Types of power boats; sailboats; outboards; paddle boats; houseboats; different uses of boats; various power boating engines; jet drives; family boating basics.
Boating Law
Boat registration; boating regulation; hull identification number; required boat safety equipment; operating safely and reporting accidents; protecting the marine environment; Federal boat law; state boating laws; personal watercraft requirements.Boat Safety Equipment
Personal flotation devices ("life jackets"); fire extinguishers; sound-producing devices; visual-distress signals; dock lines and rope; first aid kit; anchors and anchor lines; other boating safety equipment.
Safe Boating
Bow riding; alcohol and drug abuse; entering, loading, and trimming a boat; fueling portable and permanent tanks; steering with a tiller and a wheel; docking, undocking and mooring; knots; filing a float plan; checking equipment, fuel, weather and tides; using charts; choosing and using an anchor; safe PWC handling; general water safety.
Navigation
The U.S. Aids to Navigation system; types of buoys and beacons; navigation rules (sometimes referred to as right-of-way rules); avoiding collisions; sound signals; PWC "tunnel vision."
Boating Problems
Hypothermia; boating accidents and rescues; man overboard recovery; capsizing; running aground; river hazards; strainers: emergency radio calls; engine problems; equipment failures; carbon monoxide (CO); other boating and PWC problems.
Trailering, Storing and Protecting Your Boat
Types of trailers; trailer brakes, lights, hitches, tires, and bearings; loading, balancing, and towing a trailer; towing (and backing) a trailer; boat launching and retrieving; boat storage and theft protection; launching, retrieving and storing a PWC.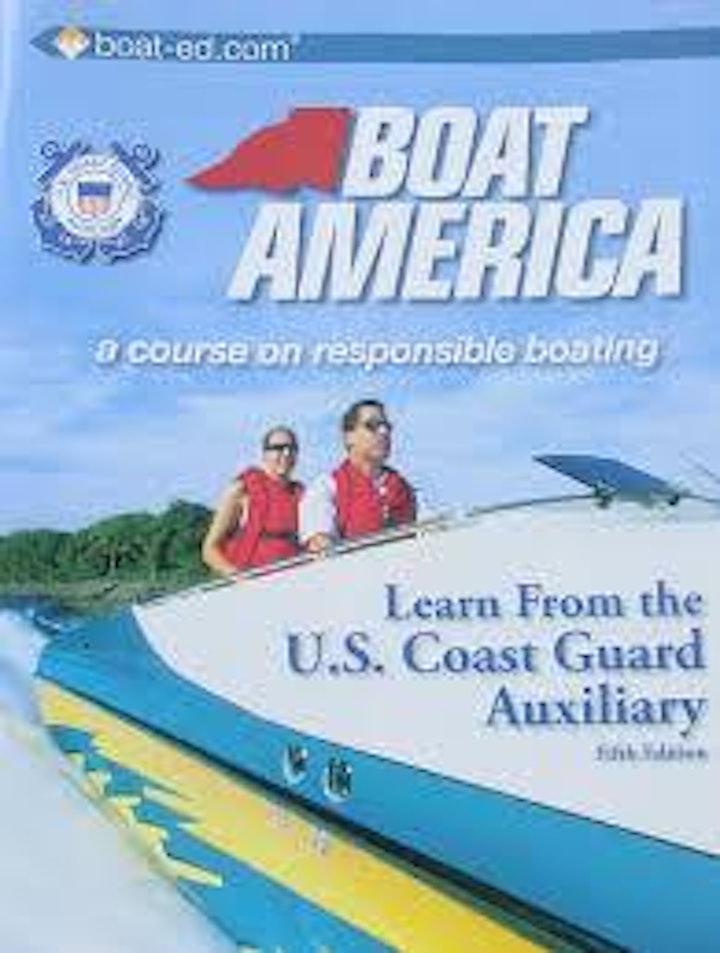 Organizer of Boating America (BA) August 7, 2021

The Auxiliary was formed by congressional act in 1939 as the Coast Guard Reserve. 14 U.S.C. 822 It aids the Coast Guard in its non-military, non-law-enforcement tasks, such as search and rescue, aids to navigation maintenance, environmental protection, public boater education, and private and fishing vessel examination.
Teams of Auxiliarists act in these mission areas under Coast Guard orders, and individual Auxiliarists supplement Active Duty and Reserve Coast Guard units. Auxiliarists under orders operate with the authority and under the direction of the United States Coast Guard. We wear Coast Guard uniforms with specific devices indicating that we are members of the auxiliary.