Description
THE BEST BOAT PARTY PACKAGE OF MIAMI
https://youtu.be/AvsrdsL0-E4
1. PRE PARTY
In order to check-in and to receive the event´s wristband; it´s mandatory to arrive at Harats Miami Pub (1248 Washinton ave. Miami Beach) 2 hours before the boat party starts. You must bring your ID. +21 alcohol allowed. Enjoy a complimentary welcome cocktail but don´t forget the bus leaves 45 minutes before the boat party scheduled time.
Tickets are $120 per person and to rsvp its $40 per person, balance due at check-in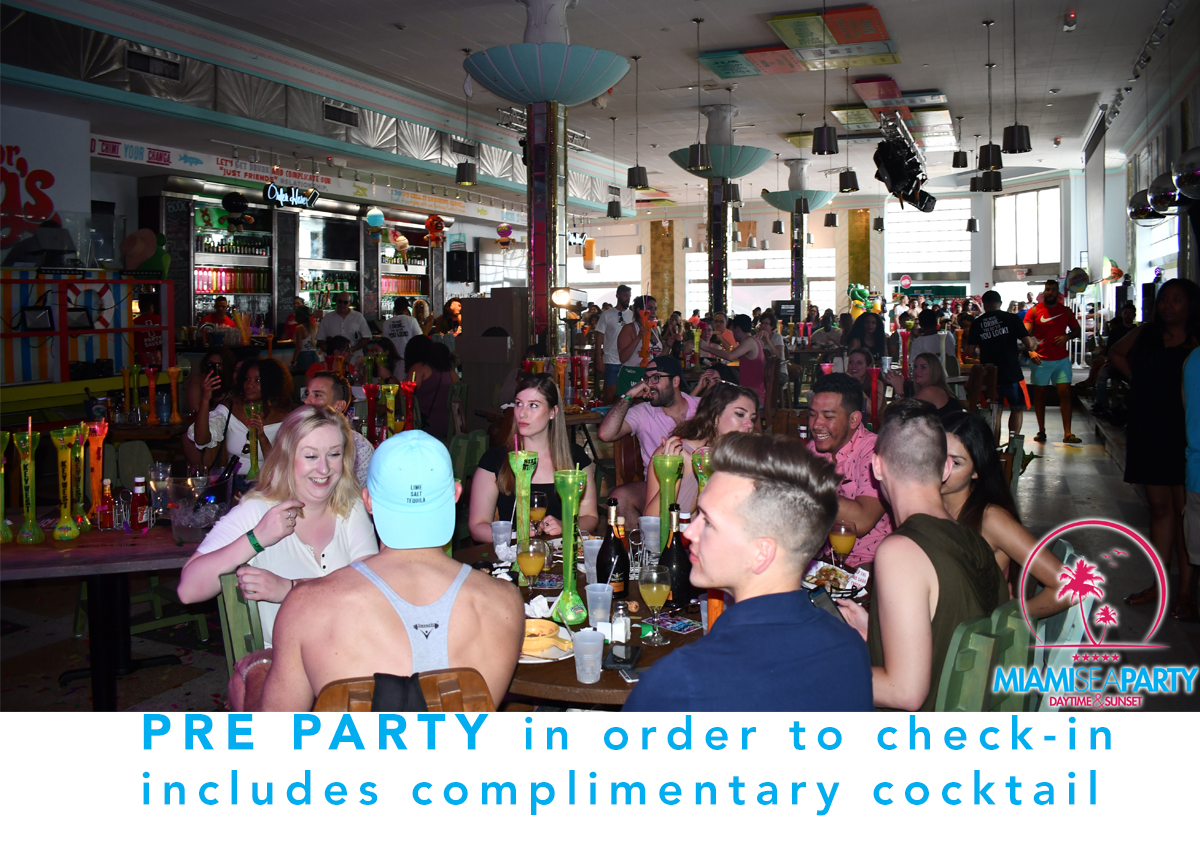 2. ROUND TRIP PARTY BUS
On the way to the Bayside port, the party continues on our party bus for approx. 30-45 minutes depending on the traffic.

3. ALL INCLUSIVE BOAT PARTY

• 3 hours ALL INCLUSIVE boat party around the beautiful Miami skyline.

• Every day up to 360 people from all over the world (50% girls - 50% guys approx.).

• Open Bar: Spirits (whiskey, rum, vodka, gin, tequila), cocktails (mojitos, margaritas), beer and sangria.

• Food: Chicken or beef BBQ; appetizers, sweets and tropical fruits.Swim stop island with Water Sports: Jet ski ride and banana boat.


• Activities on board: Dj´s, champagne showers, CO2 guns, professional photographer, shows with entertainment host, twerking competitions.




4. AFTER BOAT PARTY
During the week the party continues at Señor Frogs with theme parties: foam and paint. (Subject to availability).

5. NIGHT PARTY
• Free or discounted club entry available every day that you stay in Miami.

6. POOL PARTY
• Free access on weekends from 1pm to 7pm.



IMPORTANT INFO Total Price is
$109 per person
To RSVP its a $29 deposit and the remaining balance of $80 per person is due when arrive to harats miami pub and check-in, in cash. After you make your deposit you will receive a confirmation email and itinerary with details and instructions.
Mandatory
*18 to attend and 21+ to drink. It is mandatory to bring the ID.
Transportation to the event.
We have party bus round trip included in the package.
Contact us for any question or last min. reservations
Text +1 786-776-2302
Date and Time
Location
Refund Policy