Be ready for the best boat party of Miami!
About this Event
Feel the Melody of MIAMI !!!
Be ready to dance on the only boat with showers on the dance floor and a see through roof!
This includes a 4 hour ride to the haulover sandbar or island hopping throughout the area. We will stop and anchor for those who want to play in the ocean's clear waters.
One captain and 2 mates will be attentive to your every need. We will provide ice and water. You must bring on board your own food, alcohol or any other beverage you desire. This vessel is drug free.
For groups bigger than 10 people, we will provide a 20 passenger 2018 Cadillac Escalade limo pick up for an extra $ 150 from any hotel in Miami Beach or Downtown. No ride back included.
This vessel has a his and hers bathroom with 56 life jackets. Each chair has a cooler to place your ice, drinks, food and any personal item you wish to stash away.
We give complimentary bottles of Champagnes for groups !!!
Ice and water included.
No refunds will be issued should you decide to cancel at the last minute or no-show, no exceptions. Champagne Showers is not responsible for any excursions canceled by the customer (i.e.: illness, seasickness, ear problems, fear, hangovers, etc.)
Any boat tours that are canceled due to weather conditions and/or port closure can be rescheduled, removed from the invoice, credited towards another visit or refunded.
We won't go out if it's unsafe for our staff and customers!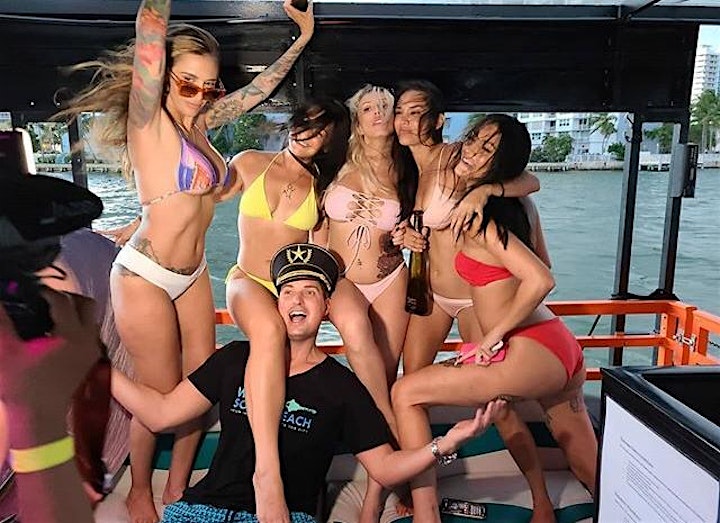 -2020 Year Built Party Boat
-Island Parties (Day Time)
-Sunset Parties (Night Time)
-Gift Champagnes
-HQ Sound System
-Catering Menu
-Optional Limo Service
-Large Dance Floor
-Shower Floor
-Dazzling Design
-DJ Service