Description
501 Commons Board Training in King County Workshop Series
501 Commons is happy to be presenting the workshop series for board and staff members that has been offered by United Way of King County for many years.
In this interactive session, you will learn how to focus the attention of busy board members so they can raise the most money with the least effort, using activities they can embrace with joy. As a result of this workshop, you will be able to:
Name the most important prospects board members should focus on as they raise money;

Articulate the two most important things that board members should do to retain donors;

List two things board members can do joyfully to connect donors to the mission.

Trainer: Susan Howlett has successfully raised money joyfully for 35 years, as a board member, development director, executive director, and for the last 25 years, as a consultant to over 1000 nonprofits nationwide. She is the author of the book "Boards on Fire," and is a sought after mentor, speaker and trainer, known for using stories and humor while offering practical solutions to thorny problems.
Organizations with a budget under $1 million are eligible for a $20 discount. E-mail juli@501commons.org to receive the discount code. Check back on our Featured Events page for upcoming sessions.
Click here for parking and transit information.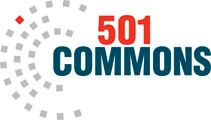 Date and Time
Location
Pacific Tower, Panoramic Center, 8th floor
1200 12th Avenue South
Seattle, WA 98144