About this Event
Boards at Shop PG&H will be a fun 2-hour wooden workshop pop up at Shop PG&H downtown.
Each registrant will choose from one of the several Pittsburghese inspired options and customize to their liking! Yinz will have fun!
Enjoy a coffee while you make your sign and shop the store to find eclectic and interesting handmade items from local makers including From the Field PGH.
All paint, decals, wood and supplies will be provided to registrants.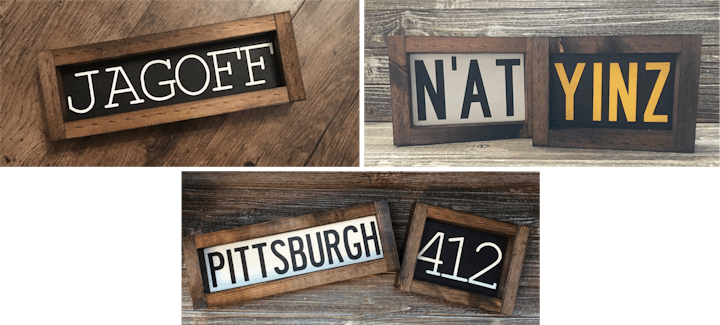 COLOR OPTIONS
White background with black letters/numbers (pictured in Pittsburgh/N'AT)
Black background with white letters/numbers (pictured in Jagoff/area code)
Black background with yellow letters/numbers (pictured in YINZ)
**Not pictured: Sign option "Nebby"
Signs will come with base coat of paint which is the color of the letters/numbers. If you want to change or alter it during the event you are free to do so. Due to dry times, the event may be up to 2 hours long, or less depending on how many coats of paint each guest wants to put on. You can be as creative as you'd like and choose how you want your sign to look.
This is a painting workshop - so please dress accordingly. Aprons will be provided but do not cover all clothing. Paint, oil based stains, poly-acrylic and sandpaper will be used during this workshop - precautions will need to be taken. Paint used is Behr Interior Premium Plus (Zero VOC), Stain used is Minwax Wood Finish Penetrating Stain. If any of these above materials should pose a threat to you due to known allergies please let me know as From the Field PGH will suggest that you do not attend the workshop.
The total time for the workshop is totally dependent on you and your creativity.Due to weather conditions, dry time may be affected.
Due to the preparation of the wood and materials, refunds and same day sign ups are not accepted. If for some reason you cannot attend, please contact me directly at fromthefieldpgh@gmail.com