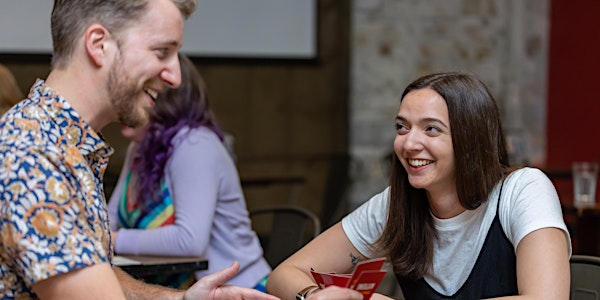 BoardGame Speed Dating at Dorchester Brewing (Ages 27-39)
Finding someone can be painful. But board games are always awesome. So what if you combined board games and searching for a partner?
When and where
Location
Dorchester Brewing 1250 Massachusetts Ave Boston, MA 02125
Refund Policy
Refunds up to 1 day before event
Eventbrite's fee is nonrefundable.
About this event
Hello! We are sorry to say that this event is sold out. However, we do have good news! We will be doing more of these! Click here to buy tickets for our ages 21-32 event at Dorchester on Tuesday, 9/27. Click here to buy tickets for out ages 27-39 event next month at Castle Island Brewing. (Tickets for this event are less expensive than for Dorchester, but they do not include a drink voucher.) E-mail hello@quirkevents.com to get a 50% off coupon you can use on your first ticket purchase and to be notified about future board game speed dating events we create, including same-sex nights we plan to start hosting soon. And now, we return you to your originally scheduled event listing...
Searching for a partner can be horrifically painful. But board games are always awesome. So what if you combined board games and finding a partner?
Picture this: You sit down for a night of games. A gaming concierge walks you through several games over the course of the night. You play classics you love and discover brand new games you've never heard of, playing each with a different group of fun singles. All while in a great brewery with plenty of delicious options on tap. At the end of the night, you give your gaming concierge a list of the folks you met that you'd like to date and a list of those you met that you'd like to just hang out with as friends. If any two people put down the same name as each other in either column, then your gaming concierge will make sure you get each other's e-mail address and you can coordinate a time to hang out.
Best case scenario: You find true love, discover some awesome board games, and make some new friends.
Bad case scenario: You accomplish only one of those three things, which is still pretty great.
Worst case scenario: There will be alcohol.
Before you decide to buy tickets, a few basics we should cover:
1) The cost of your ticket includes a $9 voucher good for any beer, cider or hard seltzer on tap as well as a $2 tip for your bartender" Fun fact: The cider is gluten free!
2) This event is for people ages 27-39 and will be taking place at Dorchester Brewing Co. in Dorchester, MA. We also have an event for ages 21-32 for which you can grab tickets here. In the coming months we hope to offer same-sex speed dating nights as well as events for other age ranges. So if you don't see what you're looking for here, e-mail us at hello@quirkevents.com. We'll keep you posted on when the right event for you opens up.
3) We understand the Covid situation is ever-changing and we want this event to be as comfortable for attendees as possible. If you buy tickets today, but later become uncomfortable with the current state of Covid or start experiencing Covid symptoms or test positive for Covid, then as long as you e-mail us before the event itself, we will allow you to push back to a future date at no additional charge.
4) If we get to 24 hours before the event and still haven't sold five tickets for each gender, we will cancel the event (and notify you). When we have run this event in the past, tickets have consistently sold very well, so we don't expect this to happen. But we thought we should cover this in case it came up.
5) How many games we have and which ones we use will be based in part on how many people attend, so we can't tell you for sure what we'll have right now. But the goal is for all of them to be fun, light, easy-to-learn games. Selection will include games from both the something-you-have-played-before category and the something-you-haven't-played-before category. The games are also chosen because they often tend to spark conversation and leave room for chatting with new people as you play. All games will be group games, meaning you'll get a chance to meet a handful of people with each new round.
6) Desperately wish you could attend, but you have plans on this date or the tickets you want are sold out? E-mail hello@quirkevents.com, and we will add you to our please-notify-me-next-time-you-create-an-event mailing list.