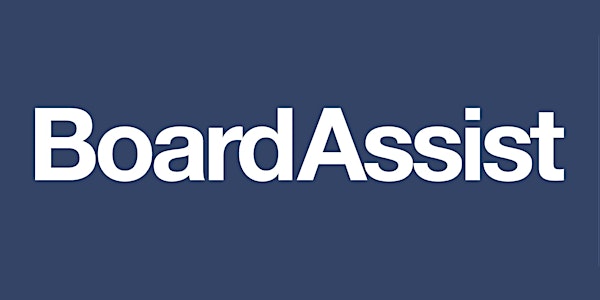 BoardAssist Nonprofit Governance Summit
BoardAssist Annual Nonprofit Governance Summit
About this event
Join us for BoardAssist's Annual Nonprofit Governance Summit – an online meeting of some of New York's most prominent nonprofit board members coming together to discuss nonprofit governance best practices.
Participating panelists include private and public sector industry leaders who are current trustees of distinguished boards such as The Metropolitan Museum of Art, New York Landmarks Conservancy, New York City Ballet, Environmental Defense Fund, The Buckley School, Philanthropy New York, and Girls Scouts of the USA, among other boards. From social justice and the arts to education and environmental boards, a wide cross-section of major nonprofit interest areas will be represented.
This is an important first step for the many among you who seek to forge new friendships across the New York nonprofit community. Making connections between amazing people and terrific nonprofit boards has always been the primary mission of BoardAssist. Creating new dialogues between our board placements and other high impact nonprofit board trustees makes the whole New York nonprofit community stronger.
The Summit will be a wonderful opportunity for those already sitting on nonprofit boards to learn from other influential board members, as well as a unique way for those considering nonprofit board service to learn more from some of New York's most impactful board members.
We hope to see you October 5 for a meeting of some of New York's best nonprofit board minds.
View a list or our prominent panelists and a full Summit agenda.
Multiple discounts are available. Contact us at info@boardassist.org to see if you qualify for one.
By registering for this conference, you hereby: (1) give consent for BoardAssist to use your photograph or image in its print, online and video publications; (2) release BoardAssist, its employees and any outside third parties from all liabilities or claims that you might assert in connection with the above-described uses; (3) waive any right to inspect, approve or receive compensation for any materials or communications, including photographs, videotapes, website images or written materials, incorporating photos/images of you; and (4) confirm your understanding that a panelist's participation is expected but not guaranteed and you waive the right to request a refund should there be a change to the scheduled panelist list.