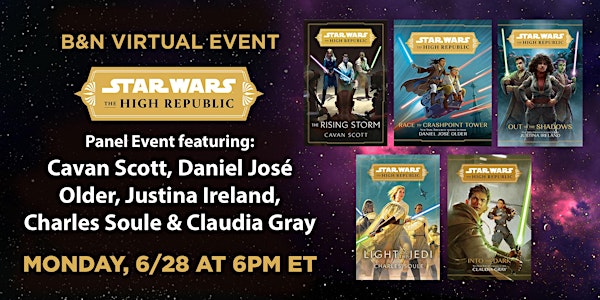 B&N Virtually Presents: Star Wars: The High Republic panel
Barnes & Noble welcomes Cavan Scott, Daniel Jose Older, Justina Ireland, Charles Soule & Claudia Gray for a Star Wars panel discussion!
About this event
Long before the First Order, before the Empire, before even The Phantom Menace...Jedi lit the way for the galaxy in The High Republic.
Join Barnes & Noble as we celebrate the release of more adventures in the Star Wars: The High Republic universe with a panel of its creators: Cavan Scott (THE RISING STORM), Daniel Jose Older (RACE TO CRASHPOINT TOWER), Justina Ireland (OUT OF THE SHADOWS), Charles Soule (LIGHT OF THE JEDI) and Claudia Gray (INTO THE DARK).
Order your copies of the panelists' books now!
-------------------------
Event Details:
This is a live, free event. Registration is required to attend.
Each registration must have a different email associated with it to gain entry. Please be sure your correct email is listed when you register and that your Eventbrite settings include updates on this event.
This event will air as a Zoom Webinar. It will not air on the Eventbrite site itself. Access to the event will become available on the night of the event, Monday, June 28, at 6 PM ET.

Access to the event will become available via:

A JOIN NOW button in your Eventbrite account OR your event registration confirmation email.

You will receive reminder emails from Eventbrite before the event. You may also access the event through the reminder email.

You may be asked to re-enter the email in which you purchased this ticket to re-validate.
Guidelines:
Disruptive Conduct: Barnes & Noble wants to create a safe virtual space for all. You acknowledge and agree that Barnes & Noble reserves the right to remove you from the Virtual Event if B&N, in its sole discretion, determines that your participation or behavior create a disruption or hinder the Virtual Event or the enjoyment of the Virtual Event content by other attendees.
Recording, Live Streaming, and Videotaping. Participants may not record or broadcast audio or video of Barnes & Noble Virtual Events.
Please note that Eventbrite is the only authorized dealer for this event. Each person must be registered to enter.
We cannot guarantee a replay of the program. Please keep this in mind before registering for a ticket.
Event guidelines are subject to change.
Join Barnes & Noble for future virtual events! See our upcoming line-up here.