B&N welcomes international rock icon & NYT bestselling author, Nikki Sixx, to discuss his new memoir THE FIRST 21 and Sixx: A.M. HITS album!
About this event
Join Barnes & Noble as we welcome rock-and-roll icon and three-time New York Times bestselling author, Nikki Sixx, for a conversation about his new memoir, THE FIRST 21: How I Became Nikki Sixx and Sixx: A.M. HITS album, with his friend and fellow author, Corey Taylor.
In this origin story, Nikki shares how Frank Feranna became Nikki Sixx, chronicling his fascinating journey from irrepressible Idaho farmboy to the man who formed the revolutionary rock group Mötley Crüe.
-------------------------
This is a live, ticketed event. You must have a ticket to gain access. Please be sure your correct email is listed when you purchase and that your Eventbrite settings include updates on this event.
This is for US-based customers ONLY (no P.O. Boxes), excluding Puerto Rico; and all international addresses. Any non US orders, Puerto Rico or P.O. Box mailing addresses will be cancelled and refunded.
Books will be mailed following the completion of the live event; please allow ample time for shipping.
Each ticket must have a different email associated with it to gain entry. Any repeated emails will be cancelled and refunded.
There is a limit of one ticket per person. If you exceed or attempt to exceed the posted ticket limits, we reserve the right to cancel, without notice, any or all orders and tickets, in addition to prohibiting your ticket purchasing abilities. Any tickets canceled due to violating the posted ticket limit may be refunded at face value (excluding fees). This includes orders associated with the same name, e-mail address, billing address, credit card number, or other information.
Ticket information:
Book with Signed Bookplate Admission - $38.10 (Signed bookplate + Admission + Book/tax/shipping): **LIMITED QUANTITY AVAILABLE: A ticket PER PERSON includes:
o One copy of THE FIRST 21: How I Became Nikki Sixx.
o Admission to the virtual event space wit Nikki Sixx and Corey Taylor
o One signed bookplate from Nikki Sixx
[SOLD OUT] Signed Book Admission - $37.16 (Admission + Signed Book/tax/shipping): ** A ticket PER PERSON includes:
Event Details:
This event will air as a Zoom Webinar. It will not air on the Eventbrite site itself. Access to the event will become available on the night of the event, Monday, October 18 at 7 PM ET.

Access to the event will become available via:

A JOIN NOW button in your Eventbrite account OR your event ticket confirmation email.

You will receive reminder emails from Eventbrite before the event. You may also access the event through the reminder email.

You may be asked to re-enter the email in which you purchased this ticket to re-validate.
Guidelines:
Disruptive Conduct: Barnes & Noble wants to create a safe virtual space for all. You acknowledge and agree that Barnes & Noble reserves the right to remove you from the Virtual Event if B&N, in its sole discretion, determines that your participation or behavior create a disruption or hinder the Virtual Event or the enjoyment of the Virtual Event content by other attendees.
By registering for a paid Barnes & Noble Virtual Event Ticket, you agree not to share, sell or trade your access. If Barnes & Noble determines that you have violated this policy, B&N may cancel your access, retain any payments made by you, and ban you from future Virtual Events.
Recording, Live Streaming, and Videotaping. Participants may not record or broadcast audio or video of Barnes & Noble Virtual Events.
This is a US-based event ONLY, and please allow ample time for delivery. Due to complications around shipping during the pandemic, delays can be common. All tickets include the cost of shipping to domestic, non-P.O. Box addresses only.
Please note that Eventbrite is the only authorized dealer for this event. Each person must have a ticket to enter.
Refunds:
We cannot guarantee a replay of the program. Please keep this in mind before purchasing a ticket. There will be no refunds for missing the live event.
Event guidelines are subject to change.
Join Barnes & Noble for future virtual events! See our upcoming line-up here.
__________________________________________________________________
ABOUT THE FIRST 21:
Nikki Sixx is one of the most respected, recognizable, and entrepreneurial icons in the music industry. As the founder of Mötley Crüe, who is now in his twenty-first year of sobriety, Sixx is incredibly passionate about his craft and wonderfully open about his life in rock and roll, and as a person of the world. Born Franklin Carlton Feranna on December 11, 1958, young Frankie was abandoned by his father and partly raised by his mother, a woman who was ahead of her time but deeply troubled. Frankie ended up living with his grandparents, bouncing from farm to farm and state to state. He was an all-American kid—hunting, fishing, chasing girls, and playing football—but underneath it all, there was a burning desire for more, and that more was music. He eventually took a Greyhound bound for Hollywood.
In Los Angeles, Frank lived with his aunt and his uncle—the president of Capitol Records—for a short time. But there was no easy path to the top. He was soon on his own. There were dead-end jobs: dipping circuit boards, clerking at liquor and record stores, selling used light bulbs, and hustling to survive. But at night, Frank honed his craft, joining Sister, a band formed by fellow hard-rock veteran Blackie Lawless, and formed a group of his own: London, the precursor of Mötley Crüe. Turning down an offer to join Randy Rhoads's band, Frank changed his name to Nikki London, Nikki Nine, and, finally, Nikki Sixx. Like Huck Finn with a stolen guitar, he had a vision: a group that combined punk, glam, and hard rock into the biggest, most theatrical and irresistible package the world had ever seen. With hard work, passion, and some luck, the vision manifested in reality—and this is a profound true story finding identity, of how Frank Feranna became Nikki Sixx. It's also a road map to the ways you can overcome anything, and achieve all of your goals, if only you put your mind to it.
ABOUT NIKKI SIXX:
Nikki Sixx is an international rock icon, founding member of Mötley Crüe and Sixx:A.M., three-time New York Times best-selling author (with The Heroin Diaries, This Is Gonna Hurt, and Mötley Crüe's The Dirt), philanthropist, photographer, and addiction recovery advocate. Sixx had the #1 nationally syndicated rock radio show, Sixx Sensewith Nikki Sixx on iHeart Media, for eight years. In March 2019, Sixx premiered Mötley Crüe's hit Netflix biopic, The Dirt, based on the band's 2001 autobiography.
ABOUT COREY TAYLOR:
Uncompromising, unfiltered, and undeniable in any arena, Corey Taylor continues to impact culture as the frontman for both GRAMMY® Award-winning multi-platinum juggernaut Slipknot and platinum rock force Stone Sour. Taylor is a New York Times Best-Selling author as well as an actor with a myriad film and television credits. Impacting generations of fans and peers alike, his voice roars across six Slipknot albums which have rallied millions of fans across the globe. With two gold-certified albums and a platinum single, Stone Sour have notched five Top 10 debuts on the "Billboard 200" and garnered Loudwire's "Rock Album of the Decade" for House of Gold & Bones — Part 1, which also spawned its own Dark Horse Comics graphic novel of the same name by Taylor. His debut solo effort, CMFT, made history with the powerful single "Black Eyes Blue" reaching #1 at Active Rock Radio making Taylor the first artist in the history of the format to reach #1 with three separate projects, following chart-topping efforts from Slipknot and Stone Sour. Taylor first crashed the New York Times Best Seller List with Seven Deadly Sins in 2011, occupying the chart for four weeks. He followed it up with three popular tomes: A Funny Thing Happened On The Way To Heaven [2013], You're Making Me Hate You [2015], and America 51 [2017]. Meanwhile, his filmography encompasses Fear Clinic, Doctor Who, Officer Downe, and Sharknado 4. The rare renaissance man who can give a symposium at Oxford University and headline heavy music festivals around the globe, Taylor forever challenges culture to think, dream, and scream along with him. For more information visit www.thecoreytaylor.com.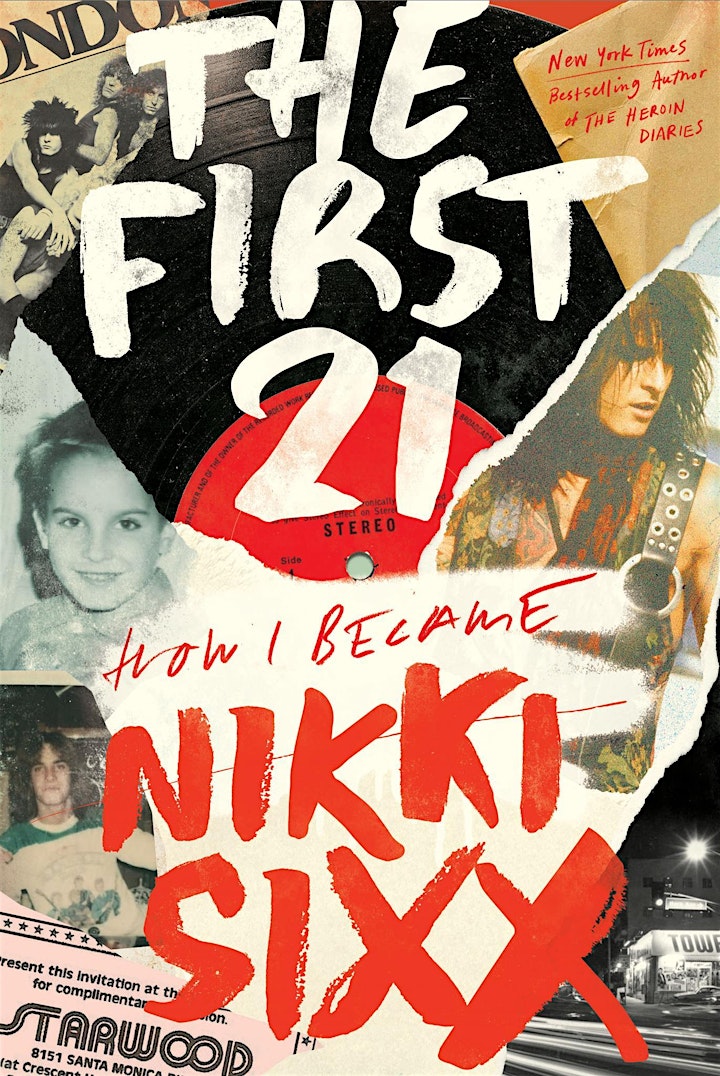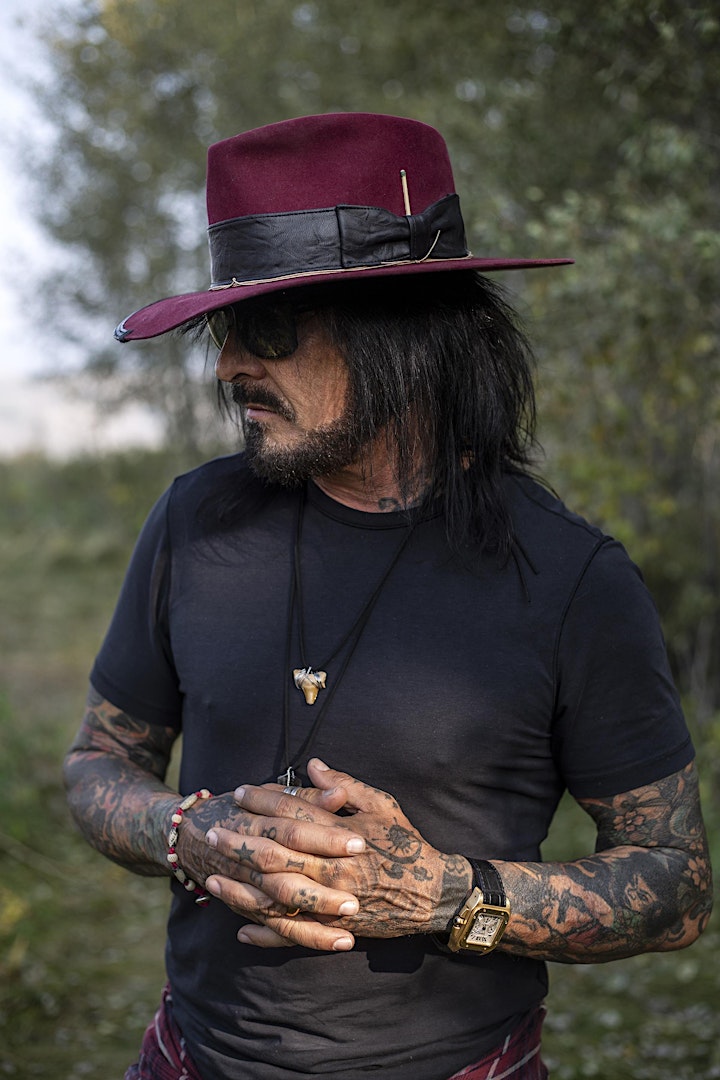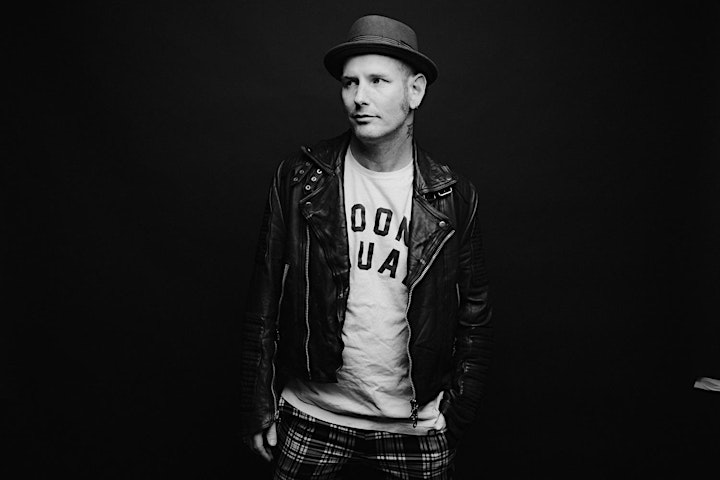 Date and time
Location
Refund policy
Organizer of B&N Virtually Presents: Nikki Sixx celebrates THE FIRST 21!