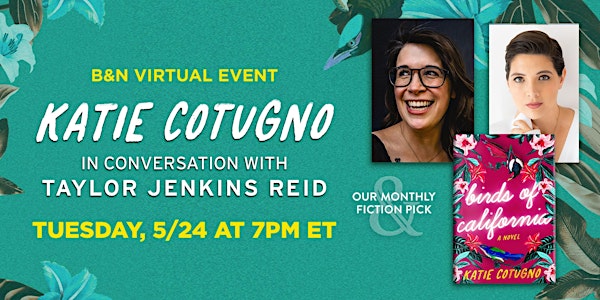 B&N Virtually Presents: Katie Cotugno celebrates BIRDS OF CALIFORNIA!
Barnes & Noble welcomes bestselling author Katie Cotugno for a live, virtual discussion of BIRDS OF CALIFORNIA with Taylor Jenkins Reid.
Refund Policy
Refunds up to 1 day before event
About this event
Join Barnes & Noble as we welcome New York Times bestselling author, Katie Cotugno, for a live, virtual discussion of BIRDS OF CALIFORNIA -- our May Fiction Monthly Pick -- a sharply sexy and whip-smart romantic comedy where sparks fly and things get real set against the backdrop of a post #metoo Hollywood.
Katie will be in conversation with Taylor Jenkins Reid, author of numerous New York Times bestselling novels such as Daisy Jones and the Six (currently being adapted by Hello Sunshine into a limited series for Amazon). Her next novel, Carrie Soto Is Back, will be published on 8/30/22.
-------------------------
This is a live, ticketed event. You must have a ticket to gain access. Please be sure your correct email is listed when you purchase and that your Eventbrite settings include updates on this event.
FOR BOOK-BASED TICKETS: This is for US-based customers ONLY (NO P.O. Boxes), excluding Puerto Rico; P.O. Boxes and all international addresses. Any non US orders, Puerto Rico or P.O. Box mailing addresses will be cancelled and refunded.
Books will be mailed AFTER the completion of the live event; please allow ample time for shipping, typically 8-10 business days.
Each ticket must have a different email associated with it to gain entry. Any repeated emails will be cancelled and refunded.
TICKET INFORMATION:
**There are two ticket options:
Signed Book Admission - $24.04 (Admission + Signed Book/tax/shipping): **LIMITED QUANTITY AVAILABLE**: A ticket PER PERSON includes:
There is a limit of one ticket per person. If you exceed or attempt to exceed the posted ticket limits, we reserve the right to cancel, without notice, any or all orders and tickets, in addition to prohibiting your ticket purchasing abilities. Any tickets canceled due to violating the posted ticket limit may be refunded at face value (excluding fees). This includes orders associated with the same name, e-mail address, billing address, credit card number, or other information.
EVENT DETAILS:
This event will air as a Zoom Webinar. You must be logged into Eventbrite with the email in which you purchased the ticket to access the event. We highly recommend you create an Eventbrite account, as well as download Zoom & familiarize yourself prior to the event for the best possible experience.
Access to the event will become available on the evening of the event, Tuesday, May 24, at 7 PM ET / 6 PM CT / 5 PM MT / 4 PM PT.

Access to the event will become available via:

The OPEN IN ZOOM (highly recommended) or JOIN NOW buttons in your Eventbrite account (found under "Tickets" --> "Go to online event page") OR your event ticket confirmation email.

You will receive reminder emails from Eventbrite before the event. You may also access the event through the reminder email, HOWEVER YOU MUST BE SIGNED INTO EVENTBRITE WITH THE EMAIL IN WHICH YOU PURCHASED THE TICKET.

You may be asked to re-enter the email in which you purchased this ticket to re-validate.
GUIDELINES:
Disruptive Conduct: Barnes & Noble wants to create a safe virtual space for all. You acknowledge and agree that Barnes & Noble reserves the right to remove you from the Virtual Event if B&N, in its sole discretion, determines that your participation or behavior create a disruption or hinder the Virtual Event or the enjoyment of the Virtual Event content by other attendees.
By registering for a paid Barnes & Noble Virtual Event Ticket, you agree not to share, sell or trade your access. If Barnes & Noble determines that you have violated this policy, B&N may cancel your access, retain any payments made by you, and ban you from future Virtual Events.
Recording, Live Streaming, and Videotaping. Participants may not record or broadcast audio or video of Barnes & Noble Virtual Events.
This is a US-based event ONLY, and please allow ample time for delivery. Due to complications around shipping during the pandemic, delays can be common. All tickets include the cost of shipping to domestic, non-P.O. Box addresses only.
Please note that Eventbrite is the only authorized dealer for this event. Each person must have a ticket to enter.
REFUNDS:
We cannot guarantee a replay of the program. Please keep this in mind before purchasing a ticket. There will be no refunds for missing the live event.
Event guidelines are subject to change.
Join Barnes & Noble for future virtual events! See our upcoming line-up here.
--------------------------------------------------------------
ABOUT BIRDS OF CALIFORNIA:
Former child actor Fiona St. James dropped out of the spotlight after a spectacularly public crash and burn. The tabloids called her crazy and self-destructive and said she'd lost her mind. Now in her late twenties, Fiona believes her humiliating past is firmly behind her. She's finally regained a modicum of privacy, and she won't let anything—or anyone—mess it up.
Unlike Fiona, Sam Fox, who played her older brother on the popular television show Birds of California, loves the perks that come with being a successful Hollywood actor: fame, women, parties, money. When his current show gets cancelled and his agent starts to avoid his calls, the desperate actor enthusiastically signs on for a Birds of California revival. But to make it happen, he needs Fiona St. James.
Against her better judgment, Fiona agrees to have lunch with Sam. What happens next takes them both by surprise. Sam is enthralled by Fiona's take-no-prisoners attitude, and Fiona discovers a lovable goofball behind Sam's close-up-ready face. Long drives to the beach, late nights at dive bars . . . theirs is the kind of kitschy romance Hollywood sells. But just like in the rom-coms Fiona despises, there's a twist that threatens her new love. Sam doesn't know the full story behind her breakdown. What happens when she reveals the truth?