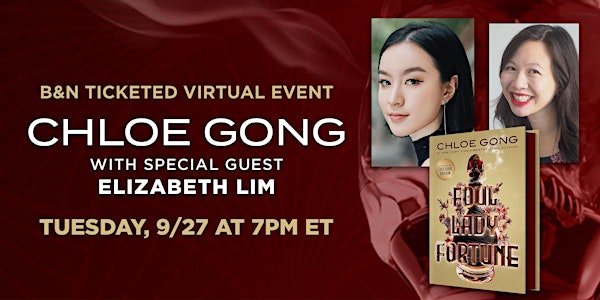 B&N Virtually Presents: Chloe Gong celebrates FOUL LADY FORTUNE
Barnes & Noble welcomes #1 New York Times bestselling author, Chloe Gong, to virtually discuss FOUL LADY FORTUNE with Elizabeth Lim!
About this event
Live near NYC & want to attend live? Click here to purchase tickets to the in-person event.
Join Barnes & Noble as we welcome the #1 New York Times bestselling author of the These Violent Delights series, Chloe Gong, for a live, virtual discussion to celebrate the release of FOUL LADY FORTUNE, the first book in a captivating new duology following an ill-matched pair of spies posing as a married couple to investigate a series of brutal murders in 1930s Shanghai.
She will be in conversation with internationally bestselling Elizabeth Lim, author of Spin the Dawn, Six Crimson Cranes and her newest, The Dragon's Promise.
**This event will be streamed live from Chloe's Barnes & Noble Union Square appearance.
**BONUS!: Your ticket includes a signed copy of the B&N Exclusive Edition of FOUL LADY FORTUNE which has a special cover and sprayed edges, as well as brand-new prequel story set six years before the events of FOUL LADY FORTUNE, following Orion's sister, Phoebe, and his best friend, Silas!
**EXTRA BONUS!: Buy any ticket that includes FOUL LADY FORTUNE BY SEPTEMBER 26, and you are automatically entered for a chance to win a prize pack including signed copies of Foul Lady Fortune and the These Violent Delights Duology, a jade pendant necklace, and a $100 gift card to Wing on Wo & Co. See details and official rules here.
-------------------------
This is a live, ticketed event. You must have a ticket to gain access. Please be sure your correct email is listed when you purchase and that your Eventbrite settings include updates on this event.
For book-based tickets: This is for US-based customers ONLY (NO P.O. Boxes), excluding Puerto Rico; P.O. Boxes and all international addresses. Any non US orders, Puerto Rico or P.O. Box mailing addresses will be cancelled and refunded.
Books will be mailed AFTER the completion of the live event; please allow ample time for shipping, typically 8-10 business days.
Each ticket must have a different email associated with it to gain entry. Any repeated emails will be cancelled and refunded.
There is a limit of one ticket per person. If you exceed or attempt to exceed the posted ticket limits, we reserve the right to cancel, without notice, any or all orders and tickets, in addition to prohibiting your ticket purchasing abilities. Any tickets canceled due to violating the posted ticket limit may be refunded at face value (excluding fees). This includes orders associated with the same name, e-mail address, billing address, credit card number, or other information.
Ticket information:
Signed B&N Exclusive Admission - $30.46 (Admission + Signed B&N Exclusive Book/tax/shipping): **LIMITED QUANTITY AVAILABLE**: A ticket PER PERSON includes:
**Have a question? Leave one at check-out and it could possibly be answered live!
Event Details:
This event will air as a Zoom Webinar. You must be logged into Eventbrite with the email in which you purchased the ticket to access the event. We highly recommend you create an Eventbrite account, as well as download Zoom & familiarize yourself prior to the event for the best possible experience.
Access to the event will become available on the evening of the event, Tuesday, September 27, at 7 PM ET / 6 PM CT / 5 PM MT / 4 PM PT.

Access to the event will become available via:

The OPEN IN ZOOM ( highly recommended) or JOIN NOW buttons in your Eventbrite account (found under "Tickets" --> "Go to online event page") OR your event ticket confirmation email.

You will receive reminder emails from Eventbrite before the event. You may also access the event through the reminder email, HOWEVER YOU MUST BE SIGNED INTO EVENTBRITE WITH THE EMAIL IN WHICH YOU PURCHASED THE TICKET.

You may be asked to re-enter the email in which you purchased this ticket to re-validate.
Guidelines:
Disruptive Conduct: Barnes & Noble wants to create a safe virtual space for all. You acknowledge and agree that Barnes & Noble reserves the right to remove you from the Virtual Event if B&N, in its sole discretion, determines that your participation or behavior create a disruption or hinder the Virtual Event or the enjoyment of the Virtual Event content by other attendees.
By registering for a paid Barnes & Noble Virtual Event Ticket, you agree not to share, sell or trade your access. If Barnes & Noble determines that you have violated this policy, B&N may cancel your access, retain any payments made by you, and ban you from future Virtual Events.
Recording, Live Streaming, and Videotaping. Participants may not record or broadcast audio or video of Barnes & Noble Virtual Events.
This is a US-based event ONLY, and please allow ample time for delivery. Due to complications around shipping during the pandemic, delays can be common. All tickets include the cost of shipping to domestic, non-P.O. Box addresses only.
Please note that Eventbrite is the only authorized dealer for this event. Each person must have a ticket to enter.
Refunds:
We cannot guarantee a replay of the program. Please keep this in mind before purchasing a ticket. There will be no refunds for missing the live event.
Event guidelines are subject to change.
Join Barnes & Noble for future virtual events! See our upcoming line-up here.
_______________________________________________________________________
ABOUT FOUL LADY FORTUNE:
It's 1931 in Shanghai, and the stage is set for a new decade of intrigue.
Four years ago, Rosalind Lang was brought back from the brink of death, but the strange experiment that saved her also stopped her from sleeping and aging—and allows her to heal from any wound. In short, Rosalind cannot die. Now, desperate for redemption for her traitorous past, she uses her abilities as an assassin for her country.
Code name: Fortune.
But when the Japanese Imperial Army begins its invasion march, Rosalind's mission pivots. A series of murders is causing unrest in Shanghai, and the Japanese are under suspicion. Rosalind's new orders are to infiltrate foreign society and identify the culprits behind the terror plot before more of her people are killed.
To reduce suspicion, however, she must pose as the wife of another Nationalist spy, Orion Hong, and though Rosalind finds Orion's cavalier attitude and playboy demeanor infuriating, she is willing to work with him for the greater good. But Orion has an agenda of his own, and Rosalind has secrets that she wants to keep buried. As they both attempt to unravel the conspiracy, the two spies soon find that there are deeper and more horrifying layers to this mystery than they ever imagined.