Barnes & Noble welcomes bestselling author and presidential inaugural poet Amanda Gorman to virtually discuss CALL US WHAT WE CARRY!
About this event
Join Barnes & Noble as we welcome #1 New York Times bestselling author and presidential inaugural poet Amanda Gorman, for a live, virtual discussion of CALL US WHAT WE CARRY, the luminous poetry collection that captures a shipwrecked moment in time and transforms it into a lyric of hope and healing.
She will be in conversation with Eve L. Ewing.
In CALL US WHAT WE CARRY, Gorman explores history, language, identity, and erasure through an imaginative and intimate collage. Harnessing the collective grief of a global pandemic, these poems shine a light on a moment of reckoning and reveal that Gorman has become our messenger from the past, our voice for the future.
**BONUS!: All book tickets will include a beautiful pencil set, while supplies last.
-------------------------
This is a live, ticketed event. You must have a ticket to gain access. Please be sure your correct email is listed when you purchase and that your Eventbrite settings include updates on this event.
For book-based tickets: This is for US-based customers ONLY (NO P.O. Boxes), excluding Puerto Rico; P.O. Boxes and all international addresses. Any non US orders, Puerto Rico or P.O. Box mailing addresses will be cancelled and refunded.
Books will be mailed AFTER the completion of the live event; please allow ample time for shipping, typically 8-10 business days.
Each ticket must have a different email associated with it to gain entry. Any repeated emails will be cancelled and refunded.
Ticket information:
**There are two tiers:
Book Admission - $31.86 (Admission + pencil set + UNSIGNED Book/tax/shipping): **LIMITED QUANTITY AVAILABLE**: A ticket PER PERSON includes:
One pencil set (image below).
General Admission - $5 (Admission): **A ticket PER PERSON includes admission to the virtual event space with Amanda Gorman and Eve L. Ewing.**
Event Details:
This event will air as a Zoom Webinar. You must be logged into Eventbrite with the email in which you purchased the ticket to access the event. We highly recommend you create an Eventbrite account, as well as download Zoom & familiarize yourself prior to the event for the best possible experience.
Access to the event will become available on the evening of the event, Wednesday, December 8, at 7:30 PM ET / 6:30 PM CT / 5:30 PM MT / 4:30 PM PT.

Access to the event will become available via:

A JOIN NOW or OPEN IN ZOOM buttons in your Eventbrite account (found under "Tickets" --> "Go to online event page") OR your event ticket confirmation email.

You will receive reminder emails from Eventbrite before the event. You may also access the event through the reminder email, HOWEVER YOU MUST BE SIGNED INTO EVENTBRITE WITH THE EMAIL IN WHICH YOU PURCHASED THE TICKET.

You may be asked to re-enter the email in which you purchased this ticket to re-validate.
Guidelines:
Disruptive Conduct: Barnes & Noble wants to create a safe virtual space for all. You acknowledge and agree that Barnes & Noble reserves the right to remove you from the Virtual Event if B&N, in its sole discretion, determines that your participation or behavior create a disruption or hinder the Virtual Event or the enjoyment of the Virtual Event content by other attendees.
By registering for a paid Barnes & Noble Virtual Event Ticket, you agree not to share, sell or trade your access. If Barnes & Noble determines that you have violated this policy, B&N may cancel your access, retain any payments made by you, and ban you from future Virtual Events.
Recording, Live Streaming, and Videotaping. Participants may not record or broadcast audio or video of Barnes & Noble Virtual Events.
This is a US-based event ONLY, and please allow ample time for delivery. Due to complications around shipping during the pandemic, delays can be common. All tickets include the cost of shipping to domestic, non-P.O. Box addresses only.
Please note that Eventbrite is the only authorized dealer for this event. Each person must have a ticket to enter.
Refunds:
We cannot guarantee a replay of the program. Please keep this in mind before purchasing a ticket. There will be no refunds for missing the live event.
Event guidelines are subject to change.
Join Barnes & Noble for future virtual events! See our upcoming line-up here.
_____________________________________________________________________
ABOUT AMANDA GORMAN:
Amanda Gorman is the youngest inaugural poet in U.S. history. She is a committed advocate for the environment, racial equality, and gender justice. Amanda's activism and poetry have been featured on the Today Show, PBS Kids, and CBS This Morning, and in the New York Times, Vogue, and Essence. After graduating cum laude from Harvard University, she now lives in her hometown of Los Angeles. In 2017, Amanda Gorman was appointed the first-ever National Youth Poet Laureate by Urban Word –a program that supports Youth Poets Laureate in more than 60 cities, regions and states nationally. Gorman's performance of her poem "The Hill We Climb" at the 2021 Presidential Inauguration received critical acclaim and international attention. The special edition of her inaugural poem, "The Hill We Climb," was published in March 2021 and debuted at #1 on the New York Times, USA Today and Wall Street Journal bestsellers list. Amanda appeared on the cover of TIME magazine in February 2021 and was the first poet to grace the cover of Vogue in their May 2021 issue. She was Porter magazine's July 2021 and WSJ Magazine's September 2021 cover star and received The Artist Impact Award at the 2021 Backstage at the Geffen Awards. She was named one of Glamour magazine's Women of the Year in November 2021. Her debut picture book, Change Sings, debuted at #1 on the New York Times bestseller list in September 2021, and her poetry collection, Call Us What We Carry, will release in December 2021. Please visit theamandagorman.com.
ABOUT EVE L. EWING:
Dr. Eve L. Ewing is a sociologist of education and a writer from Chicago. She is the award-winning author of four books: the poetry collections Electric Arches and 1919, the nonfiction work Ghosts in the Schoolyard: Racism and School Closings on Chicago's South Side, and most recently a novel for young readers, Maya and the Robot. She is the co-author (with Nate Marshall) of the play No Blue Memories: The Life of Gwendolyn Brooks. She has written several projects for Marvel Comics, most notably the Ironheart series as well as Marvel Team-Up and Champions. Ewing is an assistant professor at the University of Chicago Crown Family School of Social Work, Policy, and Practice. Her work has been published in The New Yorker, The Atlantic, The New York Times, and many other venues. Currently she is working on her next book, Original Sins: The (Mis)education of Black and Native Children and the Construction of American Racism, which will be published by One World.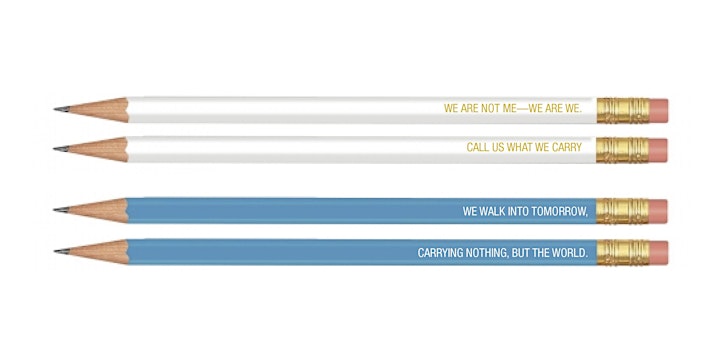 Date and time
Location
Refund policy
Organizer of B&N Virtually Presents: Amanda Gorman celebrates CALL US WHAT WE CARRY